News
Ibrahim Aslan suffers heart failure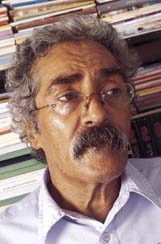 Ibrahim Aslan, one of Egypt's best-loved authors, has died of heart failure at the age of 77, following medication for a heavy cold.
He has twice undergone heart surgery over the last 20 years and Al-Masry Al-Youm has reported that last summer, Aslan told the Lebanese newspaper Al-Safir that "whatever happens next," he was happy that he had lived to witness the uprisings that began in 2011, which he called "the beginning of the collapse of the barrier of fear."

Ibrahim Aslan was born in Cairo, in the Kitkat neighbourhood, in 1936. Self-educated, he was to become one of Egypt's leading novelists and short story writers. His first short story was published in 1963 and his first collection, Buhayrat al-Masah [The Evening Lake], in 1972. His second collection, Youssef wal-Rida' [Joseph and the Clothes], was published in 1987. He went on to author three novels and two collections of essays as well as editing Al-Hayat's Horizons cultural section, and writing a weekly column for Al-Ahram.
Set on the eve of the January 1077 bread riots, his first novel (Malik al-Hazin, 1983), translated as The Heron (2005) by Elliott Colla, was voted as one of the 100 best Arabic books of the 20th century, and adapted into the popular film "Kit Kat".
The Heron and his second novel Nile Sparrows (1999) were reviewed in Banipal 27, in a review that also looked at how his life experiences had undoubtedly made him "the distinguished writer he is". Click here to read it in full. His third novel, Two-Bedroom Apartment, was published in 2009.
Banipal 2, June 1998, published "Training", section 2 of his novella Wardiyyat Layl (Night Shift), published in 1991. The excerpt was translated by Maya Abu Deeb.

To read the full obituary in Al-Masry Al-Youm, click here.
Published Date - 08/01/2012
---