News
Eleanor Collins is the winner of the 2014 Harvill Secker Young Translators' Prize


Harvill Secker is delighted to announce Eleanor Collins as the winner of the 2014 Harvill Secker Young Translators' Prize.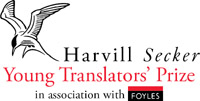 Eleanor was awarded her prize at The Times Cheltenham Literary Festival on Saturday 4th October, following a special translation duel event between judges Shaun Whiteside and Sally-Ann Spencer.
Eleanor received £1,000, a selection of Harvill Secker titles, and she will participate in the British Centre for Literary Translation's six-month mentorship scheme with judge and translator Shaun Whiteside, in association with the Goethe-Institut London. Eleanor will also travel to the Hague, to take part in The Chronicles programme, which brings together young authors and translators at Crossing Border Festival.
Eleanor is a final year undergraduate student in Modern Languages at Trinity College, Cambridge, specialising in German and French.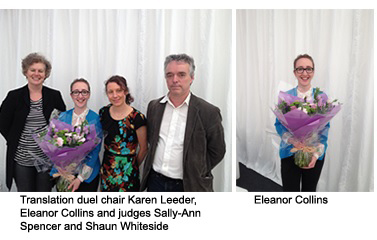 Now in its fifth year, the Harvill Secker Young Translators' Prize aims to recognise and celebrate the achievements of young translators at the start of their careers. The prize is open to anyone between the ages of 18 and 34, with no restriction on country of residence. It was launched in 2010 as part of Harvill Secker's centenary celebrations, and is an annual prize, which focuses on a different language each year. This year's chosen language was German, and entrants were asked to translate into English 'Der Hausfreund', a short story by Harvill Secker author Julia Franck. Eleanor's winning translation is available to read online on the Granta website here:http://www.granta.com/New-Writing/The-Family-Friend
The judges commented: 'We were very impressed by the high standard – and number – of entries this year. What singled out Eleanor's translation was the way she captured the tone of the youthful narrator, with a fresh and engaging voice.'
Our runner-up is Jozef van der Voort, and there were a total of 210 entries from 26 countries: Argentina, Australia, Austria, Belgium, Canada, China, Croatia, France, Germany, Greece, Hungary, India, Ireland, Italy, Luxembourg, Netherlands, New Zealand, Poland, Romania, Singapore, South Africa, Spain, Switzerland, UK, Ukraine and USA.
Click here to find out more about previous competitions.
Published Date - 07/10/2014
---