News
Sleep Song: Chapter 2



SLEEP SONG premières at Harlem Stage, New York City

Dates: Friday and Saturday, November 30 and December 1, 2012
Time: 7:30pm
Venue: Harlem Stage Gatehouse

Price: $30 General / $24 Members / FREE Active Military & Veterans (To buy your ticket, click here)

Sleep Song is a multimedia creation that combines poetry, memories, video projections and live music. It is the "second chapter" in response to Holding It Down: the Veterans' Dreams Project, which The New York Times has defined "intense, provocative and honourable".
This innovative work tells the unforgettable stories of people directly involved in the war in Iraq, inspired by the poetry of veterans of that war, from their memories, dreams and nightmares.
The project was conceived and developed by hip-hop oral poet, rapper and musician Mike Ladd and the jazz composer and arranger Vijay Iyer in collaboration with Maurice Decaul, a poet and a veteran of the Iraq war, Iraqi poet and performer Ahmed Abdul Hussein, Iraqi oud player and composer Ahmad Mukhtar and French guitar percussionist Serge Teyssot-Gay.
So-called "enemies" are discovered to be far from being indefinite entities without faces, instead revealing themselves as individual human beings, with their own features and their own feelings, which are the same as everyone else's. In order to realize the project, six artists – from three different cities, Baghdad, New York and Paris – met up in France last year and created Sleep Song, telling through poetry and music the tale of the impact of the Iraq war on those at its centre, and the struggles they endured to face their future.
Sleep Song was produced by the Fondation Royaumont in Asniéres-sur-Oise in France and had its premiere in Royaumont and in Paris in October 2011. Harlem Stage, a performing arts centre devoted to the creation and development of new works by artists of colour, will present its US premiere on 30th November. The performance will run also through 1st December.
In connection with the Harlem Stage performances, a conference of three roundtables with artists, academics, and cultural administrators will take place at the Columbia University Maison Française on the theme of War and Artistic Creation. Each of the three panel discussions will address a specific theme:
Wednesday, 28 Nov, 2-5 p.m.: Creating a Work
Thursday, 29 Nov, 10:00 a.m.-12:30 p.m.: Art Against War?
Thursday, 29 Nov, 2-4:30 p.m.: Trauma: Once the Guns are Silenced
For more details about the conference and information about panelists, visit the Columbia Maison Française's website.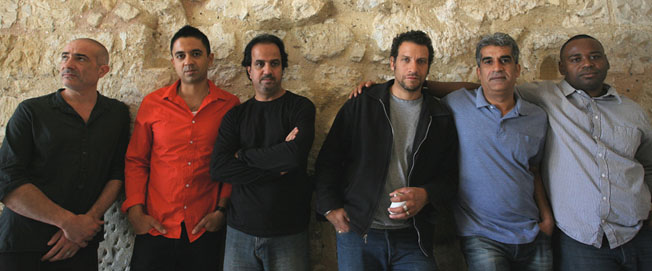 The Sleep Song project is supported by Banipal

For more information about the work at Royaumont and performance, click here.
Published Date - 30/11/2012
---