News
Sheikh Zayed Book Award announces Shortlists
Sheikh Zayed Book Award announces shortlists
for the 16th edition of the prize in a record-breaking year for submissions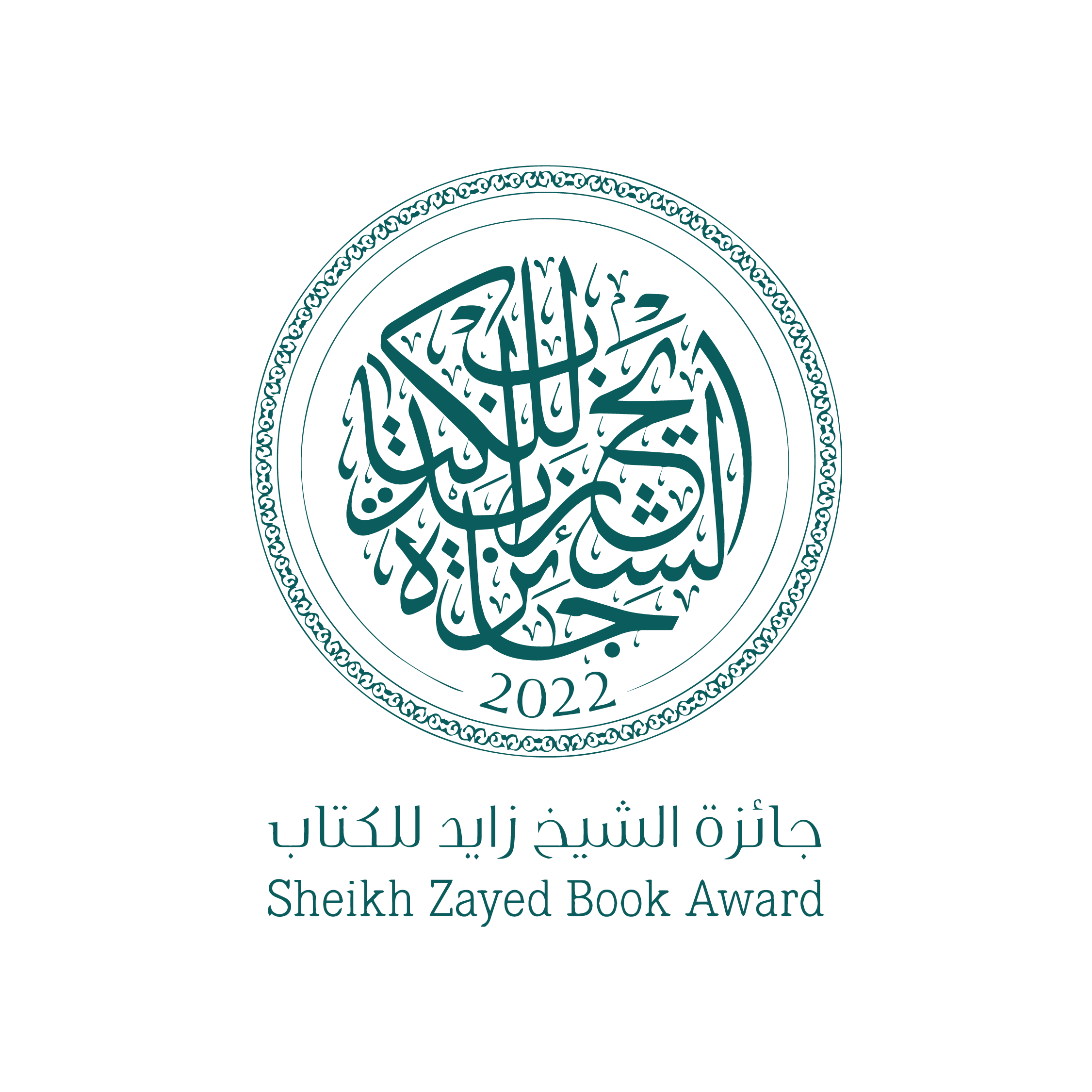 Award announces record-breaking year with over 3000 submissions from 55 countries
Seven different languages represented: Arabic, English, French, German, Italian, Spanish, Russian
Ezzat El Kamhawi, Meryem Sebti, Nawal Nasrallah, and Maria Daadoush feature on shortlists
Titles from leading academic publishers feature on shortlist
Laureates will be celebrated at the Louvre Abu Dhabi on 24 May following the winners announcement in April.

The Sheikh Zayed Book Award has announced the shortlists for its 16th edition in 6 of its 9 categories. The 23 shortlisted authors come from 14 countries, following a record-breaking number of submissions in the Award's history. The Award received over 3000 entries from 55 countries this year - an impressive 28% increase in submissions compared to the previous edition.
This is the 16th edition of the Award, one of the world's leading prizes dedicated to Arab literature and culture, described as the 'Arab World's equivalent of the Nobel Prize' by children's author and 2020 laureate Ibtisam Barakat. Previous laureates include British author Dame Marina Warner, American translator Michael Cooperson, Egyptian author Iman Mersal, and the Institut du Monde Arabe in Paris. 2021 laureate Mersal called the Award 'a remarkable gift for writers and readers alike.'

Literature
Shortlisted for Literature this year include the female Emirati poet and painter Maisoon Saqer whose book Maq'ha Reesh, Ain Ala Massr (Eye On Egypt: Cafe Riche) centres on a legendary cafe in Cairo at the heart of Egypt's 20th-century political, social and cultural life; female Moroccan author and academic Said Bengrad is shortlisted for Wa Tahmelany Hayraty Wa Dh'anony. Seerat Altakween (Composition Biography: Thoughts and Confusion Carry Me) which presents an intimate biography of a generation that experienced the Moroccan independence; and Egyptian novelist Ezzat El Kamhawy, also shortlisted in 2018 and 2021, is nominated for his Covid-era novel Ghorbat Al Manazil (Strangers at Home), set in an apartment building where the residents are confined.
Children's Literature

The Children's Literature shortlist features Syrian author Maria Daadoush whose previous books The Fly Flew Over the Pond and Diary of a Martian Kid have been translated to English; she is shortlisted for Loghz al Kora al Zujajiya (The Mystery of the Glass Ball); previously shortlisted Moroccan writer Raja Mellah is nominated for Maw'idi maa al Noor (My Date with the Light) about a girl born with a rare disease who is determined to reach her dreams; and Syrian writer Bayan Al-Safadi for his collection of poetic tales Shams Tadhak (A Laughing Sun).

Young Author
This year, the Young Author shortlist is made up entirely of literary criticism, shedding new light on subjects ranging from Bedouin influences in ancient Arabic poetry to the written tradition of Saudi folk tales. The shortlist includes works by Tunisian scholar Mohamed Al-Maztouri; female Saudi writer Manal Salem Al-Qathami; and Moroccan author Mustafa Rajwana.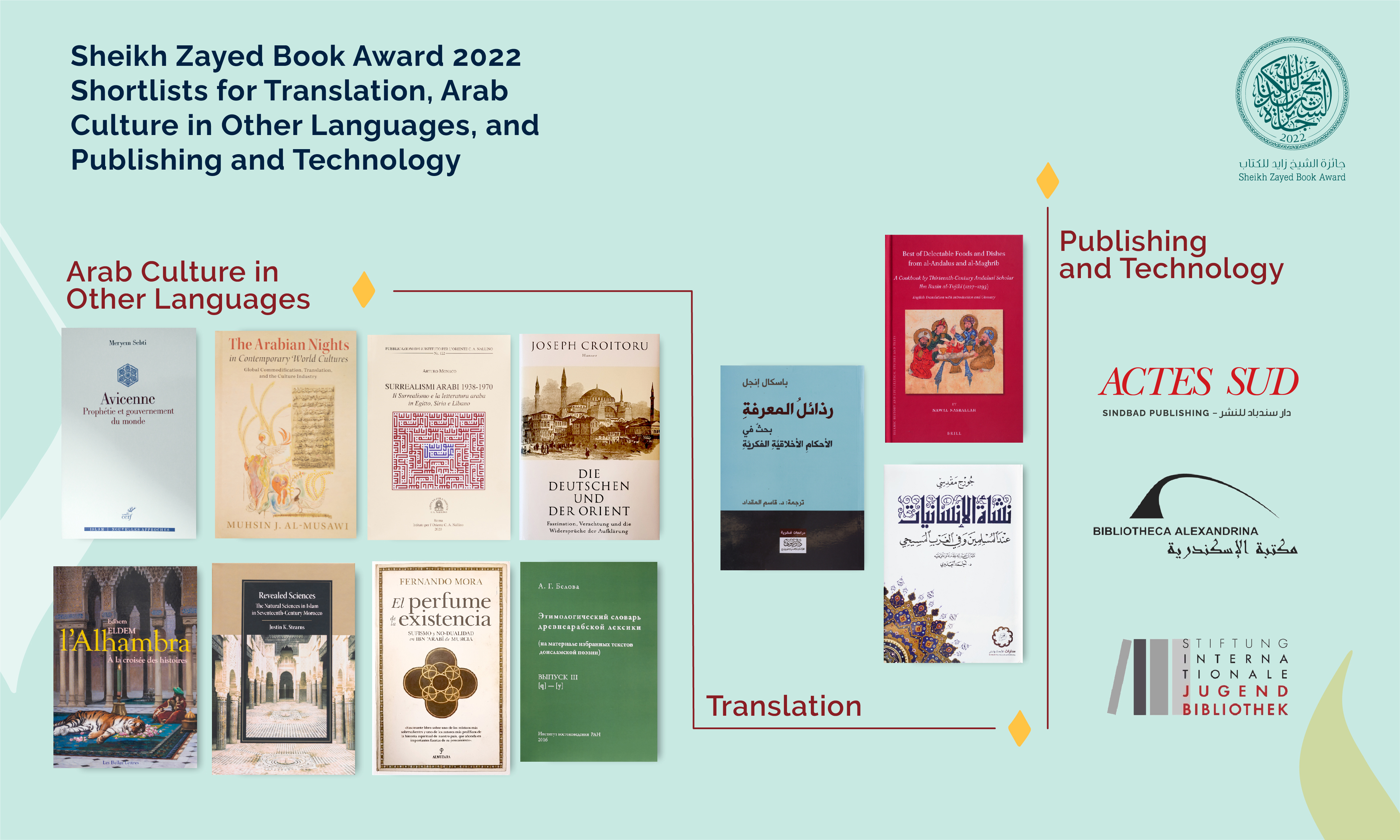 Translation
The Translation shortlist notably features the acclaimed U.S.-based Iraqi food writer and historian Nawal Nasrallah. Best of Delectable Foods and Dishes from Al-Andalus and Al-Maghrib: A Cookbook by 13th Century Andalusi Scholar Ibn Razin Al-Tujibi, 1227–1293 is Nasrallah's compelling English translation of Ibn Razin Al-Tajibi's Fadaalat al Ikhwan fi Tayibat al Ta'aam wal Alwan. New translations into Arabic of works by scholars Pascal Engel and the late George Makdisi are also shortlisted: Dr Kassem Almekdad's translation of Engel's Les Vices du savoir: Essai d'éthique intellectuelle; and Dr. Ahmed Aladawi Makdisi's translation of The Rise of Humanism in Classical Islam and the Christian West.
Arab Culture in Other Languages
The most international shortlist, Arab Culture in Other Languages, contains authors from eight different countries in six languages. Two of these are in English and both are published by Cambridge University Press: The Arabian Nights in Contemporary World Cultures: Global Commodification, Translation, and the Culture Industry by Iraqi-American scholar Dr. Muhsin J. Al-Musawi explores the rich cultural influence of the world-famous collection of Middle Eastern tales; and American author Justin K. Stearns' Revealed Sciences: The Natural Sciences in Islam in Seventeenth-Century Morocco.
Elsewhere in the Arab Culture in Other Languages shortlist, French-Moroccan journalist Meryem Sebti – who founded the contemporary African art magazine Diptyk – provides a fresh perspective on one of the most influential philosophers of the pre-modern era, Avicenna, in Avicenne – Prophétie et gouvernement du monde (Avicenne: Prophecy and world government) while Italian author Arturo Monaco offers a brief history of the revolutionary Arab surrealist movement in Surrealismi Arabi 1938-1970: Il Surrealismo e la letteratura araba in Egitto, Siria e Libano (Arabic Surrealism 1938-1970: Surrealism and Arabic Literature in Egypt, Syria and Lebanon).
The shortlist also features German historian and journalist Joseph Croitoru, whose book studies Germany's historically conflicted relation with the Orient; Turkish historian Edhem Eldem's evocative study of the Alhambra; and an etymological dictionary of Ancient Arabic by Russian philologist Anna Belova.
Publishing and Technology
This year, the shortlist of Publishing and Technology – a prize that recognises publishers and literary organisations around the world championing Arabic publishing – features the Munich-based children's library Internationale Jugendbibliothek, the Bibliotheca Alexandrina in Egypt and Sindbad Publishing in France.
The winners, which will be announced in April, will receive prize money of 750,000 UAE dirhams (£154,900 GBP / $204,000 USD). This year the laureates will be awarded in a special ceremony at the Louvre Abu Dhabi on 24 May, following two years of virtual ceremonies. The Cultural Personality of the year will receive a prize of AED 1 million (£206,500 GBP / $272,000 USD).
* * *
Shortlisted titles in the children's books and literature categories will also be entitled for translation funding through the Award's Translation Grant. Fifteen grants have been awarded since its launch, with books translated into multiple languages, including English, French, German, Georgian, Greek, Italian and Ukrainian. In 2021, the Award saw a growing interest in translation requests from Arabic into global languages, reiterating the importance of translation as an essential tool to build bridges between different nations, and to represent cultures, literature and heritage in different languages.
* * *
The main prize winners receive 750,000 UAE Dirhams (£154,900 GBP / $204,000 USD), with the Cultural Personality of the Year receiving 1,000,000 UAE Dirhams (£206,500 GBP / $272,000 USD).
The awards cover nine categories: Translation, Literature, Children's Literature, Young Authors, Literary and Art Criticism, Arab Culture in Other Languages, Publishing and Technology, Contribution to the Development of Nations, and Cultural Personality of the Year.
* * *
Follow the award on social media for latest updates:
Twitter: @zayedbookaward
Instagram: @zayedbookaward
YouTube: @zayedbookaward
Facebook: @zayedbookaward
#SheikhZayedBookAward
#SZBA2022
Published Date - 11/04/2022
---