News
Amjad Nasser's first novel published in English edition – Land of No Rain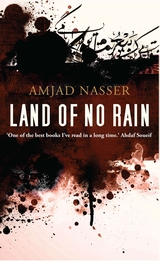 Land of No Rain is the first novel by well-known Jordanian poet and newspaper editor Amjad Nasser, in an English translation by award-winning translator and journalist Jonathan Wright, who recently won the 2013 Saif Ghobash Banipal Prize for Arabic Literary Translation.
The novel is set in Hamiya, a fictional Arab country run by military commanders who treat power as a personal possession to be handed down from one generation to the next. The main character was forced into exile from Hamiya twenty years earlier for taking part in a failed assassination attempt on the military ruler known as the Grandson. On his return to his homeland, he encounters family, childhood friends, former comrades and his first love, but most importantly he grapples with his own self, the person he left behind.

To read an excerpt from the novel that was published in Banipal 46 – 80 New Poems, click here.
Described by Ahdaf Soueif as "one of the best books I've read in a long time", Land of No Rain is a remarkable journey into the unknown, taking in memory, loss, redemption and defeat.

Land of No Rain will be launched on 30 April at the Mosaic Rooms. The publisher Bloomsbury Qatar Foundation Publishing and Mosaic Rooms invite everyone to join them at the UK Launch at 7pm.

The Mosaic Rooms
A.M. Qattan Foundation
Tower House, 226 Cromwell Road
London SW5 0SW

To reserve your seat for this free event, email info@mosaicrooms.org.
For directions to the Mosaic Rooms, click here.
• The launch will be followed by a Q&A and there will be an opportunity to have copies of the book signed by the author.
Published Date - 15/04/2014
---