News
2012 Naguib Mahfouz Medal for Literature is awarded to Ezzat El Kamhawi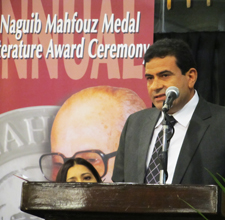 Every year since 1996 the American University in Cairo Press has presented the annual Naguib Mahfouz Medal for Literature, aimed to support contemporary Arabic literature in translation.
The Medal is awarded each year on 11th December, the birthday of Nobel laureate Naguib Mahfouz, by the President of the American University in Cairo in the presence of the Minister of Culture and prominent figures of Egypt's cultural life.
This year's prize was assigned to the Egyptian writer Ezzat El Kamhawi for his novel Bayt al-Dib (The House of El Deeb).

The award consists of a silver medal and a cash prize, as well as translation of the work and publication throughout the English-speaking world.
The Naguib Mahfouz Medal for Literature is awarded for the best contemporary novel published in Arabic (but not yet in English) and is selected every fall by the Mahfouz Award Committee, which includes Dr. Tahia Abdel Nasser, Dr. Shereen Abouelnaga, Dr. Humphrey Davies, Dr. Mona Tolba, Mr. Abdo Wazen.
As Ezzat El Kamhawi explained in his speech, "The House of El Deeb was published in Lebanon a short time before the revolution (in Egypt) and... was lost with the publisher's other books on their way to the Cairo Book Fair, which was canceled due to the events. The novel then lived with its readers, stripped of any attachment on its author's part: I was not even curious to see the cover, and I felt no regret about the fate of a novel that dealt with a part of history, at a time when I believed I was participating with my own body in the writing of a new history."
In their citation for the award, the judges described The House of El Deeb as "a tour de force of fiction that interweaves a fictional village with strands of Egyptian history from Ottoman rule to fin-de-siècle Egypt," and went on to say: "The personal and political are intertwined subtly, and thus the formative years of the place and its inhabitants are inseparable... Despite its breadth of vision, the novel manages to balance both sides of the equation to create an intricate dynamic that captures much of the essence of the country's recent experience... El Kamhawi weaves with exceptional skill the interaction between man, time, and place.... This unique novel affirms the necessity of separating fiction from the logic of history through the imagination, which brings together history and reality without distinguishing between them."


Published Date - 11/12/2012
---