News
Ghassan Zaqtan wins International Griffin Poetry Prize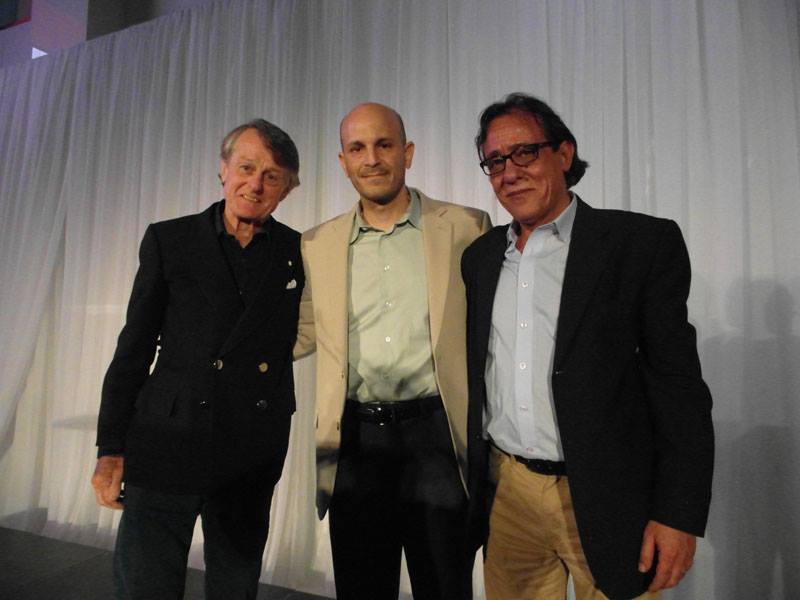 Photo: courtesy Griffin Prize.
Scott Griffin congratulates the international winners Fady Joudah and Ghassan Zaqtan


Ghassan Zaqtan and his translator Fady Joudah have won the International Griffin Poetry Prize for his collection Like a Straw Bird It Follows Me, and Other Poems.
Like a Straw Bird It Follows Me, and Other Poems is published by Yale University Press in the Margolis poetry series (2012, hbk, 144pp.
ISBN: 978-0-300-17316-1, £18.99. E-book ISBN: 978-0-300-18363-4).
At the award ceremony Ghassan Zaqtan thanked his fellow nominees, the prize creators, his poet father and his mother, "who was essentially the librarian of the house".
Canadian poet David W McFadden won the Griffin Prize for his collection What's the Score?. He is author of 35 books of poetry, fiction and travel writing. He first published poetry in 1958 and 50 years later was shortlisted for the 2008 Griffin Poetry Prize.
The Griffin Poetry Prize awards one Canadian and one international poet each year. This year's judging panel comprised Suzanne Buffam of Vancouver, Mark Doty from the USA, and Wang Ping of China. They read 509 collections of poetry from 40 countries – including 15 translations.
This is the first year an Arab poet has won. Last year Adonis and his translator Khaled Mattawa were shortlisted for Adonis: Selected Poems (also published by Yale University Press as is the Fady Joudah translation) and in 2006, Dunya Mikhail's The War Works Hard, translated by Elizabeth Winslow, was shortlisted.


Published Date - 14/06/2013
---