News
Celebrating Five Years of the Banipal Visiting Writer Fellowship
FIVE YEARS OF THE BANIPAL
VISITING WRITER FELLOWSHIP
A CELEBRATION
Join our Fellows for a free celebration on Zoom,
with readings from their works and discussion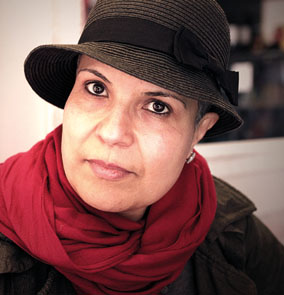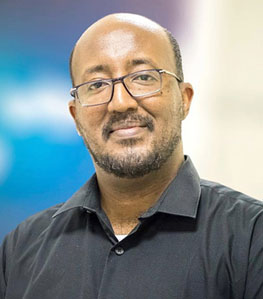 Ali Bader (Iraq), First Fellow 2017
Najwa Bin Shatwan (Libya), Fellow 2018
Hammour Ziada (Sudan), Fellow 2020
Wednesday 23 September 2020, 16:00 pm BST
To attend this free celebration on Zoom click here for the link and follow the instructions
Meeting ID: 952 4189 0595 Passcode: 346853
Among those joining the three Fellows will be the translators of works – Amira Nowaira (translator of The Tobacco Keeper by Ali Bader), Nancy Roberts (translator of The Slave Yards by Najwa Bin Shatwan), and Jonathan Wright (translator of The Longing of the Dervish by Hammour Ziada). Also taking part will be the founders of the Fellowship, Susan Frenk (Principal of St Aidan's College), Fadia Faqir (author and St Aidan's College Writing Fellow), Margaret Obank and Samuel Shimon (founders of Banipal magazine of Arab literature and Banipal Publishing).

The annual Banipal Visiting Writer Fellowship was established five years ago in October 2016 by St Aidan's College of the University of Durham and Banipal magazine of modern Arab literature, with the support of the British Council, for a published author writing in Arabic. The residency of one academic term is based each year at St Aidan's College, providing a unique space for the Fellow to reflect and to write and also have the opportunity to share their work with British audiences.
The Fellowship is based on the three cornerstones that form the core of Banipal magazine: that Arab literature is an essential part of world culture and human civilisation; that dialogue between different cultures needs to be continually deepened; and that the joy and enlightenment to be gained from reading beautiful poetry and imaginative writing is an integral part of human existence.
The Fellowship encourages dialogue with the Arab world through literature. The cultural exchange and dialogue that it enables, and creates, opens windows for non-Arab audiences in the UK onto the realities of Arab cultures in all their diversity and vibrancy, enabling fruitful discourse to develop. It is hoped that this will lead to further exchange, to mutual respect, to new writings, to deeper understanding, and to contributing to Arab literature taking its rightful place in the canon of world literature.
The Fellows
2017 – Ali Bader

The first Banipal Visiting Writer Fellow (2017) was Ali Bader, a well-known Iraqi novelist and essayist, whose work is making an important contribution to contemporary Arabic literature. He is the author of numerous works of fiction, two of which were long-listed for the International Prize for Arabic Fiction, and several works of non-fiction. His best-known novels include two also published in English translation Papa Sartre (translated by Aida Bamia, 2009) and The Tobacco Keeper (translated by Amira Numaira, 2011), Running after the Wolves, Kings of Sand and The Sinful Woman, and a number have won Arabic awards. Ali Bader was born in Baghdad, where he studied western philosophy and French literature, and now lives in Brussels.
2018 – Najwa Bin Shatwan

The 2018 Fellowship was awarded to Libyan academic, novelist and playwright Najwa Bin Shatwan. She is the author of six collections of short stories and four novels, including The Slave Yards (Syracuse Univ Press, 2020), which was shortlisted for the 2017 International Prize for Arabic Fiction. In 2005, her debut novel The Horses' Hair won the inaugural Sudanese al-Begrawiya Festival prize, when Sudan was Capital of Arab Culture (a new revised edition is forthcoming). She was chosen as one of the 39 best Arab authors under the age of 40 by the Beirut39 project with her story The Pool and the Piano included in its anthology (Bloomsbury, 2010). Her work also featured in Banthology: Stories from Unwanted Nations (Comma Press, 2018). Her fifth collection of short stories was published while she was in Durham, and her sixth collection (An Ongoing Coincidence) was completed at during her Fellowship, and was published last year, 2019, by Riad El-Rayyes in Beirut.
2019 – Hammour Ziada ........

Hammour Ziada was selected for the 2019 Fellowship and we had been looking forward to welcoming him, but the UK government's visa office decided against it. His visa was refused for blatantly outrageous reasons. Despite an official College invitation and all his expenses during the term's Fellowship paid for, and despite his own reputation as a writer with a busy schedule of many literary visits to many countries, the UK government denied his application, saying they were not satisfied that he was "genuinely seeking entry as a visitor or intends to leave the UK at the end of [his] visit".
At the time we made a statement saying how we regarded that refusal as "appalling and outrageous discrimination against a well-known and respected author". We rejected it completely, and hoped to overturn the refusal. However, as it was already end of year holiday time when Hammour was notified of the refusal nothing could be done immediately. We decided to hold his Fellowship over until 2020, when a second visa application would undoubtedly be successful and Hammour Ziada could be the Fellow. In the summer of 2019 he was granted a visa to participate in the London-based Shubbak festival of contemporary Arab culture.
2020 – Hammour Ziada
We were very pleased to welcome Hammour Ziada in February as the 2020 Fellow, little knowing that the world would be overtaken by the pandemic of Covid-19. Spring 2020 proved not a good time as the virus swept through the UK and the world, resulting to lockdowns and people confined to their homes, with flights cancelled. Leaving the UK proved impossible. Hammour patiently remained ensconsed in his St Aidan's College accommodation until a flight could be arranged in early July, relying on some social-distanced visits and digital communication to stay in contact.
Hammour Ziada was born in Khartoum, Sudan, in 1977 and started out working for charitable and civil society organisations before becoming a correspondent for a number of Sudanese newspapers, including Al-Mustaqilla, Ajras al-Horriya, and Al-Jarida, and later becoming chief editor of the cultural section of the Sudanese Al-Akhbar daily. He is the author of several works of fiction: A Life Story from Omdurman (short stories, 2008), Al-Kunj (a novel, 2010), Sleeping at the Foot of the Mountain (short stories, 2014). His second novel, The Longing of the Dervish (2014), which won the 2014 Naguib Mahfouz Medal for Literature and was longlisted for the 2015 International Prize for Arabic Fiction, is set in 19th-century Sudan during the collapse of the theocratic state. It examines the social conflict between white Christian and Islamic Sufi cultures in Sudan, exploring concepts of love, religion, betrayal and political struggle. His latest novel, Al-Gharaq (The Drowning), published by Dar al-Ain, Cairo at the very end of 2018, will be published in English translation by Interlink Books, with a chapter being published in the next Banipal (No 69).
The 2021 Banipal Visiting Writer Fellowship –
Syrian novelist Khaled Khalifa
On 21 August this year, we announced that the 2021 Banipal Visiting Writer Fellowship has been awarded to Syrian author Khaled Khalifa.
Khaled Khalifa, born in Aleppo, Syria, in 1964, is a novelist, screenwriter and poet living in Damascus. In addition to six novels to date, he has written numerous scripts for TV dramas and films, several of which have won awards. Three of his novels are published in English translation, all translated by Leri Price, with Death is Hard Work winning the Saif Ghobash Banipal Prize for Arabic Literary Translation in February this year as well as being a finalist in the US National Book Award for Translated Literature. Earlier novels have been shortlisted for both Arabic and translation literary awards with No Knives in the Kitchens of this City being awarded the 2017 Naguib Mahfouz Medal for Literature. Khalifa's latest work Lam Yasulli 'alayhum Ahad (No One Prayed Over Them) is a historical novel set in Aleppo. It was longlisted for the 2020 International Prize for Arabic Fiction.
Khaled Khalifa will be welcomed on his arrival in Durham on 11 January 2021 to start his residency. Over the course of the term he will have the opportunity to engage in literary activity with writers and readers in Durham, the North East of England, and other parts of the UK, in addition to pursuing his work-in-progress.
---------------
For all enquiries about the Fellowship,
please email: Banipalfellowship@gmail.com
Postal address:
The Principal, St Aidan's College, University of Durham, Windmill Hill, Durham DH1 3LJ, UK
Like us and follow us on Facebook
Banipal Visiting Writer Fellowship
Published Date - 17/09/2020
---