News
Banipal 62 – A Literary Journey through Arab Cinema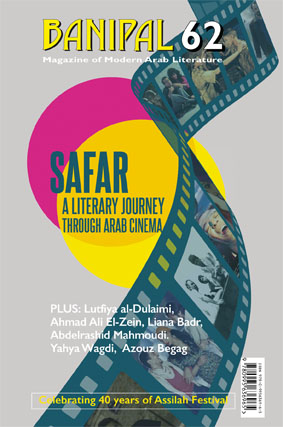 This summer Banipal welcomes two wonderful collaborations – with the 40th year of the Assilah Festival in Morocco, and with the Arab British Centre's SAFAR Film Festival.
The Assilah Festival is very close to our hearts – an international and inspirational meeting point every year for dialogue, discovery and creativity, with arts and culture at its centre. As part of our collaboration with the 40th Festival we present testimonies by international figures who have participated in the Festival over the years – and some memories of our own visits.
The theme of the fourth SAFAR Film Festival is "A Literary Journey through Arab Cinema". In our 66-page feature we include introductions to the festival by the Centre's director Nadia El-Sebai, and the festival's curator Joseph Fahim, nine articles which each considers a particular book and film pair, including Horses of God, Men in the Sun, The Wedding of Zein, For Bread Alone and Gate of the Sun. Daoud Abdel Sayed, director of the famous Egyptian film Kit Kat adapted from the novel The Heron is interviewed by Mansoura Ez-Eldin. There's an important call for more women writers to have film adaptations by Haitham El-Zobaidi, a presentation by award-winning filmmaker and photographer Koutaiba al-Janabi of his latest film, Stories of Passers Through, and a short story "The Broken Streetlight" by Tunisian pioneer of the short story Ali Douagi.
Banipal 62 continues our policy, started this year, of supplementing excerpts of novels with synopses, reviews, portraits or critical appraisal of the entire works so that the reader can enjoy deeper dialogue and understanding. The opening work is from a novel by Iraqi author Lutfiya al-Dulaimi that plays through a panorama of Iraqi history from the early 20th century to the present day in a family saga, and is accompanied by a fascinating portrait of her writings by Iraqi critic and poet Ali Abdulameer Ejam. We were pleased to receive a number of complimentary reactions to this new presentation style from readers of Banipal 61. Other major authors included in this issue are Ahmad Ali El-Zein, Azouz Begag and Abdelrashid Mahmoudi.
The Literary Influences column features a moving account by Palestinian author Liana Badr, who will be well-known to Anglophone readers through her translated works, of her passion for reading from a very early age.
We report on this year's Arab literary awards – The Sheikh Zayed Book Award and the International Prize for Arabic Fiction – augmented by Ahmed Saadawi's novel Frankenstein in Baghdad being shortlisted for the 2018 Man Booker International Prize, and are pleased to see literary awards being promoting in the magazine's pages. However, we cannot mention these without mentioning our own Saif Ghobash Banipal Prize for Arabic Literary Translation, whose nominations for the 2018 prize are revealed on the previous page.
We are also thrilled to give advance notice (on page 3) of the Saif Ghobash Banipal Translation Prize Annual Lecture, which, on 9 November at the British Library, will be given by Adonis, the internationally renowned Syrian poet and "grand old man of poetry, secularism and free speech in the Arab world".
6 July 2018
To buy a copy of Banipal 62 from our distributor Inpress, click here
Alternatively, you can get a copy via PayPal, as follows:
Published Date - 06/07/2018
---