News
Elias Farkouh
Elias Farkouh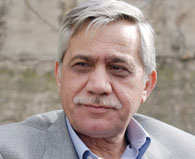 1948 – 2020
The shocking news came to us yesterday that our friend and colleague Elias Farkouh had died of a heart attack.
We had been in touch with him recently. He was writing an essay for Banipal 69 (Autumn/Winter 2020 issue) on his literary influences for our regular column and we were working with him on publishing some of Ghalib Halasa's short stories. As his publisher, Elias Farkouh had recently re-published his collected works.
In tribute to Elias Farkouh we are making available to readers works of his that we translated and published in Banipal issues over the years ­– in 2002, 2007 and 2017. Please see the links below.
Elias was born in Amman in 1948. A short story writer, novelist and publisher, he has published six short story collections, the first in 1987, and five novels. His first novel Qamaat al-Zabad was published in 1987.
Farkouh's stories were first collected in Al-Saf'a (The Slap, 1978). This was followed by Tuyour Amman Tuhalliq Munkhafida (Amman's Birds Fly Low, 1981) and Ihda wa Eshrouna Talqa lil-Nabeyy (Twenty One Shots for the Prophet) a year later; the latter won him the 1982 Jordanian Writers Association award. He continued to write prolifically, with another collection of short stories Huqoul Al-Zilal (Fields of Shadows) coming out in 2002).
It was following Al-Saf'a, however, that the first principal shift of perspective occurred. With the poet and fellow Jordanian Taher Riyadh Elias Farkouh co-founded the publishing house Dar Al-Manarat until 1991. In 1994 he established Dar Azminah publishing house. His work in literary translation – Other Fires, a volume of short stories by women writers from Latin America, appeared in 1999.
His second novel was published in 1996 – A'midat al-Ghoubar (Columns of Dust). An excerpt from the novel, translated by Issa J. Boullata, was published in Banipal 13 (Spring 2002) whose main feature was the literature of Jordan. The novel received the Jordanian State Encouragement Prize and joined the Arab Writers' Association list of best hundred Arab novels of the twentieth century. Click here to read the excerpt.

An edition of Elias Farkouh's collected works, Man Ra'aytuh Kana Ana [I Was the Person I Saw], was published in 2002 by al-Mu'assasa al-'Arabiya lil-Dirasat wal-Nashr, Beirut.
Banipal 30 (Autumn/Winter 2007) published three short stories by Elias Farkouh – Creation, A Man I Don't Know and A Very Long Short Story, all translated by William M Hutchins from his collection Al-Mala'ika fi al-'Ara' (Angels Outdoors). Click on the title Creation read this story on the Banipal website.
His third novel Ard al-Yambous (Land of Limbo), published by Al Mouassassa Al-Arabiya and Dar Azminah, was shortlisted for the 2008 International Prize for Arabic Fiction. His fourth novel is Asrar Sa'at Al Raml (Secrets Of The Sand-Clock), published in 2010.
His last novel, Ghareeq al Maraya (Drowned in Mirrors) was published in 2012 by Dar Azminah, and is excerpted in Banipal 58 – Arab Literary Awards, translated by Jonathan Wright. Click here to read the excerpt.
Rest in Peace, Elias Farkouh
Published Date - 16/07/2020
---