News
Fiction in Translation from Banipal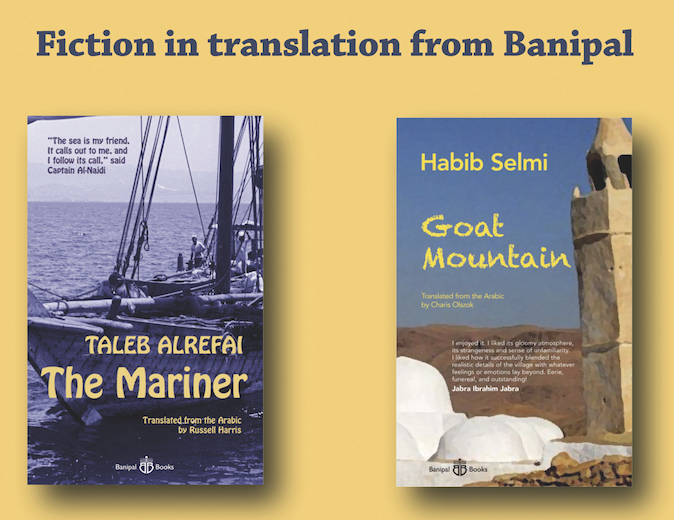 The Mariner by Taleb Alrefai
translated from the Arabic by Russell Harris
In The Mariner Taleb Alrefai turns a spotlight on Kuwait's pearl-fishing history in an enthralling fictional re-telling of that fateful day, 19 February 1979, when the country's famous dhow shipmaster Captain Ali Al-Najdi is lost at sea in a treacherous storm. In between fishing for seabream with two friends, the retired mariner looks back on how the sea has been calling him since childhood, on the punishing work of pearl-divers, and how he became a captain at 14.
As he recalls his voyages around the Arabian Peninsula, some with renowned Australian sailor Alan Villiers, he meditates on how the sea was abandoned when pearl-fishing ended with the discovery of synthetic pearls and oil. Meanwhile, howling winds and enormous black waves suddenly erupt and threaten to engulf the small fishing boat. The novel takes place over 12 hours, starting at 11.30am when retired Captain Al-Najdi is getting reading for a day's leisurely fishing with two mates, ending at 11.30pm that night.
Taleb Alrefai told us: "The Mariner is a novel very close to my heart as it immortalizes a national hero of my country, Kuwait. It portrays the strong relationship between Kuwaitis and the sea in the era before oil was discovered. It is an adventure between man and sea."
The original Arabic novel, Al-Najdi, published in 2016 by the Kuwaiti publisher That Al-Salasil, was longlisted for the 2018 International Prize for Arabic Fiction. It has been published in French, Turkish, and Chinese translations, and is now joined by this English edition. The wrap-around cover of The Mariner is an original photograph of a Kuwaiti dhow taken by the intrepid Australian sailor Alan Villiers, whom Captain Al-Najdi met and worked with over a number of years. Al-Najdi's flashbacks include recounting some of his adventures with Villiers.
Taleb Alrefai was born in Kuwait in 1958 and started writing short stories as an engineering student at the University of Kuwait in the mid-1970s, publishing in local newspapers and his first collection in 1992. He published six more collections of short stories before his first novel Dhil al-Shams (2000, Shadow of the Sun), which centred on the lot of migrant Egyptian workers in Kuwait.
His novel Fi al-Huna (Here and There) was longlisted for the 2016 International Prize for Arabic Fiction and his novel Al-Najdi, the original Arabic of The Mariner, was longlisted for the 2018 IPAF. In 2011 he founded Al-Multaqa (Cultural Circle), a regular literary discussion forum in Kuwait City, which led to the founding of the annual AlMultaqa Prize for the Arabic Short Story in 2016.


• The translator of The Mariner Russell Harris is a translator of literary works from French and Arabic. His translations include works by Naguib Mahfouz, Alaa al-Aswany and Tawfiq al-Hakim.
For more about The Mariner click here

Goat Mountain by Habib Selmi
translated from the Arabic by Charis Olszok
"This intense, glacial fantasy is the work of a literary master" – James Kirkup
In Goat Mountain, the first novel of well-known Tunisian author Habib Selmi and published in Arabic in 1988, a young man's journey to become a village school teacher begins in a dilapidated old bus that takes four hours to reach the town of Al-'Ala. From there he takes a long ride on mule back, accompanied by a mysterious older man who is to play an important part in the young man's new life.
As they proceed along desert tracks under a broiling sun, the youth begins to feel the first vague apprehensions about his silent companion. They finally arrive at Goat Mountain, a forlorn, dusty desert Tunisian village. The school is a single room. The youth, who will be the village teacher, passes the first night in the house of his uncommunicative guide, whose name is Ismail . . .
Next morning, they return to the school, where Ismail shows the young man his living quarters, a small room behind the class. Ismail tells him: "If you need anything, please inform me. I am the government's representative in Goat Mountain."
It is the beginning of a very strange sort of love-hate relationship between the two men – not exactly friends, but not yet enemies, either. Their association is composed of both elements, of which the sense of enmity begins to be the stronger. An increasingly unbearable tension develops between them, which is reflected in the life of the village.
The young teacher grows more uneasy and depressed as Ismail becomes ever more powerful until, with a new truck and his own private army, Ismail dominates village life and casts a menacing shadow over him.
"I enjoyed this book. I liked its gloomy atmosphere, its strangeness and sense of unfamiliarity. I liked how it successfully blended the realistic details of the village with whatever feelings or emotions lay beyond. Eerie, funereal, and outstanding!" – Jabra Ibrahim Jabra
Habib Selmi was born in 1951 in Al-'Ala, near the city of Kairouan in Tunisia, and since 1981 has lived in Paris, France. His writing career started with short stories, with his first collection published in 1977 and his second in 1986, by which time he had already started on a new experience . . . that of writing a novel, the one translated here into English, Goat Mountain. It was published in Beirut in 1988.

Selmi is now a critically acclaimed author, with ten further novels, the latest published January 2020. Since 1999, Banipal magazine has published several excerpts from his novels and some short stories. His novel The Scents of Marie-Claire came out in English translation in 2010, while to date six have been published in French translation, three in German, two in Italian and one in Malayalam.
• The translator Charis Olszok is a Lecturer in Modern Arabic Literature and Culture at the University of Cambridge and a translator of modern Arabic fiction.
For more about Goat Mountain click here
Published Date - 15/05/2020
---