Banipal Books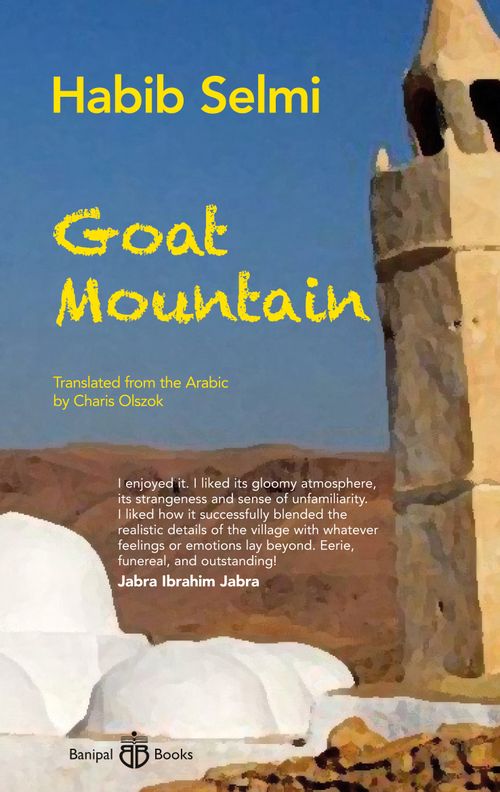 Goat Mountain
by Habib Selmi
ISBN:
978-1-913043-04-9
Paperback • eBook • 92pp
Both formats available now

For the Paperback via PayPal
Choose your postal region from the list below
and click on the PayPal button

For the eBook via Amazon

Kindle UK, £6.99, click here

Kindle US, $8.72, click here

Click to download a Press Release

It was announced on 29 March that Habib Selmi has been shortlisted for the 2021 IPAF award for his last novel Longing for the Woman Next Door, published in January 2020. He now has a hat-trick of IPAF shortlists, having been shortlisted in 2009 for The Scents of Marie-Claire and in 2012 for The Women of al-Basatin.


"This intense, glacial fantasy is the work of a literary master" – James Kirkup
In Goat Mountain, the first novel of Tunisian author Habib Selmi and published in Arabic in 1988, a young man's journey to become a village school teacher begins in a dilapidated old bus that takes four hours to reach the town of Al-'Ala. From there he takes a long ride on mule back, accompanied by a mysterious older man who is to play an important part in the young man's new life.
As they proceed along desert tracks under a broiling sun, the youth begins to feel the first vague apprehensions about his silent companion. They finally arrive at Goat Mountain, a forlorn, dusty desert Tunisian village. The school is a single room. The youth, who will be the village teacher, passes the first night in the house of his uncommunicative guide, whose name is Ismail . . .
Next morning, they return to the school, where Ismail shows the young man his living quarters, a small room behind the class. Ismail tells him: "If you need anything, please inform me. I am the government's representative in Goat Mountain."
It is the beginning of a very strange sort of love-hate relationship between the two men – not exactly friends, but not yet enemies, either. Their association is composed of both elements, of which the sense of enmity begins to be the stronger. An increasingly unbearable tension develops between them, which is reflected in the life of the village.
The young teacher grows more uneasy and depressed as Ismail becomes ever more powerful until, with a new truck and his own private army, Ismail dominates village life and casts a menacing shadow over him.
"I enjoyed this book. I liked its gloomy atmosphere, its strangeness and sense of unfamiliarity. I liked how it successfully blended the realistic details of the village with whatever feelings or emotions lay beyond. Eerie, funereal, and outstanding!" – Jabra Ibrahim Jabra
Habib Selmi was born in 1951 in Al-'Ala, near the city of Kairouan in Tunisia, and since 1981 has lived in Paris, France. His writing career started with short stories, which he sent in to a popular Tunisian radio programme called "Literary Amateurs". A number of his stories were broadcast and he was invited several times by the programme's presenter Ahmad al-Lughmani, a well-known and respected poet, to take part in a discussion following the broadcast of one of his stories. At the end of every month, financial prizes were given for the best stories and poems that had been broadcast on the programme that month. One of the winning stories would be selected for publication in the Radio magazine. Selmi won the prize several times, and three of his stories were published.
His first collection of short stories was published in 1977 and in 1986 his second, by which time he had already started on a new experience . . . that of writing a novel, this one translated into English, Jabal al-'Anz (Goat Mountain). It was published in Beirut in 1988.
Since this first novel, Goat Mountain, Selmi has become a well-known novelist with many works: Surat Badawi Mayyit (1990, Portrait of a Dead Bedouin), Matahat al-Raml (1994, Sand Labyrinth) and in 1999 Hufar Dafi'a (Warm Ditches, excerpted in Banipal 30). Selmi's fifth novel Ushaq Bayya (Bayya's Lovers, excerpted in Banipal 18) came out in 2002 and in 2004 Asrar Abdallah (Abdallah's Secrets). This was followed in 2007 by Rawa'ih Marie-Claire (The Scents of Marie-Claire, English edition with Arabia Books, 2010), shortlisted for the 2008-2009 International Prize for Arabic Fiction, and in 2011 by Nissa' al-Basateen (The Women of Al-Basatin, excerpted in Banipal 39 – Modern Tunisian Literature, 2010) and shortlisted for the 2012 IPAF prize. In 2013 Awatef wa zuwaruha (Awatef's visitors) was published and in 2016 Bakara (Maidenhead). His latest novel is Al-Ishtiyaq ila al-Jara (Longing for the Woman Next Door), published January 2020.
Banipal magazine has published several excerpts and texts by Habib Selmi, the first being a short story The Visit (Banipal 4, 1999). Several of his novels have been published in French translation by Actes Sud, including Le Mont-des-Chèvres (1999), Les Amoureux de Bayya (2003), La Nuit de l'étranger (2008, Hufar Dafi'a) Les Humeurs de Marie-Claire (2011), Souriez, vous êtes en Tunisie (2013, Nissa' al-Basateen) and La nuit de noces de Si Béchir (2019, Bakara). There are also three in German translation, two in Italian and one in Malayalam.
• The translator of Goat Mountain Charis Olszok is a Lecturer in Modern Arabic Literature and Culture at the University of Cambridge and a translator of modern Arabic fiction.
____________________
Back to all Banipal Books