News
Tunisian Literature Panel Discussion at Frankfurt Book Fair
In the new WELTEMPFANG at Frankfurt Book Fair, a combined centre for politics, literature and translation in Hall 5 (the Salon, E953)



Walid Soliman, Nouri Obaid, Habib Selmi and Samuel Shimon.

Sunday 10 October 2010
11.30 – 12.30
Tunisian Literature – from the author to the reader
(Arabic/German/English)
Discussion
Tunisia is known as a popular holiday destination – but until now its rich literature has not had the recognition it deserves, either in or beyond the Arab world, except for the poems of the renowned poet Abu Al-Qasim Al-Shabi, who died in his twenties. Habib Selmi, Nouri Obaid, Walid Soliman and Samuel Shimon uncover the vitality of the diverse Tunisian literary scene with its innovative novelists, poets and short story writers, and many publishing houses.
Participants:
Author and university lecturer in Paris/France. His latest novel The Scents of Marie-Claire was shortlisted for the Arabic Booker Prize in 2009, and now published in English by Arabia Books.

Nouri Obaid
President of the Tunisian Publishers Association

Walid Soliman
Author, publisher of Walidoff Publishing, Tunisia.

Samuel Shimon (chair)

Author, film-maker and editor of Banipal magazine, London/UK. (Banipal Stand 5.0 E911)
Al the Banipal stand: Tunisian publisher Nouri Abid and Banipal editor Samuel Shimon
Also at the Frankfurt Book Fair;
Arabia Books and the American University in Cairo (AUC) Press celebrated 50 years of AUC Press publishing Arabic literature in English translation.
Bloomsbury publisher Nigel Newton and AUC Press Publisher Mark Linz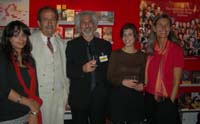 Nancy, Rafik Schami, Michel Moushabeck, Leyla Moushabeck and Roor Leeb

Published Date - 06/10/2010
---