News
Banipal news on International Translation Day
Getting to know the Arab world

through literature in translation

On this auspicious day, 30 September 2021, International Translation Day, Banipal draws attention to its works with the translators and all their translations that allow anglophone readers access to the diverse, rich and empathetic memoir, fiction and poetry being published in the Arab world and its diaspora today.
on Change and Continuity in Contemporary Arabic Fiction
On 10 November, the award-winning translator Jonathan Wright gives the Saif Ghobash Banipal Prize Annual Lecture. Hosted by the British Library on Zoom, it will be a chance for readers, translators and all interested in Arabic literature from all over the world to listen and take part in a fascinating lecture, with Q&A.
In the lecture, Jonathan Wright will explore the odd case of Arabic literature – written in a language that is no-one's mother tongue, with a morphology that has hardly changed for more than a millennium.
He will draw on his own experience as a translator of contemporary Arabic fiction to examine and critique the assumptions that underpin a corpus of literature written in Modern Standard Arabic (MSA), a language that no living person speaks as their mother tongue. He will raise a number of important issues that go to the heart of translating Arabic literature.

* * *

Banipal has recently published four new literary works in translation from Arabic. The new titles comprise two novels, an open work, and a poetry collection. They are all inspiring creative works and we are proud to be their publisher.
Sarajevo Firewood by Saïd Khatibi
"Sarajevo Firewood is an astonishing novel and Khatibi is one of the most original voices in Arabic literature today." Amara Lakhous, author of Clash of Civilizations Over an Elevator in Piazza Vittorio

The Madness of Despair by Ghalya F T Al Said
"A talented and inventive storyteller, with a well developed sense of tragedy and comedy" Susannah Tarbush

Fadhil Al-Azzawi's Beautiful Creatures by Fadhil al-Azzawi
"Fadhil al-Azzawi has amassed an evolving set of lyrical and conceptual tools, accompanied by a canny capacity to reach far into the imagination, snatching revelation from the mouth of horror and despair." Khaled Mattawa, poet and translator

Poems of Alexandria and New York by Ahmed Morsi
"When I read the poems of Ahmed Morsi I begin to travel." Alfonso Armada, journalist, playwright and poet
* * *
The Saif Ghobash Banipal Prize for Arabic Literary Translation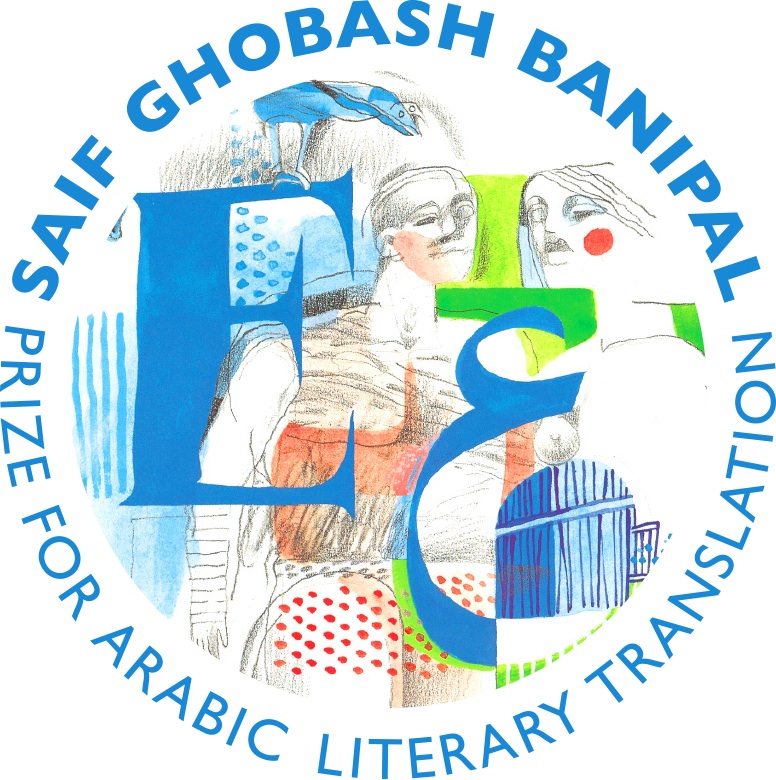 Today on International Translation Day, the 2022 Saif Ghobash Banipal Prize opens for entries. The deadline for publishers sending in their entries is 31 March 2022. The online form at the website of prize administrator the Society of Authors is open here.
2021 is the 16th year of the prize and there are 16 entries – 11 novels, an open work and four poetry collections. They are entered by 13 different publishers. There are 17 translators, nine of whom are women, while seven of the 16 authors are women. Click for more information.
Two translators, Humphrey Davies and Jonathan Wright, have works in contention, and they have both won the prize twice as well as being runners-up and shortlisted. Will either of them complete a hat-trick this year?
The judging panel this year comprises Roger Allen, Professor Emeritus of Arabic & Comparative Literature, University of Pennsylvania (Chair); Rosemarie Hudson, Founder publisher of HopeRoad Publishing; Ronak Husni, Professor of Arabic Studies, American University of Sharjah; and Caroline McCormick, Director of Achates Philanthropy. Click for more information.
* * *
Banipal Magazine for Modern Arab Literature
We are proud to report that two great issues have been published this year, with the third in progress due to be published in November.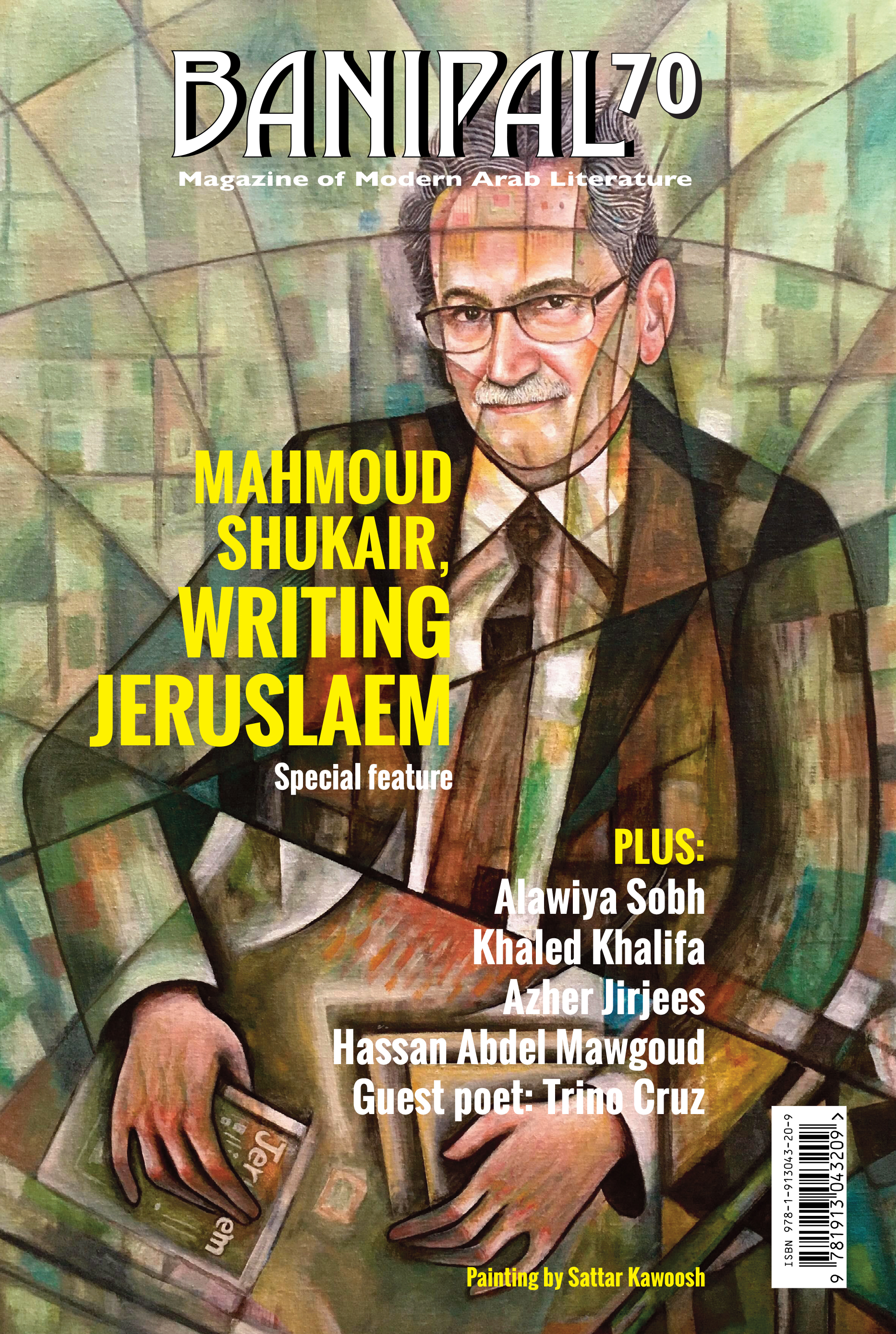 Banipal 70 – Mahmoud Shukair, Writing Jerusalem is a rich issue of diverse authors and literary news to inspire and enthuse you in this continuing time of Covid-19.
The main feature on Palestinian author Mahmoud Shukair is a gift to the great Jerusalemite on his 80th birthday with articles, short stories, reviews of his works in English translation, and in particular his trilogy of novels of Jerusalem family life.
Banipal's relation with Mahmoud Shukair goes back to the early issues of the magazine; since No 7 in Spring 2000 we have consistently commissioned translations of his short stories and other writings – in that issue he described how he came to be a short story writer, publishing his first in 1962 and not stopping until, maybe, in 2013 when he published the first of three novels, a trilogy about Jerusalem family life. The feature Writing Jerusalem marks the sixty years that Shukair, born in the East Jerusalem village of Jabel Mukaber, and acclaimed as "a founder of Palestinian fiction", writes the complex stories and tales of Jerusalem's people and places.
Banipal 71 commemorates two great Arab authors: the inimitable Iraqi poet Saadi Youssef, "the last communist, who passed away on 13 June, and the prolific Egyptian writer Ihsan Abdel Kouddous (1919–1990), whose stories and novels were adapted into dozens of films . . . "it would be no exaggeration to equate Abdel Kouddous's daring and braveness with that of great writers from the West who challenged all forms of censorship imposed on subjects related to love and sexuality".
Banipal's founder editor Samuel Shimon wrote: "I will not be exaggerating if I say that I have read more than thirty books by Ihsan Abdul Kouddous, and I can say today (July 2021) that he is the most daring and honest Arab writer in all that he wrote, more than any other writer until today. And if Rose El-Youssef (his mother) revolutionized the world of the Arab press and freedom of expression in the Arab world, then the brave writer Ihsan Abdel Kouddous has erased the red lines of censorship set by state or society."


* * *
At the start of Covid-19 in February/March 2020 we were about to launch Banipal magazine in Spanish translation. Somehow we managed to launch the issues, in spite of lockdown and dire restrictions on travel and movement. The three issues of 2020 were published and received with enthusiasm and great pleasure by readers and translators in mainland Spain and beyond. In March 2021 we were proud to announce the establishment of a digital edition with our digital partner, Exact Editions.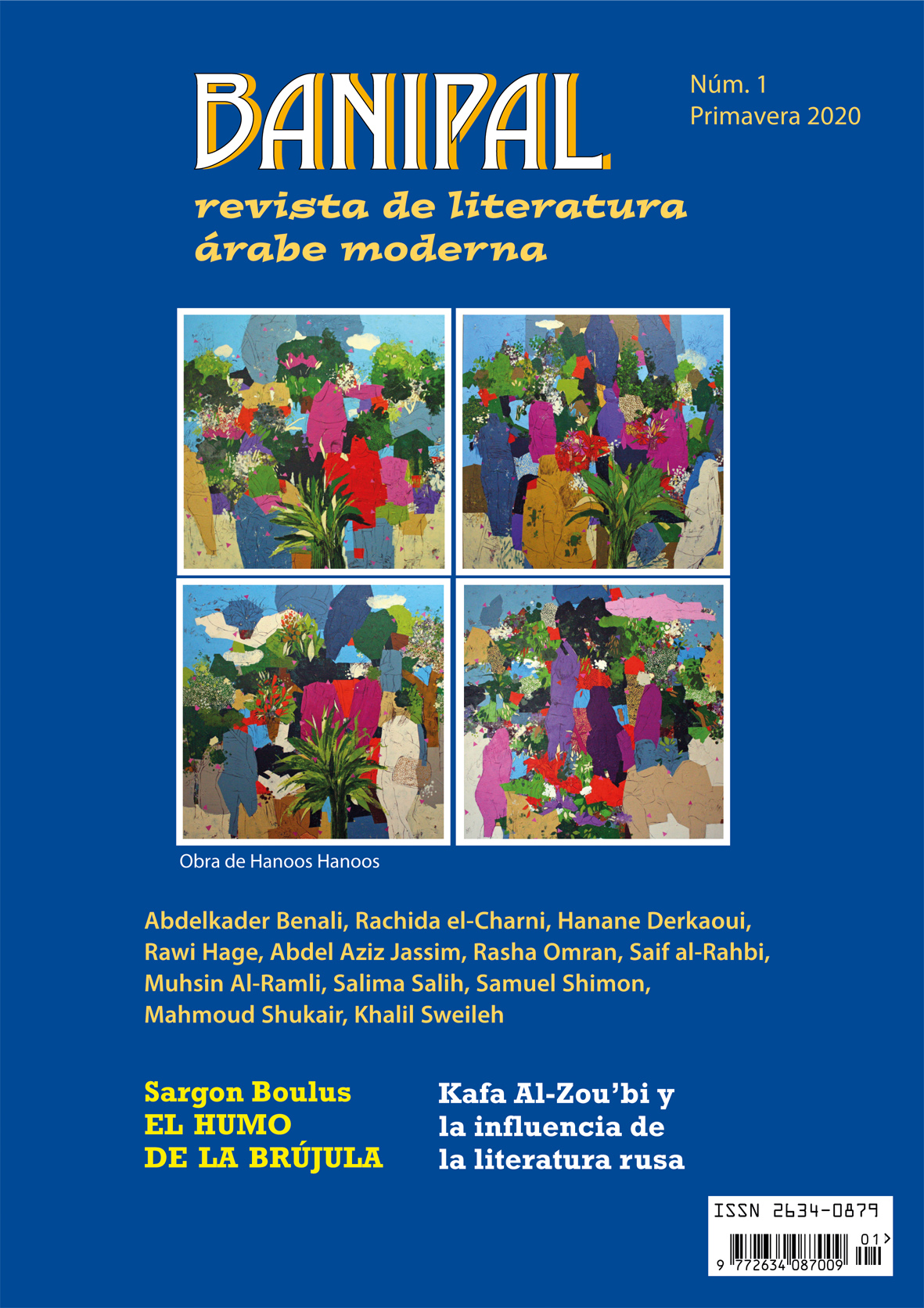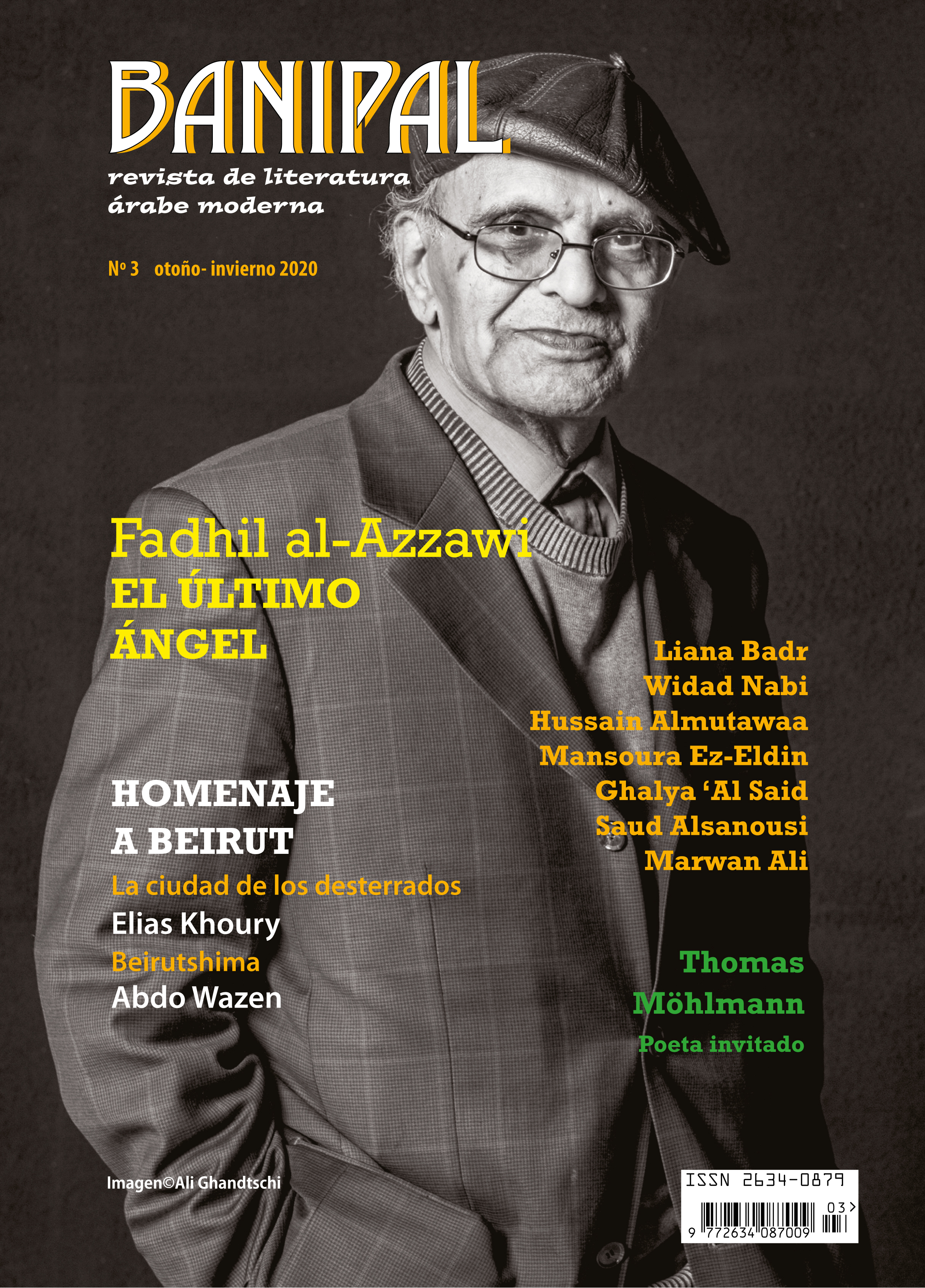 As an independent magazine Revista Banipal is completely free to publish a wide and wonderful range of creative texts by Arab authors – fiction, poetry, memoir and plays, plus essays, profiles, interviews, book reviews and event reports, opening an ever-wider window on the diverse Arab literary scenes.
A digital subscription is an invaluable and indispensable addition to the printed copies, particularly in these continuing Covid-19 times. Revista Banipal in digital format can take these modern Arab voices so easily to Spanish-language readers the world over through the internet, thanks to our partnership with Exact Editions.
Revista Banipal joins the English edition of Banipal in playing a pivotal role in the essential dialogue between cultures, acting as a catalyst for new knowledge, understanding and empathy between cultures. Revista Banipal shares the same three essential cornerstones as the English Banipal, that is:
• that Arab literature is an essential part of world culture and human civilization
• that dialogue between different cultures needs to be continually deepened
• and that the joy and enlightenment to be gained from reading beautiful poetry and imaginative writing is an integral part of human existence.
* * *
The Banipal Visiting Writer Fellowship

In January this year we had to announce that the 2021 Banipal Visiting Writer Fellowship would be postponed until 2022. The Fellowship was awarded to Syrian author Khaled Khalifa, but due to the severe restrictions imposed on movement and daily life to stop the spread of this virulent Covid-19 pandemic, it could not go ahead. We fervently hope that Khaled Khalifa will be able to attend for the 2022 Fellowship.
The Fellowship was established in October 2016 by St Aidan's College of the University of Durham and Banipal magazine of modern Arab literature, with the support of the British Council. The Banipal Visiting Writer Fellowship was to be an annual writing fellowship for a published author writing in Arabic, based each year at St Aidan's College with a three-month residency.
The 2017 Fellow was Iraqi author Ali Badr, followed by Libyan author Najwa Bin Shatwan in 2018. Hammour Ziada, from Sudan, had his 2019 Fellowship postponed until 2020, and was unfortunately not able to return home when the Fellowship ended due to the restrictions then in place for Covid-19 and the closure of flights between countries. He eventually made it home from Durham in early July.
Contact us on Facebook

* * *


Banipal Book Club

Banipal Book Club meets once a month (on Zoom due to Covid-19) and chooses a contemporary work of literature, usually translated from Arabic to English, to discuss, sometimes inviting the translator and/or the author to take part in the meeting. The Zoom meetings have had the benefit of enabling members from around the world to join us, with the image showing a pre-Covid meeting.
News about the meetings is posted on the Club's Facebook page, and on Banipal Events. Today a Newsletter was also emailed out. If you would like to be added to the list to receive news of meetings etc, just email bookclub@banipal.co.uk.
On 27 October the book under discussion is The Critical Case of a Man called K (Hoopoe Fiction) by Saudi author Aziz Mohammed, translated by Humphrey Davies.
On 27 November the book being discussed will be Sarajevo Firewood (Banipal Books) by Algerian author Saïd Khatibi, translated by Paul Starkey.
* * *
Published Date - 30/09/2021
---