News
Mahi Binebine launches his novel Horses of God in the UK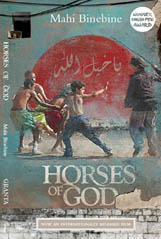 Mahi Binebine
launches
Horses of God (Granta 2013)
Translated from the French by Lulu Norman
at venues in Oxford (tonight) and London (24th and 25th).

Mahi Binebine, whose painting is the front cover artwork of the current issue of Banipal, is a well known painter and, since 1992, the acclaimed author of nine novels.

He was born in Marrakech in 1959. From 1980 he studied Mathematics in Paris, and later taught the subject for many years. Some of his works are in the collection of the Guggenheim Museum in New York, and his novels have been published in Arabic, English, Dutch, Spanish, Polish, German and Korean.

The French original of his novel Horses of God (reviewed in Banipal 46) – Les Etoiles de Sidi Moumen (Flammarion, 2010) – won the Prix du Roman Arabe as well as the inaugural Mamounia Literary Prize of Marrakech. Translator of Horses of God Lulu Norman was awarded the 2013 English PEN Award for outstanding writing in translation for this work. Mahi Binebine now lives, painting and writing, in Marrakech with his family. The film Les Chevaux de Dieu was inspired by the book.

Tuesday 23rd April, 5:15pm, St Anne's College, Oxford
This event is organised by the Oxford Student Pen, click here for more details.

Wednesday 24th April, 6:20pm, Institut Francais, London
This event will begin with a screening of Les Chevaux de Dieu, a film inspired by the book. For more details, click here.

Thursday 25th April, 6:00pm - 8:00pm, SOAS, Brunei Suite
This event is organised by the Royal African Society and more details can be found here.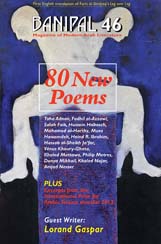 Front Cover of
Banipal 46
Published Date - 22/04/2013
---