News
Ibrahim Nasrallah's UK tour
Ibrahim Nasrallah is touring the UK from 13th to 19th November to launch the English translation of his historical novel Time of White Horses.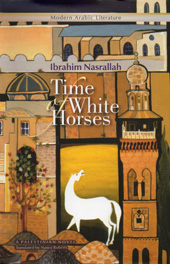 Ibrahim Nasrallah was born in Amman, Jordan, and raised in a Palestinian refugee camp. Through the lives of three generations of a Palestinian family in a small village, Nasrallah depicts the tragedy of a whole nation under changing historical circumstances: from the late Ottoman rule to the establishment of the State of Israel in 1948.
With the fusion of historical record with oral history and memory, Ibrahim Nasrallah paints a vivid picture of Palestinian villagers' preoccupations and aspirations and through a number of memorable characters the reader relive the realities of the Palestinian village in the early twentieth century and the Palestinians' struggle to maintain the autonomy and dignity they had known for centuries.
Time of White Horses (AUC Press, translated by Nancy Roberts) was short-listed for the International Prize for Arabic Fiction 2008–2009.
Ibrahim Nasrallah's tour takes him to events in London, Manchester and Sheffield.

Tuesday 13th November
at 7.00 pm at
The Mosaic Rooms,
Tower House,
226 Cromwell Road
London SW5 0SW
(For full details on the Mosaic Rooms site, click here).


Wednesday 14th November
from 4.30 to 6.00 pm at
The University of Manchester,
Samuel Alexander Building, Room A101
(For map and directions to the venue, click here).


Thursday 15th November
from 4:45 to 5:45 pm at
The University of Manchester

Ibrahim Nasrallah will give the keynote address at the Workshop on the theme: Women, Culture, and the 25th January 2011 Egyptian Revolution under the title "The Role of Literature in Revolution".


Friday 16th November
from 5.30 to 9.00 pm at
The University of Sheffield
Western Bank
Sheffield S10 2TN


Monday 19th November

from 7:00 to 9.00 pm at
School of Oriental and African Studies, SOAS
Russell Square
London WC1H 0XG
History, Orality and Narrative: Writing the Palestinian Nakba
Ibrahim Nasrallah will discuss Time of White Horses, the sixth in his series of seven novels, "Palestinian Comedy".
The discussion will be in Arabic and English with translation available.

Nasrallah will also read from his latest work of poetry, On the Thread of Light, which will be followed by a book signing.

(For more details, click here).
Published Date - 13/11/2012
---