News
Farouk Abdel Wahab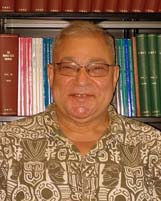 Farouk Abdel Wahab Mustafa passed away on 3 April 2013. He had been in intensive care, suffering from pneumonia. He will be sorely and very sadly missed. All my sympathies to his wife, Kay.

Fatima Boudy, publisher of Dar al-Ain Publishing, whom I met today at the Casablanca Book Fair, told me she had known Farouk Abdel Wahab for over 25 years, and was working with him on a project to publish a library of essential works of Arabic literature. She told me how Farouk loved literature and read avidly; he made sure he had copies of all short stories and novels by Egyptian authors. He was intending to translate Ezzat al-Kamhawy's novel Al-Haris (The Guard), she added sadly. He was keen to encourage a new generation of translators, and before the revolutionary events in Egypt talked with me about organising a summer school in Cairo for budding literary translators.

He was well known as a literary translator Arabic to English of novels by Egyptian authors. His latest translation, The Book of Epiphanies by Gamal al-Ghitani, is reviewed in Banipal 46. The reviewer, Mona Zaki, says of Farouk's translation: "The one hero to emerge from this odyssey is the translator, Farouk Abdel Wahab, who patiently dedicated and worked his way through a very difficult text."
He was Ibn Rushd Professorial Lecturer in Modern Arabic Language in the Department of Near Eastern Languages and Civilizations, and Associate Director of the Center for Middle Eastern Studies, both at the University of Chicago. He specialised in Arabic literature – particularly Arabic theatre, in comparative literature, and in popular culture and modern intellectual history. Farouk Abdel Wahab Mustafa was born in Tanta, Egypt, and grew up there and in Cairo. He has a BA and an MA (English Literature) from the University of Cairo, and a PhD in Comparative Literature from the University of Minnesota (1977).
He won the 2007 Saif Ghobash Banipal Prize for Arabic Literary Translation for The Lodging House by Khairy Shalaby, both translator and author coming to London for the award ceremony.
He has translated a number of novels of Egyptian authors, including.
Chicago by Alaa el Aswany (AUC Press, 2007/2008)
The Lodging house by Khairy Shalaby (AUC Press, 2006)
Birds of Amber by Ibrahim Abdel Meguid, (AUC Press, 2005)
Zayni Barakat by Gamal el-Ghitani (3rd edition, AUC Press, 2004)
A Certain Woman by Hala el Badry (AUC Press, 2003)
Love in Exile by Bahaa Taher (AUC Press, 2002)
No One Sleeps in Alexandria by Ibrahim Abdel Megui (AUC Press, 1999)
The Other Place by Egyptian author Ibrahim Abdel Meguid (AUC Press. 1997) – winner of the inaugural Naguib Mahfouz Medal for Literature)
To read more about Farouk Abdel Wahab click here
Margaret Obank
Casablanca, 4 April 2013
Published Date - 04/04/2013
---