News
Harvill Secker Young Translators' Prize 2011 – from Arabic
Banipal is pleased to support the Harvill Secker Young Translators' Prize, this year for translation from Arabic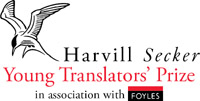 Arabic language for second annual
Harvill Secker Young Translators' Prize


Harvill Secker announces the second annual Harvill Secker Young Translators' Prize. This year the language of focus is Arabic. Entrants will be translating the short story 'Layl Qouti' by Egyptian writer Mansoura Ez Eldin. The judging panel comprises author Penelope Lively, translator Anthony Calderbank, journalist Maya Jaggi and Harvill Secker editor and founder of the prize Briony Everroad. The winning translator will receive £1000 and Foyles tokens.

Deadline for entries: 29 July 2011
To enter, and for futher information, please click here.

The Harvill Secker Young Translators' Prize aims to recognise the achievements of young translators at the start of their careers. It was launched in 2010 as part of Harvill Secker's centenary celebrations. It is an annual prize, which focuses on a different language each year. For 2011, Harvill Secker has joined forces with Foyles, and the prize is kindly supported by Banipal.

Harvill Secker editor Briony Everroad will launch this year's prize at the Literary Translation Centre, Earls Court 2, at the London Book Fair at 4pm Monday 11th April, as part of the Tablet and Pen Literary Landscapes from the Modern Middle East Seminar.

The short story and details on how to enter can be found at www.harvillseckeryoungtranslatorsprize.com. The prize is open to anyone between the ages of 18 and 34, with no restriction on country of residence, and the deadline for entries is 29th July 2011.

The winner's name will be announced in September 2011 and the winning translator will receive £1000, a selection of Harvill Secker titles and Foyles tokens.

The winner of the inaugural Harvill Secker Young Translators' Prize was student Beth Fowler, who, after winning the prize in September 2010, began her career as a freelance literary translator. She won the competition with her translation of Argentine writer Matías Néspolo's short story 'El hachazo', which was published on Granta's website: http://www.granta.com/Harvill-Secker-Young-Translators-Prize. Her translation of Argentine author Iosi Havilio's novel Open Door for publisher And Other Stories will be published in November 2011. To read Beth Fowler's blog about her experience of winning the prize at our Harvill Secker international writing blog, A View from this Bridge, click here.



For more information please contact:
Bethan Jones, Harvill Secker Acting Publicity Director
Tel: 020 7840 8543 email: bjones@randomhouse.co.uk


THE AUTHOR

Mansoura Ez Eldin

Egyptian novelist and journalist Mansoura Ez Eldin was born in Delta Egypt in 1976. She studied journalism at the Faculty of Media, Cairo University, and has since published short stories in various newspapers and magazines. Her first collection of short stories, Shaken Light, was published in 2001. This was followed by two novels, Maryam's Maze in 2004 and Beyond Paradise in 2009. Her work has been translated into a number of languages, including an English translation by Paul Starkey of Maryam's Maze by the American University in Cairo (AUC) Press in 2007. This year, she was selected for the Beirut39, as one of the 39 best Arab authors below the age of 40. Her second novel Wara'a al-Fardoos (Beyond Paradise) was shortlisted for the 2010 International Prize for Arabic Fiction (the Arabic Booker). She was also a participant of the inaugural nadwa (writers' workshop) held by the International Prize for Arabic Fiction in Abu Dhabi in 2009 and was a mentor at the second nadwa in October 2010.


THE JUDGES

Penelope Lively (author)

Penelope Lively was born in Cairo, Egypt and spent her childhood there. She came to England at the age of twelve, in 1945, and settled here after the war, taking a degree in history at St Anne's College, Oxford. She is a Fellow of the Royal Society of Literature, and a member of PEN and the Society of Authors. She was married to the late Professor Jack Lively, has a daughter, a son and four grandchildren, and lives in London.

Penelope Lively is the author of many prize-winning novels and short story collections for both adults and children. She has twice been shortlisted for the Booker Prize; once in 1977 for her first novel, The Road to Lichfield, and again in 1984 for According to Mark. She won the 1987 Booker Prize for her highly acclaimed novel Moon Tiger. Her novels include Passing On, shortlisted for the 1989 Sunday Express Book of the Year Award, City of the Mind, Cleopatra's Sister, Heat Wave, Oleander, Jacaranda, an autobiographical memoir of her childhood days in Egypt and her latest, Consequences. She is published in the UK by Penguin.


Anthony Calderbank (translator)

Anthony Calderbank has been a translator of Arabic literature since the early nineties. He has translated a number of Egyptian novels including Rhadopis of Nubia by Najib Mahfouz, Zaat by Sonallah Ibrahim, and The Tent, Blue Aubergine and Gazelle Tracks by Miral Al-Tahawy, and two novels by Saudi author Yousef Al-Mohaimeed, Wolves of the Crescent Moon and Munira's Bottle. His translations of short stories include a collection by Nubian writer Haggag Hassan Odoul entitled Nights of Musk: Stories of Old Nubia, and have appeared in a Palestinian collection edited by Nur and Abdulwahab El Messiri entitled Land of Thyme and Stone.

He has contributed to a number of anthologies of modern Arabic Literature including Unbuttoning the Violin (Banipal 2006), the collection Madinah, edited by Joumana Haddad (2008), and the Beirut39 project. He has also translated numerous pieces for Banipal Magazine. In 2010 he translated an excerpt from Abdo Khal's novel Spewing Sparks as Big as Castles, which went on to win the Arab Booker Prize.

He has spoken on translation and translation theory at international conferences and cultural gatherings and has conducted translation workshops for the British Council and the Emirates Airline International Festival of Literature. His translation of Yousef Al-Mohaimeed's novel Wolves of the Crescent Moon was shortlisted for the 2010 Jan Michalski Prize. He has lived in the Middle East for many years and is currently based in Riyadh Saudi Arabia where he is Deputy Director of the British Council.


Maya Jaggi (journalist)
Maya Jaggi is an award-winning cultural journalist and an influential critic on international literature. Her arts profiles in the Guardian Review over a decade are credited with enhancing understanding of world writers, from Günter Grass, Umberto Eco and Jose Saramago, to Chinua Achebe, Toni Morrison and Mario Vargas Llosa – as well as British figures such as Jeanette Winterson and Sir Tom Stoppard. The late critic Professor Edward Said described her interview with him as 'in a class of its own'. Her work has appeared widely in periodicals including the Guardian, Independent, Sunday Times Culture, Financial Times, Daily Telegraph, Economist, TLS and BookForum (New York), and in books such as Lives and Works, Writing Across Worlds and Women of the Revolution. She regularly contributes to BBC radio (including BBC Radio 4's Any Questions?, Front Row and Open Book) and television.

She has interviewed 12 Nobel prize-winners in literature – as well as Arab writers including Mahmoud Darwish, Hanan al-Shaykh, Elias Khoury, Alaa al-Aswany, Tahar Ben Jelloun and Amin Maalouf. She has been a judge of literary awards including the Orange prize, the David Cohen, the Caine, the Commonwealth Writers prize and the Saif Ghobash-Banipal prize for Arabic literary translation. She was educated at Oxford University and the London School of Economics, and is an Associate Fellow of Warwick University and a member of English PEN's Writers in Prison committee.


Briony Everroad (editor)

Briony Everroad is an editor at Harvill Secker, where she publishes authors Jo Nesbø, Karin Fossum, and Andrey Kurkov, among others. She studied English literature at University College London and in 2002 began working at Random House. Always keen to explore new languages, she spent a term studying French at the Sorbonne in 2006 and is currently learning Spanish. In 2010 she founded the Harvill Secker Young Translators' Prize.



NOTES TO EDITORS:

• Please visit www.harvillseckeryoungtranslatorsprize.com for more information and entry details.

• Harvill Secker is home to major writers such as J.M. Coetzee, José Saramago, Haruki Murakami, Louis de Bernières, Günter Grass, Joseph O'Connor, Henning Mankell and Umberto Eco. Great writers from the list's history include George Orwell, Colette, Boris Pasternak, Thomas Mann, Yukio Mishima, Mikhail Bulgakov, Vasily Grossman and Giuseppe Tomasi di Lampedusa.

• Harvill Secker is an imprint of Vintage Publishing, part of The Random House Group, which in 2010 celebrated 100 years since the foundation of its first incarnation, Martin Secker Ltd. Harvill Secker has published some of the most iconic and inspiring literary works of the last 100 years, bringing international writing to the attention of British readers. Martin Secker Ltd was founded in 1910 and became Secker & Warburg in 1936. The Harvill Press was founded in 1946. The two imprints were merged in 2005 to become Harvill Secker.

• Banipal is an independent literary magazine publishing contemporary authors and poets from all over the Arab world in English translation, and was founded in 1998 by Margaret Obank and Iraqi author Samuel Shimon. The three issues a year present established and new Arab authors and poets in English for the first time through poems, short stories or excerpts from novels, and include author interviews, profiles and book reviews. Each issue is well illustrated with author photographs with the full colour covers featuring prominent Arab artists. www.banipal.co.uk/
Published Date - 11/04/2011
---