News
Presentation of the Saif Ghobash - Banipal Prize for Arabic Literary Translation
"Stunning!"

"Destined to become a classic," say the Judges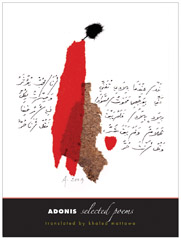 Award Ceremony for the 2011 Saif Ghobash - Banipal Prize
Monday 6th February
7.00 pm
Kings Place, Hall One
Please click here to buy tickets.
The 2011 Prize for Arabic Literary Translation, the sixth year of the prize, is awarded to Khaled Mattawa for his translation of Adonis: Selected Poems, published by Yale University Press. The judges were unanimous in voting Khaled Mattawa's translation the winner and agreed easily on the runner-up and the commended translation.
The prize will be presented by Sir Peter Stothard, editor of the Times Literary Supplement, at a ceremony at Kings Place on Monday 6th February. Join us for an exciting celebration of literature in translation. Awards will also be made for translations from French, Italian, Spanish, Dutch/Flemish and two from German. The evening includes the annual Sebald lecture on the art of literary translation, which will be given by poet, translator and critic Sean O'Brien on the theme of "Making the Crossing: The Poet as Translator". For more information and tickets, click here.
Barbara Romaine is runner-up for her translation of Spectres by Radwa Ashour, published by Arabia Books in the UK and by Interlink Books in the USA. Commended is Maia Tabet for her translation of White Masks by Elias Khoury, published by Archipelago Books, USA.
The four judges, who met last December under the chairmanship of prize administrator Paula Johnson of the Society of Authors, are novelist, columnist and critic Joan Smith, writer, translator and Professor of American Literature and Public Understanding of the Humanities at the University of East Anglia Sarah Churchwell, translator and lecturer in Arabic Literature and Media at the University of Exeter Christina Phillips, and author and editor of Banipal magazine Samuel Shimon who is also a trustee of the Banipal Trust for Arab Literature.
Published Date - 06/02/2012
---