News
Harvill Secker Young Translators' Prize 2012 – from Chinese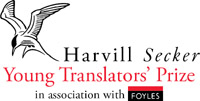 Chinese for third annual
Harvill Secker Young Translators' Prize
Now in its third year, the Harvill Secker Young Translators' Prize aims to recognise the achievements of young translators at the start of their careers. It is an annual prize, which focuses on a different language each year. The chosen language for the 2012 prize is Chinese, and entrants will be asked to translate the short story 'The Wig' by Han Dong. This year's prize will be judged by author Tash Aw, translator Nicky Harman and Harvill Secker editor and founder of the prize Briony Everroad.
Deadline for entries: 27 July 2012
To enter, and for futher information, please click here.
Harvill Secker is proud to announce an ongoing partnership with the British Centre for Literary Translation. The winner will participate in the BCLT's year-long mentorship scheme, working alongside renowned Chinese to English translator Nicky Harman.
Harvill Secker editor Briony Everroad launched this year's prize at the Literary Translation Centre, at the London Book Fair on 16th April.
The short story and details on how to enter can be found at www.youngtranslatorsprize.com. The prize is open to anyone between the ages of 18 and 34, with no restriction on country of residence, and the deadline for entries is 27th July 2012.
The winner's name will be announced Friday 5th October 2012 as part of the International Translation Day at King's Place, London N1. As well as the mentorship, the winning translator will receive £1000, a selection of Harvill Secker titles and will take part in the Crossing Border Festival in the Netherlands and Belgium later this year.
The winner of the 2010 inaugural Harvill Secker Young Translators' Prize, Beth Fowler, has begun her career as a freelance literary translator. Read Beth Fowler's blog about her experience of winning the prize at our Harvill Secker international writing blog, A View from this Bridge: http://www.vintage-books.co.uk/books/International_writing/blog/
For more information please contact:
Sue Amaradivakara, Harvill Secker Publicity Director
Tel: 020 7840 8425 email: samaradivakara@randomhouse.co.uk
THE AUTHOR
Han Dong
Born 17 May, 1961 in Nanjing, Han Dong's parents were banished to the countryside during the Cultural Revolution, taking him with them. When the Cultural Revolution ended, he studied philosophy at Shandong University, graduating in 1982. He subsequently taught philosophy in Xi'an and Nanjing, but since 1993 has made his living as a freelance writer. Han Dong began writing in 1980, and has been a major player on the modern Chinese literary scene since the 1990s. He is well-known as one of China's most important avant-garde poets, and is increasingly influential as an essayist, short story writer, novelist and blogger. His chief works include two collections of poetry, two essay collections and four collections of short stories and novellas, as well as four full-length novels.
THE JUDGES
Tash Aw (author)
Tash Aw's debut novel The Harmony Silk Factory was the winner of the Whitbread First Novel Award and a Commonwealth Writers' Prize for Best First Novel, and was longlisted for the Man Booker Prize. He was born in Malaysia and now lives in London.
Nicky Harman (translator)
Nicky Harman lives in the UK. She has worked as a literary translator for a dozen years and, until the spring of 2011, also lectured at Imperial College London. Now, in addition to translating, she organizes translation-focused events and mentors new translators from Chinese. She led the Chinese–English group at the British Centre for Literary Translation Summer School from 2009 to 2011 and in 2011 was Translator–in–Residence at the London Free Word Centre. Authors she has translated include Zhang Ling (Gold Mountain Blues); Yan Geling (Flowers of War), Han Dong (short stories, A Phone Call from Dalian: Collected Poems, and Banished! A Novel), Hong Ying (K – The Art of Love) and Xinran.
Briony Everroad (editor)
Briony Everroad is an editor at Harvill Secker, where she publishes authors Jo Nesbø, Karin Fossum, and Andrey Kurkov, among others. She studied English literature at University College London and in 2002 began working at Random House. Always keen to explore new languages, she spent a term studying French at the Sorbonne in 2006 and is currently learning Spanish. In 2010 she founded the Harvill Secker Young Translators' Prize.
Published Date - 19/07/2012
---