News
Palestinian Poet Ghassan Zaqtan launches new poetry book in UK 31 October to 3 November
Ghassan Zaqtan with Fady Joudah at The Mosaic Rooms
To launch his first poetry collection in English translation Like a Straw Bird It Follows Me, Ghassan Zaqtan is visiting the UK late October, early November with his translator Fady Joudah for events in London and at the Aldeburgh Poetry Festival.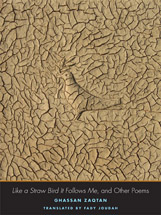 To buy a copy of Like a Straw Bird, It follows Me in UK, click here

To buy a copy of Like a Straw Bird, It follows Me in the USA, click here



SOAS
Wednesday 31 October

7:00 pm – 9.00pm at
SOAS
Russell Square: College Buildings, Room G3

Organised by: the Department of the Languages and Cultures of the Near and Middle East, Centre for Palestine Studies, Centre for Cultural, Literary and Postcolonial Studies

For full details click here


The Mosaic Rooms
Thursday 1st November
at 7 pm at
The Mosaic Rooms,
Tower House,
226 Cromwell Road
London SW5 0SW
Ghassan Zaqtan will be in discussion with fellow poet Fady Joudah, his translator, and winner of the 2008 Saif Ghobash Banipal Prize for Arabic Literary Translation for Mahmoud Darwish's The Butterfly's Burden. They will present Zaqtan's tenth poetry collection, his first in English translation, Like a Straw Bird It Follows Me.
(For full details on the Mosaic Rooms site, click here).
Aldeburgh Poetry Festival
Saturday 3rd November
Britten Studio,
Snape Maltings,
Aldeburgh
1: 3.00 pm to 4.00 pm
POETRY AS A LIFELINE
Fady Joudah and Ghassan Zaqtan, together with Ingrid de Kok and Jackie Kay, will present their perspective on the way poetry can offer survival strategies when faced with a range of extreme situations – political, social, cultural . Chaired by Robert Seatter.
Click here for details and to book a seat.

2: 7.15 pm to 9.00 pm
MAIN READING:
JACKIE KAY, D. NURKSE, GHASSAN ZAQTAN

To book your seat, click here.
Sunday 4th November

3: 10.30 - 11.00 am
at Pond Gallery,
Snape Maltings,
Aldeburgh
Fady Joudah will analyses the work of Mahmoud Darwish (1941-2008), and how translation limits as well as expands the reading of his poetry.
Click here for more details and to buy your ticket.
4: Noon - 1.00 pm
Britten Studio,
Snape Maltings,
Aldeburgh
READING: FIRST COLLECTIONS – FADY JOUDAH, ANDREA PORTER, SAM WILLETTS

To book your seat, click here.

Banipal 44's Books in Brief reviewed Like a Straw Bird It Follows Me as follows:
This tenth collection of poetry by Palestinian author, filmmaker and poet, Ghassan Zaqtan, focuses on "palpable daily cares, the molecular details that proliferate and unravel as they proliferate" (Joudah). Moving away from the dramatic concerns of exile and displacement, Zaqtan hones in on small, seemingly insignificant, objects and experiences from day-to-day existence. The work confirms him as one of the most important Palestinian poets alive today and Fady Joudah's translation masterfully renders it into English, described as "masterful and compelling" (Lawrence Joseph) and as "infusing the English language with a new sensibility" (Cole Swensen). Yale University Press, New Haven and London, 2012, hbk, 144pp, ISBN: 9780300173161.
Banipal has published poetry by Ghassan Zaqtan in English translation in Banipal 12 (2002) and Banipal 15/16 (2003). To read selected poems from the Banipal issues on the website of the Khalil Sakakini Cultural Centre in Ramallah, in a collaboration between Banipal and the Centre, click here.
Published Date - 01/11/2012
---