News
Banipal 66 – Travels
Arab literary creativity and increase in translation
In recent years there has been a marked growing interest in translating and publishing Arabic literature in English. Those in the field have also observed that being in English translation has helped works arrive in other languages too, in effect influencing the translation of literature from Arabic into many other languages. It is a decidedly encouraging development.
The viewpoint from Arab countries, however, is rather different, with many authors and critics believing that what is being translated into other languages from Arabic is not the "real" literature and, hence, not the literature that "should" be translated. The books to translate are chosen because they have won a literary prize, or because the works "suit" western readers, is what is believed. And it is a very strong belief.
Of course, western publishers have their ideas about literature, their own tastes, their publishing agenda and programmes. Publishing is a commercial industry, from the biggest conglomerate to the smallest independent outfit, and it caters for an infinitesimal number of diverse readers.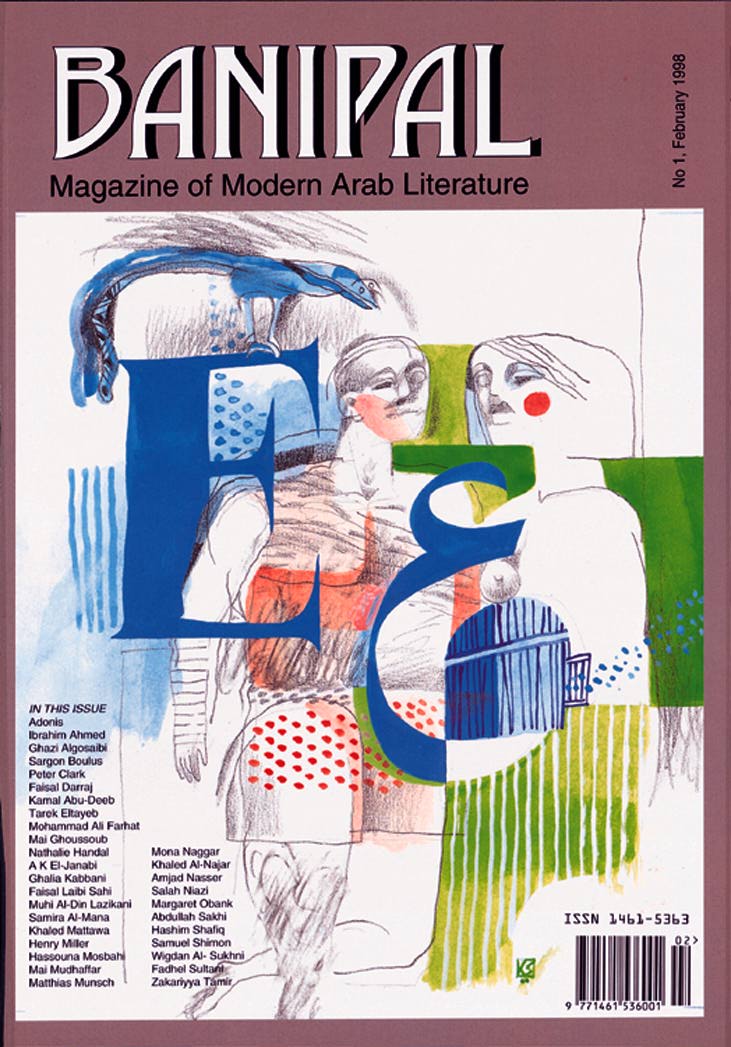 At Banipal we are very happy to see a welcome increase in works translated over the years as we continue doing what we started 22 years ago – following the Arab literary scene as to what is being written, discussed and published, and trying to reflect that in the Banipal issues. Although we are mindful of what is translated, and review as many as possible, our interest is in Arab literary creativity.
In this issue we publish poems by two outstanding poets, who are considered the most important voices in Arabic poetry today, the Emirati Abdel Aziz Jassim and the Palestinian Samer Abu Hawwash.
There are excerpts from two excellent novels, Autumn of Innocence by Abbas Beydoun, so well known for his poetry, who in recent years has turned to writing novels, with this novel winning the 2017 Sheikh Zayed Book Award for Literature; also the critically acclaimed novel Elias by talented Egyptian author Ahmad Abdulatif, who promises the reader 'a fresh vision of history'.
The main feature, TRAVELS, presents works by five innovative and established authors: the Iraqi poet and writer Farouk Yousif, writing lyrically about his journey to New York, following the steps of Federico García Lorca (part of a forthcoming Arabic book); the Tunisian writer Hassouna Mosbahi, who writes about his "Escape to Andalusia" after living in cities such as Paris and Munich; the Algerian writer Said Khatibi, with an excerpt from his book The Inflamed Gardens of the East, that won the 2015 Ibn Battuta Award for Travel Literature; Abdelkader Benali, the Moroccan-Dutch writer, contributing an adventurous short story "To Tangier with Emmanuel", that starts out being about 'Literature with a capital L'; and introducing Monir Almajid, the Syrian Japanophile, who has lived in Denmark since the mid-1980s but travels almost every year to Japan.
In our second feature, readers will discover the exceptional novelist from Jordan, Kafa Al-Zou'bi, through a passionate and empathetic essay on her life and literary influences, and a review of and translation from her latest novel Cold White Sun, which was shortisted for the 2019 International Prize for Arabic Fiction earlier this year.
In this issue we also continue our Guest Writer series with the British poet Linda France, whose featured poems were inspired by a recent literary residency in Jordan.
Finally, the issue opens with 'a lovely surprise', that is, stories from Yasmeen Hannoosh's The Land of Accursed Bounties: the World of Iraqi Plants, a 'remarkable' experimental novel in which plants are the narrators.
A massive thanks to the authors, translators and editors who have made this issue possible.
Published Date - 17/11/2019
---