News
Remembering the 5 March 2007, bombing of Al-Mutanabbi Street, Baghdad
SEVEN YEARS ON: PRESERVING LITERARY HERITAGE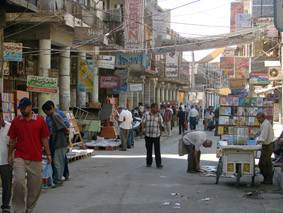 On the anniversary of the attempt to silence the free voice of literature and books, the Arab British Centre and Banipal invite readers, writers, translators, publishers and booksellers, to support and celebrate the significance of independent publishing and bookselling in commemoration of the cowardly bombing of Al-Mutanabbi Street in Baghdad on 5 March 2007.

On that day, tragedy struck the heart and soul of Baghdad's cultural and intellectual community as Al-Mutanabbi Street was devastated by a car bomb that killed over 30 people, wounded more than 100 and destroyed over 50 bookshops. The winding street filled with bookshops and outdoor stalls has for centuries been a meeting place for poets, political dissidents and literary aficionados, and is named after the famous 10th century classical Arab poet, Al-Mutanabbi.
Helping to place the bombing in its wider context, will be a discussion with London-based publishers and booksellers Margaret Obank, co-founder of Banipal; Barbara Schwepke, founder of Haus Publishing and the bookshop BookHaus; Ghassan Fergiani, founder of Darf Publishing, Dar Fergiani and three London bookshops including West End Lane Books, chaired by journalist Brian Whitaker.

The event is one of hundreds of events around the world on 5 March, this year and every year, following Beau Beausoleil's founding of the coalition Al-Mutanabbi Street Starts Here, to speak out against the destruction of books and writing and people that day. He expressed the importance of commemorating the anniversary of the bombing this year, saying that he wanted to "dedicate the readings this year to the tens of thousands of 'disappeared' in Iraq".

Join the Arab British Centre and Banipal for an afternoon of poetry readings and discussion on the seventh anniversary of this bombing of Baghdad's al-Mutanabbi Street.

Wednesday 5 March 2014
2.30pm-4.30pm
Meetings Room & Library
The Arab British Centre
1 Gough Square, EC4A 3DE
Iraqi actress Dina Mousawi and Syrian actor Ammar Haj Ahmad will perform poems by Saadi Youssef from the anthology Al-Mutanabbi Street Starts Here. Photographs of Al-Mutanabbi Street will be projected throughout, portraying the energy of the bookselling community before and after the bombing.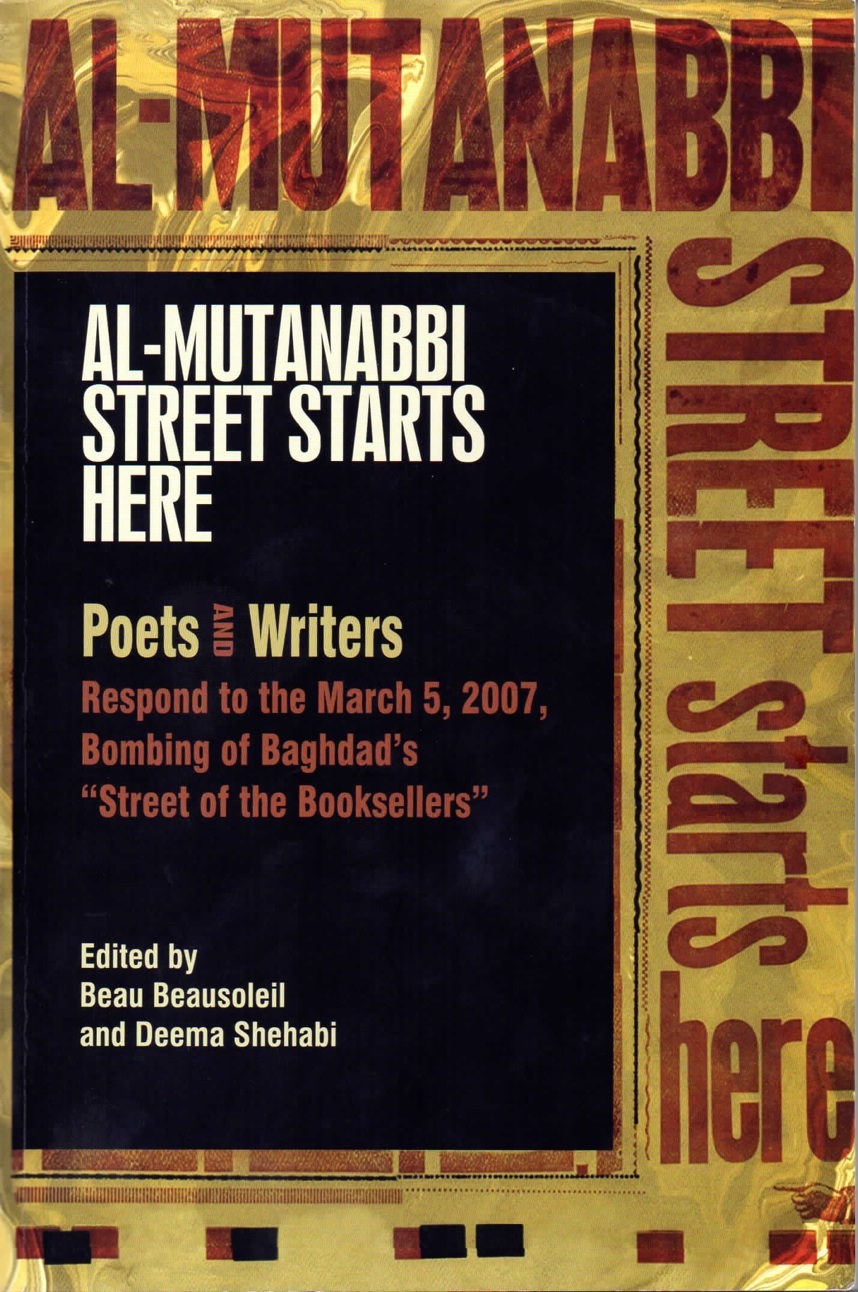 Audience members will also have the opportunity to browse the Banipal – Arab British Centre Library of Modern Arab Literature (BALMAL) for related books, and purchase copies of Al-Mutanabbi Street Starts Here.
This event is FREE but please RSVP so we have an idea of numbers.
RSVP | info@arabbritishcentre.org.uk | 020 7832 1310


* * *


AND IN THE EVENING
6.30-8.30pm
UCL Archaeology Lecture Theatre
31-34 Gordon Square
London WC1H 0PY
The programme includes:
• Readings of poetry by Abdulkarim Kasid, Reem Kuba and Gareeb Iskander in Arabic and English.
• Introduction to the cultural significance of the street by academic and journalist Safaa Saleh.
• Scenes from A Fire Blazing Brightly by Hassan Abdulrazzak read by Sirine Saba, Silas Carson, Houda Echouafni and Neil D'Souza. Directed by Lisa Goldman.
• A Candle for the Shabandar Café, a short film by Emad Ali produced by Maysoon Pachachi and Kasim Abid's Independent Film and Television College.
• Photography from Open Shutters Iraq by Raya Asee, introduced by Eugenie Dolberg.
• A monologue from Return by Dina Mousawi performed by Houda Echouafni.
Following the suggestion of Beau Beausoleil, coordinator of the Al Mutanabbi Street Starts Here Coalition, the evening is dedicated to the 'disappeared' of Iraq.
Presented by Hassan Abdulrazzak and Dr. Alan Ingram and supported by UCL Department of Geography.
This is also a FREE event, but reserve your seat with Eventbrite by clicking here
Published Date - 26/02/2014
---