News
Today is the deadline for entries to the Young Translators' Prize
Banipal is pleased to support the Harvill Secker Young Translators' Prize, this year for translation from Arabic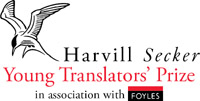 Deadline for entries is today, 29 July 2011

Harvill Secker Young Translators' Prize
2011 – Arabic to English


Harvill Secker announced the second annual Harvill Secker Young Translators' Prize, focussing on Arabic language, at the London Book Fair. Entrants had to translate the short story 'Layl Qouti' by Egyptian writer Mansoura Ez Eldin.

The judging panel comprises author Penelope Lively, translator Anthony Calderbank, journalist Maya Jaggi and Harvill Secker editor and founder of the prize Briony Everroad.
The winner's name will be announced in September 2011.
The winning translator will receive £1000, a selection of Harvill Secker titles and Foyles tokens.
For all information at the Young Translators' Prize website, click here.

The Harvill Secker Young Translators' Prize aims to recognise the achievements of young translators at the start of their careers. It was launched in 2010 as part of Harvill Secker's centenary celebrations. It is an annual prize, which focuses on a different language each year. It is open to anyone between the ages of 18 and 34, with no restriction on country of residence. For 2011, Harvill Secker has joined forces with Foyles, and the prize is kindly supported by Banipal.



Published Date - 29/07/2011
---