News
UK translator of Korean literature wins Arts Foundation Award
Deborah Smith, Britain's sole translator of Korean Literature, wins The Arts Foundation Literary Translation Award 2016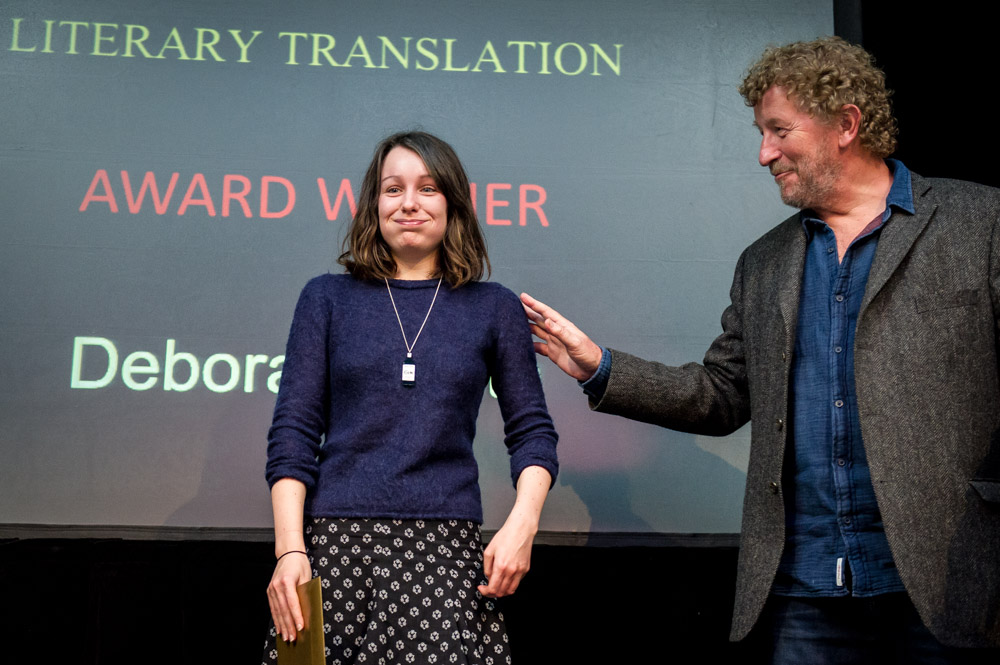 Last night at Notting Hill's 20th Century Theatre, Deborah Smith was awarded the £10,000 Literary Translation fellowship by guest of honour author Sebastian Faulks. The runners up for the Literary Translation Award, Ruth Ahmedzai-Kemp, Sophie Hughes and Rosalind Harvey, each received £1000.
As the UK's only published translator of Korean Literature into English, Deborah Smith is both unique and prolific in her field. Her most recent translation of South Korean author Han Kang's Human Acts (Portobello Books 2016) is out now and was described as 'a rare and astonishing book, sensitively translated by Deborah Smith' by The Observer, with the FT highlighting her 'spare, lyrical prose'. These are just a sample of the many reviews that have lauded her talent.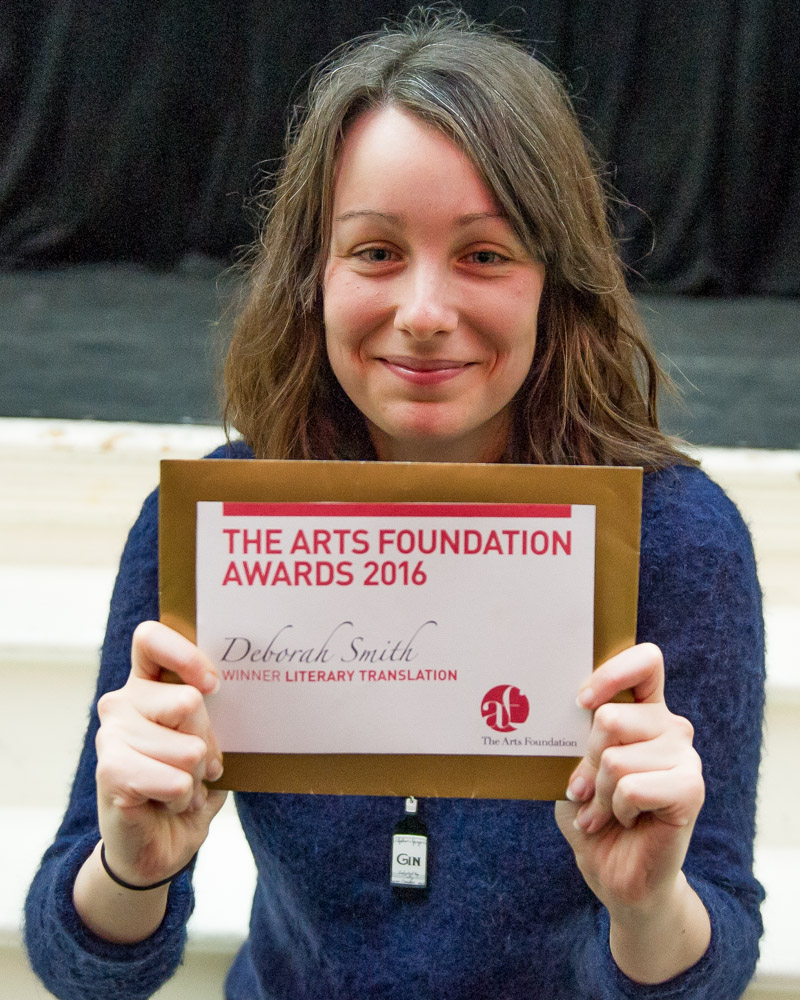 One of the judges, writer, translator and founder of the annual Translation Day Amanda Hopkinson said of Deborah: 'She is one of an exciting new generation of literary translators who undertook to learn a language – and understand a culture – in order to pursue her chosen career. The combination of her personal work as a literary translator together with the commitment to extend the number of both literary translators and translations from Asia singles Deborah Smith out as an innovative and thoroughly worthy winner of this Award.'
Amanda was just one of the judges for the Award alongside writer and broadcaster Paul Blezard and Meike Ziergovel from Peirene Press
Human Acts is Deborah's second published translation of Hann Kang's work, the previous being the highly acclaimed The Vegetarian (Portobello Books 2015) and the next, a short story, The Fruit of My Woman due to be published by Granta later this year. Further to this she has worked closely with Korean writer Bae Suah translating The Essayists Desk and The Low Hills of Seoul, both awaiting publication and Ahn Do-hyun's The Salmon Who Dared to Leap Higher (Pan Macmillan 2015).
These works have firmly established Deborah's role as a key voice in Korean literature. This, alongside her active involvement in sourcing and publishing South Korean, and non-European literature, through her not-for-profit company Tilted Axis Press make Deborah as a much respected and worthy recipient of this award.
Deborah plans to use her award to fund research into arguably Korean's most prominent and prolific writer Yi Chong-jun who died in 2008 leaving thirteen novels and many short stories to his name. Deborah is keen to translate his work in order, she says, to present to the English reader 'his powerfully humanist elaborations of existential concerns'.
The other Arts Foundation Awards
Five other £10,000 fellowships were awarded last night for Jewellery Design, Art in Urban Space, Materials Innovation, Children's Theatre and Producers of Live Music.

For information on all the winners and shortlists, click here
The Arts Foundation
The Arts Foundation £10,000 award is not a commission but to be used to pay for living and working expenses, allowing the artist, who must show a track record in the art form, breathing space in order to further their practice. The applicants are shortlisted from a longlist of UK-based artists nominated by experts across the country. The Arts Foundation was founded by an anonymous donation in 1993 and has since given over £1.6m to support artists from all walks of the arts.
Previous award winners in the Literary Arts include Alice Oswald (poetry) 1996, Ali Smith (short story writing) 2001, Michel Faber (short story writing) 2001 and Ken Cockburn (Literary Translation) 2008.
For more information, go to www.artsfoundation.co.uk. The Arts Foundation's Chairman William Sieghart, was recognised in the 2016 New Year's Honours with a CBE.

The other three shortlisted translators
Ruth Ahmedzai Kemp is a multi-lingual translator of Arabic, German and Russian into English, with a particular interest in contemporary prose fiction, politics and history. Her translation of the controversial novel Bride of Amman by Fadi Zaghmout (Signal 8 Press, 2015) was noted for its groundbreaking feminist and civil rights text representing LGBT and women's sexual freedoms and body rights.

Rosalind Harvey, co-founder of the Emerging Translators Network, translates from Spanish and has worked extensively with Mexican writer Juan Pablo Villabolos whose latest work includes Quesadillas (And Other Stories, 2013). Her best known work Down the Rabbit Hole (And Other Stories, 2011) was shortlisted for the Guardian First Book Award.
Sophie Hughes translates from Spanish with a particular focus on Mexican literature, a country in which she has spent time to understand and promote its rich literary culture. Her most recent translation is the critically acclaimed Ivan Repila's The Boy Who Stole Attila's Horse (Pushkin Press 2015).
Published Date - 29/01/2016
---