Banipal Books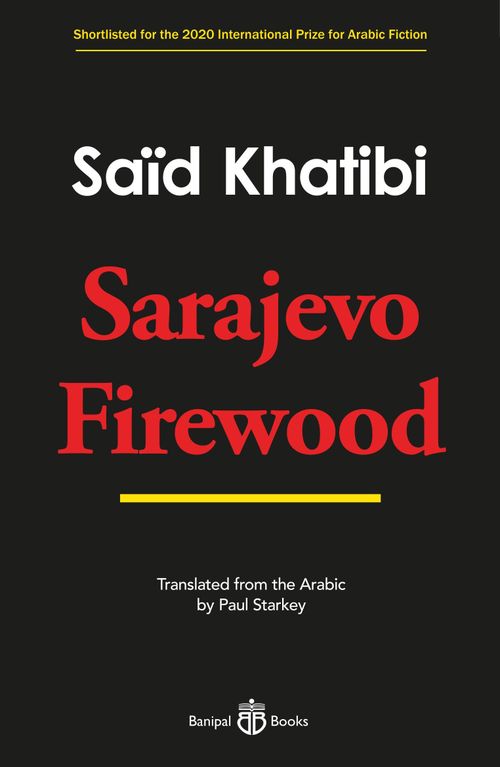 Sarajevo Firewood
by Saïd Khatibi
ISBN:
9781913043230
Pbk • eBook • 320pp
Translated from the Arabic by Paul Starkey
Available in the US from any bookstore, including Barnes & Noble and Amazon

For eBook Kindle UK (£6.99) from Amazon UK, click here and from Amazon.com ($9.99) click here

Sarajevo Firewood, which was shortlisted for the International Prize for Arabic Fiction (IPAF) award in 2020, explores the legacy of the recent histories of two countries – Algeria and Bosnia and Herzegovina – both of which endured traumatic and destructive civil wars in the 1990s.
The novel narrates the lives of two main characters, with their friends and families: Salim, an Algerian journalist, and Ivana, a young Bosnian woman, both of whom have fled the destruction and hatred of their own countries to try to build a new life in Slovenia. As Ivana pursues her goal of writing her 'dream play', Khatibi's novel brings to life in fictional form the memories and experiences of the countless ordinary people who survived the atrocities linking the two countries.
Sarajevo Firewood represents both a lasting memorial to the thousands of dead and 'disappeared' of the two countries' civil conflicts, and a powerful and innovative exploration of the experience of exile to which so many have been subjected over the last few decades.

* * *
Algerian author Said Khatibi: 'To avoid war, destroy the myth of purity'

Interview with Saïd Khatibi about his novel Sarajevo Firewood
by Nafees Mahmud
in Middle East Eye on 22 March 2022

* * *


"A singular tale of survival and self-realization – and a tale of two cities,

worlds apart but bonded by appalling violence and individual forbearance"

– Hannah Somerville (Banipal 72)


To read the full review of Sarajevo Firewood by Hannah Somerville, click here

* * *


Love Reading Lit Fest presents

Saïd Khatibi and his novel Sarajevo Firewood in an interview
by Georgia de Chamberet of BookBlast
and Paul Blezard of Love Reading Lit Festival

* * *
Saïd Khatibi's courageous and extraordinary novel, Sarajevo Firewood, is a labyrinthine journey, with Algeria at one pole, Bosnia at the other, and Slovenia serving as neutral ground in-between. As the two narrators, Salim from Algiers and Ivana from Sarajevo, discover and are exposed to shocking knowledge of their respective family origins, we are taken on a journey within the journey. Along the way, we are forced to reconsider what we think we know about liberation, nationalism, decolonization, and war, as Khatibi masterfully shifts our focus from the state to the family and the continual trauma of self-understanding in the process of becoming an individual.
AMMIEL ALCALAY

* * *

In Sarajevo Firewood, Saïd Khatibi brings together Ivana, the Bosnian, and Salim, the Algerian. On the surface, they are two very different people, separated by gender, nationality, language, culture, geography and history. However, they profoundly connect because they carry the same burden: the wounds of civil war.
Khatibi's style is simple, precise and beautiful. A true sculptor, he shapes his sentences and eliminates the superfluous. We face both Ivana and Salim in the first person, head on.
The author has been living outside his native Algeria for a decade. This migration has afforded him new worldviews, new languages, new cultures and experiences. His is a true expression of freedom for which, unfortunately, the Arab world is still struggling with censorship and self-censorship. Without freedom of expression, there is no creativity.
Sarajevo Firewood is an astonishing novel and Khatibi is one of the most original voices in Arabic literature today.
AMARA LAKHOUS
author of Clash of Civilizations Over an Elevator in Piazza Vittorio


* * *

ABOUT THE AUTHOR

Saïd Khatibi is a novelist, travel writer, translator and cultural journalist, born in 1984 in Bou Saada, Algeria. He writes in Arabic and French and translates between both. He has a BA in French Literature from the University of Algiers and an MA in Cultural Studies from the Sorbonne.
He has three novels in Arabic: this one, Hatab Sarajevo, which was shortlisted for the 2020 International Prize for Arabic Fiction, Kitab al-Khataya (Book of Errors) Editions ANEP, 2013, and Arba'un 'aman fi intidhar Izabil (Forty Years Waiting for Isabelle), 2016, about the real-life Swiss traveller Isabelle Eberhardt (1877−1904), for which he won the 2017 Katara Award for the Novel.
His travel book about the Balkans, (The Inflamed Gardens of the East), 2015, was excerpted in Banipal 66 – Travels (2019). He has written extensively on rai music, including a book (Wedding Fire, 2010) that tells its story. He lives in Slovenia.
ABOUT THE TRANSLATOR
Paul Starkey is an award-winning translator and Emeritus Professor of Arabic, Durham University, UK. His most recent literary translations are Praise for the Women of the Family by Mahmoud Shukair, Fractured Destinies by Rabai Al-Madhoun and The Shell by Mustafa Khalifa. Other translations include works by Rashid al-Daif (Dear Mr Kawabata), Edwar al-Kharrat (Stones of Bobello), Turki al-Hamad (Shumaisi), Mansoura Ez Eldin (Maryam's Maze), Jurji Zaydan (Saladin and the Assassins), Mahdi Issa al-Saqr (East Winds, West Winds), Adania Shibli (We Are All Equally Far From Love), and Youssef Rakha (The Book of the Sultan's Seal). For more information, go to: https://www.banipal.co.uk/contributors/523/paul-starkey/
- Live on Zoom with University of Notre Dame.
PLEASE NOTE: This event was postponed. We are hoping it will be rescheduled
The Gifts of Movement | Transformative Migrations in the Digital Age: Saïd Khatibi and Amara Lakhous
in conversation with Alexander Elinson
* * *