Paul Starkey
Until his retirement in 2012 Paul Starkey was Professor of Arabic and Head of the Arabic Department at Durham University, UK.
He read Arabic and Persian Language and literature at Oxford University. He has published numerous scholarly articles on aspects of the Arab novel and on particular Arab authors such as Edwar al-Kharrat and Sonallah Ibrahim. He is author of From the Ivory Tower: A Critical Study of Tawfiq Hakim (edited, with Julie Meisami, 1998), Modern Arabic Literature (2006), and was a co-editor of the Encyclopedia of Arabic Literature. He is currently working on a study of the Egyptian 'generation of the sixties, in particular the Egyptian author Sonallah Ibrahim, to be published by Edinburgh University Press.

He has translated a number of works by contemporary Arab authors including Dear Mr Kawabata by Rashid al-Daif (Quartet, 2000), Stones of Bobello by Edwar al-Kharrat (Saqi, 2005) for the European Cultural Foundation's publishing project Mémoires de la Méditerranée, Turki al-Hamad's Shumaisi (Saqi, 2005), Mansoura Ez-Eldin's Maryam's Maze, parts of Samuel Shimon's An Iraqi in Paris first published by Banipal magazine and Banipal Books, Mahdi Issa Saqr's East Winds, West Winds (2010). Also Jurji Zaydan, and Adania Shibli's We Are All Equally Far From Love.


His translation of The Book of the Sultan's Seal: Strange Incidents from History in the City of Mars by Youssef Rakha won the 2015 Saif Ghobash Banipal Prize for Arabic Literary Translation. The translation of the Egyptian author's debut novel Kitab al-Tughra is published by Interlink Books and was excerpted in Banipal 51 (Autumn/Winter 2014). For all information about the 2015 Award, click here
Further translations include Praise for the Women of the Family by Mahmoud Shukair (2016 IPAF shortlist), and The Shell by Mustafa Khalifa, for which he was awarded the 2017 Hamad Translation Award.
His latest translations are Sarajevo Firewood by Algerian author Saïd Khatiibi, which was shortlisted for the 2020 IPAF Award, forthcoming from Banipal Books, September 2021 and The Drowning by Sudanese author Hammour Ziada, forthcoming from Interlink Publishing, December 2021.
He is a contributing editor of Banipal magazine of Modern Arab Literature, and has been Chair of the Banipal Trust for Arab Literature since it was established in 2004. In 2007-8 he was a judge in the inaugural year of the International Prize for Arabic Fiction.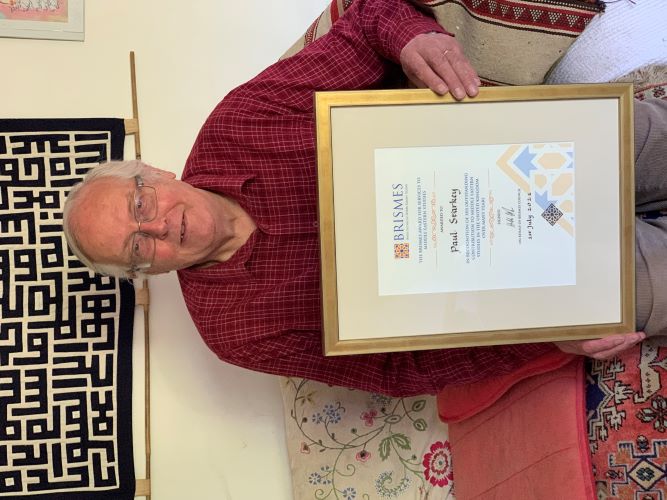 In July 2021 Paul Starkey received the BRISMES Award for Services to Middle Eastern Studies. He served as Vice President of BRISMES from 2012 to 2018 and, as outgoing Vice President, continued as a member of Council until 2020. One of Paul's most important legacies is the BRISMES Committee on Academic Freedom, which was established in 2019. He played a central role in setting up the committee and he continues to be a very active member. The BRISMES website reports that:
"Professor Paul Starkey is one of the most distinguished scholars of Modern Arabic literature and his work has been foundational to the field and his many publications have hugely enhanced our understanding and love of this field. His book, Modern Arabic Literature, has been a key text in degree courses across the country, if not the world. He is internationally recognised for his translations of Arabic novels, which have opened up the rich and dynamic field of Arabic literature to non-Arabic speaking audiences and is known for translating 'unknown' or 'controversial' authors who, with time, have become reference points for other authors and movements. He has an unrivalled breadth of knowledge of Arabic literature and he continues to promote the field and especially its teaching and broader accessibility through his translations. He is also a warm and generous person who has been supportive of the next generation of scholars."
---
Contributor's Issues
Banipal 54 - ECHOES (Autumn/Winter 2015)
Banipal 71 - Salutes Ihsan Abdel Kouddous
Banipal 43 - Celebrating Denys Johnson-Davies (2012)
Banipal 63 - The 100 Best Arabic Novels (2018)
Banipal 53 - The Short Stories of Zakaria Tamer (2015)
Banipal 56 - Generation '56 (Summer 2016)
Banipal 73 - Fiction Past and Present
Banipal 66 - Travels (Autumn/Winter 2019)
Banipal 70 - Mahmoud Shukair, Writing Jerusalem
Banipal 69 - 9 New Novels (Autumn/Winter 2020)
Banipal 67 - Elias Khoury, The Novelist (Spring 2020)
Banipal 64 - A Rebel named Hanan al-Shaykh (2019)
Banipal 57 - Syria in the Heart (Autumn/Winter 2016)
Banipal 60 - Alaa al-Deeb, A Writer Apart (Autumn/Winter 2017)
Banipal 52 - New Fiction (2015)
Banipal 61 - A Journey in Iraqi Fiction (2018)
Banipal 51 - Celebrating Saadi Youssef (2014)
Banipal 58 - Arab Literary Awards (Spring 2017)