Book Reviews
Zuzana Kratka reviews two novels by IBRAHIM ASLAN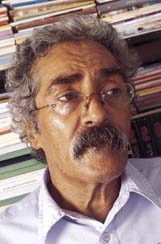 The Heron

translated by Elliott Colla,

AUC Press, 2005. 176pp, hbk, ISBN 9772429291 $19.95


Nile Sparrows

translated by Mona El-Ghobashy,

AUC Press, 2004. 128pp, hbk, ISBN 977 424 828 7. $18.95

A view from the banks of the Nile


Ibrahim Aslan started his career as a journalist, occasionally publishing short stories in newspapers and magazines before moving on to write novels, and at a glance seems to be well in line with other contemporary Egyptian writers. This impression is strengthened by the fact that, like many writers from Egypt, he sets his narratives in a Cairo neighbourhood and concentrates on giving a realistic account of social relationships as well as local topography. However, after a few pages readers will discover that what makes Aslan the distinguished writer he is, is setting the narrative in a working-class rather than middle-class environment, his extensive use of dialogue rather than long description, his inimitable sense of humour and his highly original plots.

Born in 1936 to a working-class family in Tanta, a village in the Nile Delta, Ibrahim Aslan rose through self-education to become one of Egypt's leading authors. His reputation soon gained him various positions within Arab media and publishing; he is currently cultural editor at the Cairo office of the Arabic daily Al-Hayat. His literary career started in the "Generation of the Sixties" group that counts among its members some of the most outstanding figures in the Arab literary scene. Amongst them I must mention the late Nobel Prizewinner for Literature Naguib Mahfouz, Edwar al-Kharrat, Yousef Idriss, Sonallah Ibrahim, Baha'a Taher and Mohamed el-Bisatie. Despite Aslan's not being a prolific writer, his first collection of short stories, Buhayrat al-Masah [The Evening Lake] (1972), had already brought a new voice and direction to Egyptian fiction. Aslan was influenced by his own life experience: he set all his narratives in the working-class Cairo districts of Imbaba and Warraq, as well as giving his characters the same professions as his father and himself.


Naturally, the hero of his first novel The Heron (Arabic original, Malik al-Hazin, in 1983, with the excellent English translation of Elliott Colla last year) is a writer and one will also always find at least one of Aslan's characters employed at the Cairo Post Office, where Aslan's father – and during the early years of his working life Aslan himself – used to work. The Cairo Post Office also provided Aslan with settings for his novella Wardiyyat Layl (1992) [Night Shift] in which, through the eyes of the novella's protagonist Sulayman, he mysteriously depicts its working environment. Wardiyyat Layl was in fact a draft of what would a few years later become Aslan's second (and best) novel Nile Sparrows (Arabic original 1998, English translation 2004). Aslan is also author of the short story collection Youssef wal-Rida' (1987) [Joseph and the Robe].

The Heron is set on the eve of the January 1977 bread riots, the popular uprising that took place in Egypt and in Jordan as a reaction to the International Monetary Fund's austerity programmes and demand for privatisation of state-owned sectors. The Heron depicts life in Imbaba district, where its protagonist the writer Youssef al-Naggar observes the every-day lives of men and women preoccupied by their own sorrows but also celebrating important events. Willing to transform the inhabitants of Imbaba into personae of a novel and describe in detail their activities, streets and haunts, among which was the Kit-Kat night club frequented in past times by the King, Youssef is caught midstream in student demonstrations and protests against corruption and rising prices. Following the book's publication, not only was The Heron acclaimed by Egyptian and international literary critics, it also became a major film adaptation of Egyptian filmmaker Dawud Abdel Sayed. The film, entitled "Kit Kat", was released in 1991 and screened in Egyptian cinemas as well as at European film festivals. And why did the director choose to adapt The Heron?

". . . When I was producing this film, I wasn't inspired by any ideology or a concept … it's the atmosphere that this novel creates that was my source of inspiration and that obliged me to forget any explanation or the quest for its meaning … What is really important to me, is the tale. The spectator can interpret, but to me, an artistic work can be seen from thousands of angles."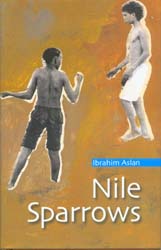 Unlike The Heron, that depicts the rather individualistic life of Youssef al-Naggar, Nile Sparrows, Aslan's second novel and the first to be translated, chronicles the daily life of a family of rural migrants in Cairo, examining their mutual relationships on individual and generational levels as well as their relations to the external world. Nile Sparrows can be truly considered the author's masterpiece since Aslan gives a certain touch of mystery to his already well-defined personal style. It can be described as a true family saga enveloped in a detective story that opens with the disappearance of the 100-year-old plus grandmother Hanem who was last seen by her daughter-in-law Dalal. Dalal doesn't have the heart and courage to tell Hanem that her grown-up children, Nargis and Abdelrahim, have both died; instead she throws Hanem into psychological anaesthesia, leaving her completely in the dark about her family's present life. No wonder that one day the grandmother walks off in search of her children and her family ties in her native village.

Following her disappearance, her grandson Abdallah reluctantly sets out for the village to search for her and in doing so, embarks on a bittersweet odyssey into his family's past and a confrontation with his own present life. Such an unusual plot and time frame, working through different generations, provide Aslan with an incredible opportunity for creative licence, allowing him to use numerous flashbacks, mimicking the tricks of memory. The narrative jumps from the present to the past, then back to the present as family memories gradually rise to the surface via the portraits of Hanem's dead children.

Nile Sparrows is expertly translated by Mona el-Ghobashy, who lectures on Middle East Politics and Sociology at Columbia University and who has published many articles on various aspects of Egyptian society, including literature and culture. Like any narrative with a great number of characters, the work is full of dialogue and references to the political and socio-economical realities that any Egyptian of that time may have encountered. Aslan also proves to be an excellent social critic when he skilfully describes, for example, the traps and relative hypocrisy of fourth-phase Egyptian marriages. Since any contact between men and women prior to marriage is forbidden, the only way for unmarried couples to get to know each other is to 'get married' step by step: first comes the engagement, then the signing of the contract, followed by the public wedding ceremony, and finally the move together into a new home – bearing in mind that at any of these stages the couple could easily get divorced.

The final scene of the book brings us back to the present as Aslan paints the picture of the lost old lady, grandmother Hanem, desperately trying to find her way back to her native village and calling out: 'Going out to the village, son?'

The philosophical aspect of Nile Sparrows, as well as its settings and its structure, make Aslan's work highly original, even though his previous works reproduce some typical patterns of Egyptian fiction writing as established at the beginning of the twentieth Century, such as setting the narrative within a certain social and geographical environment and leaning towards social realism. Aslan is nonchalantly able to pass on a universal message of the importance of remembering, of not forgetting our origins, and of being able to confront our past in order to live our present and future in sanity.

From Banipal 27 - Autumn/Winter 2006

Back to top