The 2013 Saif Ghobash Banipal Prize is awarded today

Omar Ghobash, sponsor of the Saif Ghobash Banipal Prize for Arabic Literary Translation, told Abu Dhabi's English-language newspaper The National how a search for the "Arab canon" inspired the the family's support for prize and how the prize rewards excellence.
On the eve of the eighth award of this annual prize, which is the only one in the world for published Arabic literary translation into English, he told The National:
"I was brought up on Russian literature because my mother is Russian, so I was very interested in what I could find in terms of novels on my Arab side. I was searching for the Arab canon. We in the Arab world seemed to have a different approach to our literature – at least in terms of novels. There has been a much greater focus on poetry. In terms of novels and short stories, the situation is much less organised.
"So the SGB Prize can do a number of things. First, it is a demonstration of one family taking a decisive step to support a prize that rewards excellence. This in itself should encourage others to look for ways in which they can also support similar initiatives revolving around our cultural life. It also provides a stimulus for translators to work harder at their chosen profession. It demonstrates that we do not need tremendous amounts of money to make a point. The prize makes the point: it draws attention to the existence of Arabic literature, it brings attention to Arab writers.
"Today I spent about five hours interpreting between different people and languages. The act of translation is a sacred one for me, in that it brings different worlds together in mutual understanding."

For the first time, the judges chose two winners: Jonathan Wright for Azazeel and William Hutchins for A Land Without Jasmine.

Both winners will be in London for the Award Ceremony on Wednesday 12 February and for two events on 13 February organised by the Banipal Trust for Arab Literature – an afternoon Roundtable on Arabic Literary Translation for established and emerging translators and students of Arabic literary translation, and an evening Celebration of the Best of Arabic Fiction in English Translation with the Winners at Foyles' Bookshop in Charing Cross Road.

To read The National article in full, click here
To read all information about the 2013 winners of the Saif Ghobash Banipal Prize, click here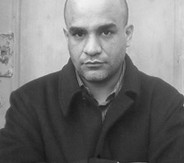 Latest News
24/04/2018
Ibrahim Nasrallah wins 2018 International Prize for Arabic Fiction
[read more]
07/03/2018
Sheikh Zayed Book Award announces the 2018 Shortlists
[read more]
26/02/2018
Shortlist Announced for IPAF 2018

[read more]
22/02/2018
On 3 March: Three award-winning translators to discuss "Translating Arabic Fiction Today"
[read more]
17/01/2018
Longlist for 2018 IPAF announced
[read more]
10/01/2018
Robin Moger is winner of 2017 Saif Ghobash Banipal Translation Prize
[read more]
[read all news stories]