Front cover painting by Mahi Binebine

CONTENTS

A Tribute to Werner Mark Linz (1935–2013)

EDITORIAL – Margaret Obank

Amjad Nasser– An excerpt from the novel Land of No Rain translated by Jonathan Wright

Faris al-Shidyaq – Excerpts from Leg over Leg translated by Humphrey Davies

80 NEW POEMS
Hussein Habasch – A Poem, translated by Allison Blecker
Taha Adnan – A Poem, translated by Robin Moger
Phillip Metres – Selected Poems
Hassab al-Sheikh Ja'far – Poems, translated by Camilo Gomez-Rivas
Khaled Najar – Selected Poems, Translated by Khaled Mattawa
Heind R. Ibrahim – Three Poems
Salah Faik – from Flashes, translated by Raphael Cohen
Vénus Khoury-Ghata– Six Poems, translated from the French by Marilyn Hacker
Amjad Nasser – "The Edges of Day", translated by Fady Joudah
Khaled Mattawa – Selected Poems
Musa Hawamdeh – Two poems, translated by Allison Blecker
Dunya Mikhail – Four Poems
Mohamed al-Harthy – "A Failed Mechanic at the Onset of the Seventies", a poem translated by Ibtihaj al-Harthi
Fadhil al-Azzawi – Selected Poems, translated by the author

GUEST WRITER – LORAND GASPAR
Lorand Gaspar – "The Fourth State of Matter" (extracts) translated by Mary Ann Caws
Khaled Najar – "Evenings by the Sea with Lorand Gaspar"
Lorand Gaspar – "Approach of the Word", translated by Mary Ann Caws
Herbert Mason – "An Autumn afternoon with Lorand Gaspar" and excerpts from Hospital Notes
Lorand Gaspar – Further excerpts from Hospital Notes, translated by Marilyn Hacker
Profile: Lorand Gaspar

2013 INTERNATIONAL PRIZE FOR ARABIC FICTION SHORTLIST
Saud Alsanousi – from The Bamboo Stalk, translated by Thomas Aplin
Mohammed Hasan Alwan – from The Beaver, translated by Paul Starkey
Sinan Antoon – from Hail Mary, translated by Maia Tabet
Jana Fawaz Elhassan – from Me, Her and the Other Women, translated by Ghenwa Hayek
Ibrahim Issa – from Our Master, translated by Ruth Ahmedzai
Hussein al-Wad – from His Excellency, the Minister, translated by John Peate

Mohammad Khashan – Excerpt from a Memoir, translated by Issa J. Boullata

The 2013 Sawiris Cultural Awards for Literature

BOOK REVIEWS
Susannah Tarbush The Silence and the Roar by Nihad Sirees and In Praise of Hatred by Khalid Khalifa
The 2012 Naguib Mahfouz Medal for Literature
Mona Zaki The Book of Epiphanies by Gamal al-Ghitani and Tales of Encounter: Three Egyptian Novellas by Yusuf Idris
Margaret Obank Horses of God by Mahi Binebine
Norbert Hirshhorn A Land Without Jasmine by Wajdi Al-Ahdal
Stephen Watts 30 Years of Palestinian Poetry – The Palestinian Wedding, Like a Straw Bird It Follows Me and Rain Inside
Norbert Hirshhorn Wherever I Lie is Your Bed and Cafés
Margaret Obank Art Home Lands by Oded Halahmy

BOOKS IN BRIEF
Nostalgia; My Enemy; The Parley Tree; Poets from French-speaking Africa and the Arab World: Homage to Etel Adnan; Transfer; my name on his tongue; The Square Root of Beirut; A Muslim Suicide; Life on Hold; The Barbary Figs; Le Ravin du chamelier; As Though She Were Sleeping; White Masks; The Bottom of the Jar; The Corsair; Writing Love; The Palm House; Brooklyn Heights; The Time-Travels of the Man Who Sold Pickles and Sweets; Love in the Rain and Midaq Alley; Cairo Paris Melbourne; Candygirl; Of Noble Origins; Cinnamon; Days in the Diaspora; Light Piercing Water: Guest Boy; The Sheikh's Detective; Metro: A Story of Cairo; The Battle of Poitiers; The Caliph's Sister; The Caliph's Heirs; Three Kings of Warka – Enmerkar; Lugalbanda; Gilgamesh; Al-Mutanabbi Street Starts Here; New Voices of Arabia: The Poetry; New Voices of Arabia: The Short Stories,; On the Weave of the Sun; Life After Baghdad; The Philosophy of Desert Metaphors in Ibrahim al-Koni; Classical Arabic Literature: A Library of Arabic Literature Anthology; Conflicting Narratives: War; Trauma and Memory in Iraqi Culture; Gender; Nation and the Arabic Novel: Egypt; 1892-2008; Once Upon the Orient Wave: Milton and the Arab Muslim World; Cultural Encounters in Translation from Arabic

EVENTS
London: 2012 Saif Ghobash Banipal Translation Prize
London: Poets from Palestine

LAST PAGE
Latifa Baqa – Letter from Agadir

The translators in Banipal 46 are: Ruth Ahmedzai, Thomas Aplin, Allison Blecker, Issa J. Boullata, Mary Ann Caws, Raphael Cohen, Humphrey Davies, Robin Moger, Camilo Gomez-Rivas, Marilyn Hacker, Ibtihaj al-Harthi, Ghenwa Hayek, William M. Hutchins, Fady Joudah, Khaled Mattawa, John Peate, Paul Starkey, Maia Tabet, Jonathan Wright.
The writers and book reviewers are: Latifa Baqa, Charis Bredin, Norbert Hirshhorn, Munib Khan, Herbert Mason, Margaret Obank, Khaled Najar, Agnes Reeve, Susannah Tarbush, Stephen Watts, Mona Zaki.

For information on all the translators, writers and book reviewers in Banipal 46, and for more on all other contributors, click on their name, or go to: www.banipal.co.uk/contributors/


This issue has been supported by: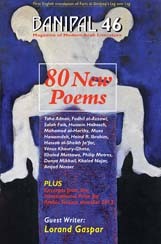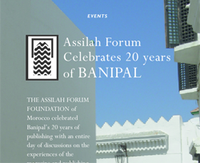 Latest News
07/03/2018
Sheikh Zayed Book Award announces the 2018 Shortlists
[read more]
26/02/2018
Shortlist Announced for IPAF 2018

[read more]
22/02/2018
On 3 March: Three award-winning translators to discuss "Translating Arabic Fiction Today"
[read more]
17/01/2018
Longlist for 2018 IPAF announced
[read more]
10/01/2018
Robin Moger is winner of 2017 Saif Ghobash Banipal Translation Prize
[read more]
01/12/2017
First Shortlist announced for the 2017 Saif Ghobash Banipal Prize for Arabic Literary Translation
[read more]
[read all news stories]