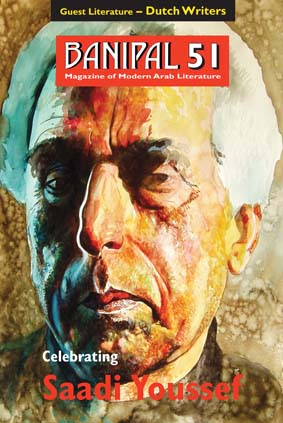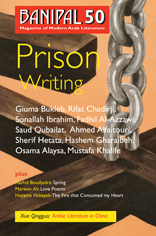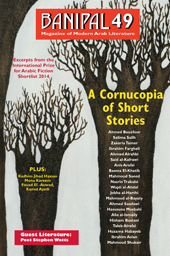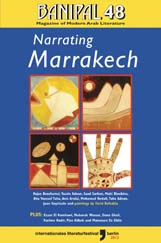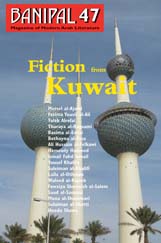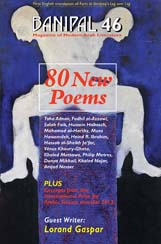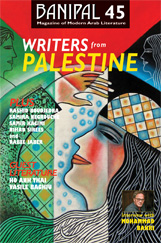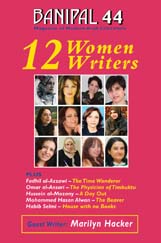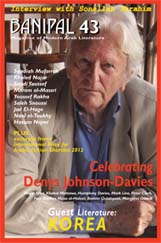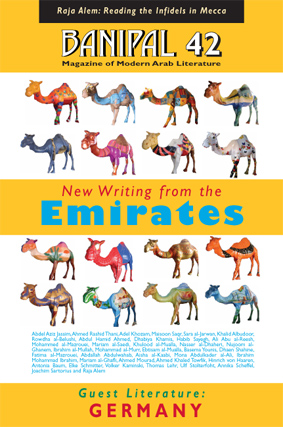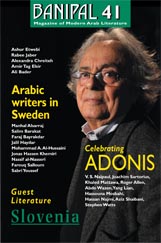 "Not merely a bridge between two cultures
but . . . a laboratory that illuminates the styles of modern Arabic writings" – Adonis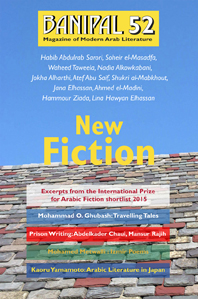 The current issue . . .

Banipal 52 – New Fiction

. . . presenting a range of new works, all translated from Arabic, whose authors hail from Egypt, Yemen, Oman, Syria, Palestine, Lebanon, Morocco, Tunisia and Sudan and include excerpts from the 2015 shortlist of the International Prize for Arabic Fiction. The book reviews include novels ranging from The Book of Khalid, by Ameen Rihani, first published in 1911, to Saud Alsanousi's The Bamboo Stalk and Youssef Rakha's The Crocodiles. The feature on "Prison Writing", started in Banipal 50, continues with two new and powerful testimonies, and will remain open indefinitely for more contributions.

For all contents and links to contributors' pages,
go to current issue page
* * *
The Italian by Shukri Mabkhout wins 2015 International Prize for Arabic Fiction
The Italian, published by Dar Tanweer Tunis, was named winner by this year's Chair of Judges, award-winning Palestinian poet and writer Mourid Barghouti, at a ceremony in Abu Dhabi.

For all details , read the press release here
Click here to visit the International Prize for Arabic Fiction website
* * *
THE MAN BOOKER INTERNATIONAL PRIZE 2015
László Krasznahorkai is the winner
The £60,000 award recognises one writer for his or her achievement in fiction.
For more information about the winner and the prize, click here or go to The Man Booker Prize website here
* * *
Sinan Antoon wins the 2014 Saif Ghobash
Banipal Arabic Literary Translation Prize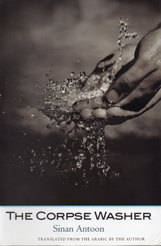 The 2014 Saif Ghobash Banipal Prize for Arabic Literary Translation is awarded to Sinan Antoon, for his translation of his own novel The Corpse Washer, published by Yale University Press.
Paula Haydar is highly commended for her translation of June Rain, by Jabbour Douaihy, published by Bloomsbury Qatar Publishing Foundation.

For the full announcement and all details, click here
* * *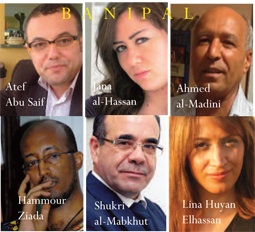 Shortlist announced for the 2015 International Prize for Arabic Fiction
Today (13 January) the six novels shortlisted for the 2015 International Prize for Arabic Fiction have been announced at the Casablanca International Book Fair. In alphabetical order, the six novels are as follows:
Title

Author

Country of origin

Publisher

A Suspended Life

Atef Abu Saif

Palestine

Al-Ahlia

Floor 99

Jana Elhassan

Lebanon

Difaf Publications

Diamonds and Women

Lina Huyan Elhassan

Syria

Dar al-Adab

The Italian

Shukri al-Mabkhout

Tunisia

Dar Tanweer

Willow Alley


Ahmed al-Madeeni

Morocco

Al-Markez al-Thaqafi al-Arabi


The Longing of the Dervish


Hammour Ziada

Sudan

Dar al-Ain
For the full announcement and for information about the Prize and shortlisted novels and authors, click here or visit www.arabicfiction.org.
* * *

Latest News
07/05/2015
The Italian by Shukri Mabkhout wins 2015 International Prize for Arabic Fiction
[read more]
16/04/2015
2015 Harvill Secker Young Translators' Prize opens for translation from Polish
[read more]
13/04/2015
2015 Sheikh Zayed Book Award Announces Winners
[read more]
30/03/2015
In conversation: SAUD ALSANOUSI launches The Bamboo Stalk at Waterstones Piccadilly, 29 April
[read more]
25/03/2015
Man Booker International Prize Finalists announced
[read more]
06/03/2015
EMERGING VOICES AWARDS for Fiction, Film and Art will recognise more than 100 emerging market nations
[read more]
[read all news stories]