Front cover paintings by Farid Belkahia



EDITORIAL by Samuel Shimon

Karima Nadir – Seven Poems, translated by Robin Moger
Ezzat El Kamhawi – An excerpt from the novel The House of El-Deeb translated by Nancy Roberts
Mubarak Wassat – Five Poems, translated by Robin Moger
Duna Ghali – An excerpt from the novel Orbits of Loneliness, translated by Maia Tabet
Pius Alibek – A chapter from the novel Nomad Roots, translated from the Catalan by the author

NARRATING MARRAKECH
Marrakech: Open Secrets by Yassin Adnan and Saad Sarhan, introduced by Juan Goytisolo.
Translated by John Peate
Juan Goytisolo – Marrakech at last yields to narration
Yassin Adnan and Saad Sarhan – Marrakech: Open Secrets
Rajae Benchemsi – An excerpt from the novel Marrakech: Light of Exile, translated by Charis Bredin
Abu Youssef Taha – Two short stories, translated by Mbarek Sryfi
Mahi Binebine – An excerpt from the novel The Lord will reward you, translated by Patrick Ray
Anis Arafai – Three Tales from Marrakech, translated by Ali Azeriah
Mohamed Nedali – An excerpt from the novel Prime Cuts, translated by André Naffis-Sahely
Taha Adnan – From Brussels to Marrakech, translated by Robin Moger

LITERARY INFLUENCES
Mansoura Ez-Eldin – "Phantoms of One Thousand and One Nights"
Translated by William M Hutchins

BOOK REVIEWS
Susannah Tarbush Carnival by Rawi Hage
Paul Starkey The Lady from Tel Aviv by Raba'i al-Madhoun
Andrew C Long The World Through the Eyes of Angels and Ben Barka Lane by Mahmoud Saeed
Margaret Obank Sex and the Citadel by Shereen El Feki
Margaret Obank Delights from the Garden of Eden by Nawal Nasrallah

BOOKS IN BRIEF
LIBRARY OF ARABIC LITERATURE
Leg over Leg, Vols One and Two by Ahmad Faris al-Shidyaq;
The Epistle of Forgiveness, Vol One,A Vision of Heaven and Hell by Abu l-Ala al-Ma'arri;
Virtues of the Imam Ahmad ibn Hanbal, Vol One by Ibn al-Jawzi.
Status Emo by Eslam Mosbah,
Flying Carpets by Hedy Habra;
Haneen by Miriam Day;
The Girl Who Fell to Earth: A Memoir by Sophia Al-Maria;
Gertrude by Hassan Najmi;
The Salmiya Collection: Stories of the Life and Times of Modern Kuwait by Craig Loomis;
The Last Storytellers: Tales from the Heart of Morocco, recounted by Richard Hamilton.
Crossings by Habib Tengour;
EDINBURGH STUDIES IN MODERN ARABIC LITERATURE
Post-War Anglophone Lebanese Fiction: Home Matters in the Diaspora by Sirine Hout,
The Iraqi Novel: Key Writers, Key Texts by Fabio Caiani and Catherine Cobham,
The Arab Nahda: The Making of the Intellectual and Humanist Movement by Abdulrazzak Patel.

THE BERLIN INTERNATIONAL LITERATURE FESTIVAL

FRANKFURT BOOK FAIR


The translators in Banipal 48 are:
Pius Alibek, Ali Azeriah, Charis Bredin, William M Hutchins, Robin Moger, André Naffis-Sahely, John Peate, Patrick Ray, Nancy Roberts, Mbarek Sryfi, Maia Tabet.
The writers, artists, photographers and book reviewers are:
Farid Belkahia, Charis Bredin, Nick Grigg, Andrew C Long, Margaret Obank, Clare Roberts, Paul Starkey, Susannah Tarbush, Mona Zaki.
For information on all the translators, writers and book reviewers in Banipal 48 and for more on all other contributors, please go to:
www.banipal.co.uk/contributors/
back to top


To see the online digital issue, click on the cover image below or the Latest Issue link
Latest Issue
To search through the digital Banipal issues, enter your search term and click on the Search Banipal button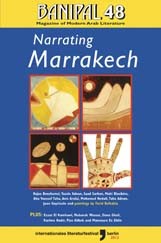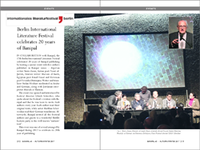 Latest News
07/03/2018
Sheikh Zayed Book Award announces the 2018 Shortlists
[read more]
26/02/2018
Shortlist Announced for IPAF 2018

[read more]
22/02/2018
On 3 March: Three award-winning translators to discuss "Translating Arabic Fiction Today"
[read more]
17/01/2018
Longlist for 2018 IPAF announced
[read more]
10/01/2018
Robin Moger is winner of 2017 Saif Ghobash Banipal Translation Prize
[read more]
01/12/2017
First Shortlist announced for the 2017 Saif Ghobash Banipal Prize for Arabic Literary Translation
[read more]
[read all news stories]