Digital
Digital Subscription
Enjoy full access to Banipal on the Web, iOS devices and Android – for individuals and institutions
A screenshot of digital editions of archived Banipal issues - the three from 2019

Complete Digital Archive of Banipal magazine issues now available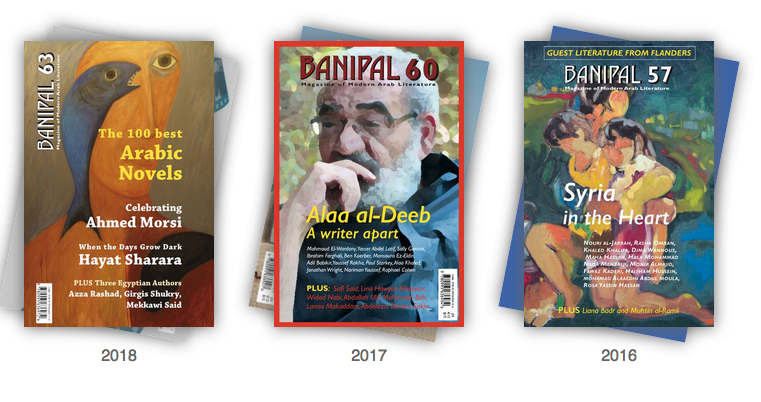 All digital subscribers have unlimited and free access to this unique archive for the duration of their subscriptions. Banipal's digital edition is run by our partner Exact Editions, the digital publishing specialist. For our full announcement of the digital archive launch click here
Individual digital subscription

Our special offer of 20% discount on an individual digital subscription is running until 30 January 2021. Click on the link below, and add the discount code OFFER2021 when you click on Add to Basket . The individual rate for one year or three issues is is usually £49.99, €59.99, USD54.99 or C$74.99, so this is a great bargain in these dificult times of Covid and Brexit. With your subscription you get free and unlimited access to the complete digital archive of Banipal issues, from No 1, February 1998.
Just click on the link below.

Institutional digital subscription

The institutional digital subscription is an annual subscription of 3 issues, plus free and unlimited access to the complete archive, for University, College and Public Libraries who need to have multiple access for their readers. Exact Editions sets up the IP access for librarians. and all institutional subscriptions can be authenticated against the library's IP range.
The main features of a subscription:
Rates are based on FTE
Unlimited access to the growing archive of back issues.
Fully-searchable archive that can be searched by keyword and using Boolean operators.
Unlimited IP-authenticated access and remote access options available.
Cross-platform compatibility with all Web, iOS and Android devices.
Usage reports, MARC records, KBART data and excellent customer support.