Banipal Books was established in 2004 by Banipal's then editor Margaret Obank in order to strengthen and expand the work of Banipal Magazine by publishing in book form works by contemporary Arab authors. The first two titles were published in March 2005.
A Boat to Lesbos, and other poems, published 10 April 2018, is our fourth volume of poetry in English translation. Each one is also the poet's first collection in English translation.

Receive Our Newsletter
For news of readings, events and new titles.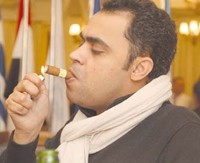 Latest News
06/07/2018
Banipal 62 – A Literary Journey through Arab Cinema for summer reading
[read more]
25/05/2018
Remembering Denys Johnson-Davies
[read more]
16/05/2018
New Banipal issue
A Journey in Iraqi Fiction
[read more]
09/05/2018
Najwa Binshatwin, the 2018 Banipal Visiting Writer Fellow
[read more]
08/05/2018
Ahmed Saadawi salutes Banipal magazine

[read more]
28/04/2018
The Sheikh Zayed Book Award Winners for 2017-2018
[read more]
[read all news stories]