Banipal 40 is the Free Trial issue of Digital Banipal – Search items in the contents here

CONTENTS
• A statement by Arab intellectuals, writers and journalists on the recent events in Bahrain, Libya and Yemen
• 2011 International Prize for Arabic Fiction – the six shortlisted novels and authors
• EDITORIAL by Samuel Shimon
• The winner of the 2010 Saif Ghobash–Banipal Prize for Arabic Literary Translation
• Abdelkarim Jouiti – An excerpt from the novel Katibat al-Kharab, translated by Piers Amodia
• Jokha al-Harthi – A chapter from the novel Sayyidat al-Qamar (Women of the Moon), translated by Sophia Vasalou
• Abdo Wazen – Chapter from the memoir An Open Heart, translated by John Peate

LIBYAN FICTION
Omar Abulqasim Alkikli on "The short story in Libya"
Ibrahim Ahmidan on "The Libyan Novel"
Omar el-Kiddi – A short story: The wonderful short life of the dog Ramadan, translated by Robin Moger
Azza Kamil al-Maghour – The Bicycle, a short story translated by John Peate
Ahmed Fagih – LOBSTERS, a short story translated by Maia Tabet
Ahmed Fagih – portrait by Susannah Tarbush
Ali Mustafa al-Musrati – portrait by Margaret Obank
Ghazi Gheblawi – A Rosy Dream, a short story translated by Ghenwa Hayek
Hisham Matar – An excerpt from the novel Anatomy of a Disappearance
Wafa Al-Bueissa – Hunger has Other Faces, a chapter from the novel, translated by Robin Moger
Omar Abulqasim Alkikli – Two short stories, translated by Elliott Colla
Mohammed Mesrati – A chapter from the novel Mama Pizza, translated by Leri Price
Mohammed al-Arishiya – The Snake Catcher, a short story translated by Ghenwa Hayek
Mohammed al-Anaizi – He was Holding a Rosary, a short story translated by Ali Azeriah
Razan Naim Moghrabi – An excerpt from the novel Women of the Wind, translated by William M Hutchins
Redwan Abushwesha – Five short stories, translated by John Peate
Giuma Bukleb – Two short stories, translated by Sophia Vasalou
Mohammed al-Asfar – The Hoopoe, a short story, translated by Ali Azeriah
Najwa Binshatwan – His Excellency the Eminence of the Void, a short story translated by Suneela Mubayi
Saleh Snoussi – An excerpt from the novel Halq el-Rih, translated by William M. Hutchins
Ibrahim al-Koni – Excerpts from the novel New Waw, translated by William M. Hutchins
Elliott Colla – Translating Ibrahim Al-Koni
Peter Clark reviews The Puppet by Ibrahim al-Koni

INTERVIEW
Alawiya Sobh – Interviewed by Akl Awit

TRIBUTE
Edmond Amran El Maleh 1917–2010 by Abdelkarim Jouiti

BOOK REVIEWS
André Naffis-Sahely: The Calligrapher's Secret by Rafik Schami
James Dalglish: Yalo by Elias Khoury
André Naffis-Sahely: White Masks by Elias Khoury
Susannah Tarbush: Like a Summer Never to Be Repeated by Mohamed Berrada
Norbert Hirshhorn: The Loved Ones by Alia Mamdouh
Susannah Tarbush: Saint Theresa and Sleeping with Strangers by Bahaa Abdelmegid
Tristan Cranfield: Emerging Arab Voices Nadwa 1: A Bilingual Reader, edited by Peter Clark

BOOKS IN BRIEF
A Palace in the Old Village by Tahar Ben Jelloun, translated by Linda Coverdale
Lyrics Alley by Leila Aboulela
Adonis – Selected Poems, translated and introduced by Khaled Mattawa
I Want to Get Married by Egyptian blogger Ghada Abdel Aal, translated by Nora Eltahawy
Iraq's Modern Arabic Literature – A Guide to English Translations since 1950 by Salih J Altoma
Levant – Splendour and Catastrophe on the Mediterranean by Philip Mansel.



Banipal is pleased to announce that during 2011 we are supporting the Cystic Fibrosis Trust with free promotion as our Charity of the Year.

The translators in Banipal 40 are: Piers Amodia, Thomas Aplin, Ali Azeriah, Elliott Colla, Ghenwa Hayek, William M Hutchins, Robin Moger, Suneela Mubayi, John Peate, Leri Price, Maia Tabet and Sophia Vasalou.
The writers and book reviewers are: Ibrahim Ahmidan, Omar Abulqasim Alkikli, Akl Awit, Peter Clark, Elliott Colla, James Dalglish, Norbert Hirschhorn, Abdelkarim Jouiti, André Naffis-Sahely, Margaret Obank and Susannah Tarbush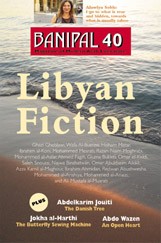 Latest News
16/02/2017
IPAF Short list Announced
[read more]
30/01/2017
Complete Digital Archive of Banipal is launched
[read more]
26/01/2017
Ali Bader selected as First Banipal Visiting Writer Fellow
[read more]
25/01/2017
Saif Ghobash Banipal Prizewinner Jonathan Wright and his author Saud Alsanousi celebrate in Manchester on 23 February
[read more]
16/01/2017
International Prize for Arabic Fiction 2017 – Longlist announced
[read more]
13/01/2017
Syrian writer Khaled Khalifa writes on being Syrian today – "the issue in Syria is not one of refugees but of a whole population that is being turned into either corpses or forced to flee while the world stands silently by"
[read more]
[read all news stories]