Robin Moger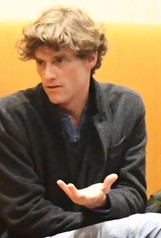 Robin Moger is a translator of contemporary Arabic fiction, currently living in Cape Town, South Africa.

He graduated with a degree in Egyptology and Arabic from Oxford University in 2001 before travelling to Cairo to work as a journalist for the Cairo Times magazine. Following its closure he became a full-time professional translator.

He is the translator of A Dog With No Tail by Hamdi Abu Golayyel (AUC Press, 2009), winner of the 2008 Naguib Mahfouz Medal for Literature, and Vertigo by Ahmed Mourad (Bloomsbury Qatar Foundation Publishing, 2011), and is one of the translators of the anthology Beirut39: New Writing from the Arab World (2010).
His translations include Yasser Abdellatif's The Law of Inheritance and Iman Mersal's How To Mend: Motherhood and its Ghosts, both published in 2018, All the Battles by Maan Abu Talib (Hoopoe Fiction, 2017), The Book of Safety by Yasser Abdel Hafez, which won the 2017 Saif Ghobash Banipal Prize for Arabic Literary Translation, and Otared by Mohammad Rabie (Hoopoe Fiction, 2016, also entered for the 2017 Saif Ghobash Banipal Translation Prize), Yousef al-Mohaimeed's Where Pigeons Don't Fly (Bloomsbury Qatar Foundation Publishing, 2015), Youssef Rakha's The Crocodiles (Seven Stories Press, 2014) and Yousef al-Mohaimeed's Where Pigeons Don't Fly (BQFP, July 2015), both reviewed in Banipal 52, Egyptian author Nael Eltoukhy's novel Women of Karantina (AUC Press, 2014), and Writing Revolution: The Voices from Tunis to Damascus (I B Tauris, 2013), which won the 2013 English PEN Award for outstanding writing in translation.
His most recent translation is Slipping (Eflat Al Asabea, Kotob Khan Publishing House, 2018; Two Lines Press, 2021).
---
Contributor's Issues
Banipal 66 - Travels (Autumn/Winter 2019)
Banipal 52 - New Fiction (2015)
Banipal 53 - The Short Stories of Zakaria Tamer (2015)
Banipal 48 - Narrating Marrakech (2013)
Banipal 56 - Generation '56 (Summer 2016)
Banipal 46 - 80 New Poems (2013)
Banipal 40 - Libyan Fiction (2011)
Banipal 41 - Celebrating Adonis (2011)
Banipal 42 - New Writing from the Emirates (2011)