Back Issues
Banipal 37 - IRAQI AUTHORS (2010)
IRAQI AUTHORS
Front cover photo of two parakeets in a Baghdad market by Hussain al-Mozany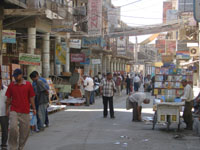 Al-Mutanabbi Street, 2010

Hussain al-Mozany – The Last Trip to Baghdad, translated by Ghenwa Hayek
Lutfiya al-Dulaimi – two episodes from the novel The Book of the Girls, translated by John Peate
Luay Hamza Abbas – Two short stories, The Pictures and Ali the Red, translated by Maia Thabet
Ahmad Saadawi – An excerpt from the novel He is Dreaming or Playing or Dying, translated by Issa J Boullata
Nazum al-Obeidi – An excerpt from the novel A Woman's Ghost in the Neighbourhood, translated by Ghenwa Hayek
Enas al-Badran – A short story Nausea, translated by William M Hutchins
Diya al-Jubaily – A short story A Deadly Joke, translated by Ghenwa Hayek
Nassif Falak – An excerpt from the novel The Worm, translated by Suneela Mubayi
Shakir Nouri – An excerpt from the novel The Whim of the Dead, translated by Ali Azeriah
Mahdi Issa al-Saqr – An excerpt from the novel East Winds, West Winds, translated by Paul Starkey
Bassim al-Ansar – From the epic poem Damn!, translated by Ali Issa
Dahlia Riyadh – Four poems, translated by Khaled Al Masri
Mohammad Mazloom – Two poems, translated by Sinan Antoon
Najat Abdullah – A poem, translated by Tristan Cranfield
Rahman al-Najjar – A poem, translated by Sinan Antoon
Salah Hithani – From the poem "The Water of Your Absence", translated by Alison Blecker
Hussain Ali Younis – Four poems, translated by Tristan Cranfield
Nadia al-Khudari – Two poems, translated by Tristan Cranfield
Ahmed Abdel Hussain – A poem, "Al-Andulus Square" translated by Khalida Hamid and Tristan Cranfield
Basim Furat – Two poems, translated by Abdul Monem Nasser and Mark Pirie
Khalid al-Maaly – Nine poems, translated by Sinan Antoon
Mohamed el-Bisatie – An excerpt from the novel Drumbeat, translated by Peter Daniel
Habib Tengour – From the epic poem This Particiular Tartar, translated from the French by Marilyn Hacker
Ezzat el-Kamhawi – An excerpt from the novel City of Pleasure, translated by William M Hutchins
Greet Ramael – Flemish Writers with Arab Roots, translated from the Dutch by Laura Watkinson
Rachida Lamrabet – A short story Ammetis, the Sleeper, translated from the Dutch by Ina Rilke
LITERATURE FROM YEMEN continued . . .
Ali Mohammed Zayd – An excerpt from the novel Coffee Blossom, translated by Thomas Aplin
BOOK REVIEWS
Olivia Snaije Une Mélancolie Arabe by Abdullah Taïa
Zuzana Kratka Just Like Tomorrow and Dreams from the Endz by Faïza Guène
Susannah Tarbush Thirsty River by Rodaan Al-Galidi

BOOKS IN BRIEF – Fiction, Poetry, Memoir & Biography, Travel, Visual Arts, Remembering Sabra and Shatila . . . Gaza . . .
EVENTS
London: The Saif Ghobash–Banipal Prize for Arabic Literary Translation
Dubai: Emirates Airline International Literature Festival
Abu Dhabi: International Book Fair
Abu Dhabi: International Prize for Arabic Fiction
Cairo: First National Translation Centre Conference
For all translators, article writers, book reviewers and interviewers in Banipal 37, and for more information about all other contributors, please go to:
www.banipal.co.uk/contributors/
The translators in Banipal 37 are:
Sinan Antoon, Thomas Aplin, Ali Azeriah, Alison Blecker, Issa J Boullata, Tristan Cranfield, Peter Daniel, Marilyn Hacker, Khalida Hamid, Ghenwa Hayek, William M Hutchins, Ali Issa, Khaled Al-Masri, Suneela Mubayi, Abdul Monem Nasser, John Peate, Mark Pirie, Ina Rilke, Paul Starkey, Maia Tabet, Laura Watkinson
The writers and book reviewers are:
Greet Ramael, Zuzana Kratka, Olivia Snaije, Susannah Tarbush, Pippa Woodhead, Eloise Dicker, Lulu Norman, Samuel Shimon
---