EDITORIAL
TRAVELLING TALES
Mohammad Obaid Ghubash – Four Tales from Sleeping Amongst Wolves, translated by Rosie Maxton

Mohamed Metwalli: Izmir Poems, translated by Gretchen McCullough and the author
NEW FICTION
Soheir el-Masadfa: An excerpt from the novel The Journey of the Hyenas, translated by Raphael Cohen
Habib Abdulrab Sarori: A chapter from the novel Suslov's Daughter, translated by Ruth Ahmedzai Kemp
Nadia Alkowkabani: An excerpt from the novel My Sana'a, translated by Suneela Mubayi
Waheed Taweela: A chapter from the novel Gate Of Night, translated by Julia Ihnatowicz
Jokha Alharthi: The Widow Marries, an excerpt from a novel-in-progress, translated by Robin Moger
Excerpts from the 2015 Shortlist
of the International Prize for Arabic Fiction

Ahmed el-Madini: An excerpt from the novel Willow Alley, translated by Paul Starkey
Jana Elhassan: An excerpt from the novel Floor 99, translated by Robin Moger
Atef Abu Saif: An excerpt from the novel A Suspended Life, translated by William M Hutchins
Lina Hawyan Elhassan: An excerpt from the novel Diamonds And Women, translated by Sophia Vasalou
Hammour Ziada: An Excerpt from the novel The Longing Of The Dervish, translated by Jonathan Wright
Shukri al-Mabkhout: An Excerpt from the novel The Italian, translated by Raphael Cohen
PRISON WRITING
Abdelkader Chaui: From Prison To Life – A Testimony, translated by Mbarek Sryfi
Mansur Rajih: Outside Prison: Inside The Body – A Testimony, translated by Samira Kawar
ARABIC LITERATURE IN JAPAN
Kaoru Yamamoto: The Translation of Contemporary Arabic Literature in Japan – General observations and personal experiences
TRIBUTES
Margaret Obank: Remembering Radwa Ashour
Pierre Joris remembers: Abdelwahab Meddeb, the wandering poet
BOOK REVIEWS
Susannah Tarbush: The Bamboo Stalk by Saud Alsanousi
Robin Ostle: Mahmoud Darwish: The Poet's Art and his Nation by Khaled Mattawa
Margaret Obank: The Crocodiles by Youssef Rakha
Paul Blezard: Harraga by Boualem Sansal
Andrew C. Long: The Book Of Khalid by Ameen Rihani
Volker Kaminski: Bagdad . . . Marlboro by Najem Wali
Damascus Diaries: Life under the Assads by Peter Clark
Zoe Dexter: Where Pidgeons Don't Fly by Yousef Al-Mohaimeed
Susannah Tarbush: Temple Bar by Bahaa Abdelmegid
Clare Roberts: Dates On My Fingers by Muhsin Al-Ramli
Susannah Tarbush: African Titanics by Abu Bakr Khaal
BOOKS IN BRIEF
Fiction
The Book Of Gaza edited by Atef Abu Saif
Arab Jazz by Karim Miske
Non-fiction
Legends of the Fire Spirits: Jinn and Genies from Arabia to Zanzibar by Robert Lebling
Arabs and the Art of Story Telling, A Strange Familiarity by Abdelfattah Kilito
Arabic Minimalist Story: genre, politics and poetics in the self-colonial era by Ibrahim Taha
Reading Arabia: British Orientalism in the Age of Mass Publication, 1880-1930 by Andrew C. Long
The Medieval Islamic Republic of Letters: Arabic Knowledge Construction by Muhsin J. al-Musawi
The Revolt of the Young, essays by Tawfiq al-Hakim
BOOKS RECEIVED
FICTION
The Broken Mirrors/Sinalcol by Elias Khoury
The Book of the Sultan's Seal, Strange Incidents from History in the City of Mars by Youssef Rakha
Monarch of the Square: An Anthology of Muhammad Zafzaf's Short Stories
Who's afraid of Meryl Streep? by Rashid al-Daif
The Penguin's Song by Hassan Daoud
Oh Salaam! by Najwa Barakat
The Lanterns of the King of Galilee by Ibrahim Nasrallah
Chaos of the Senses by Ahlem Mosteghanemi
Un génial imposteur by Kebir M. Ammi
Sherazade by Leila Sabbar
The boy from Aleppo who painted the war by Sumia Sukkar
Chameleon in my Garden by Nita Nicholson
POETRY
Where Are the Trees Going? by Vénus Khoury-Ghata
Chronicles of Majnun Layla and Selected Poems by Qassim Haddad
Tahrir Suite: poems by Matthew Shenoda
A Bird is not a Stone: An anthology of contemporary Palestinian poetry edited by Henry Bell and Sarah Irving
The Gold Shop of Ba-'ali: Poems by Yahya Frederickson
MEMOIR
The Curse of the Achille Lauro by Reem al-Nimer
Revolution is My Name: An Egyptian Woman's Diary from Eighteen Days in Tahrir by Mona Prince
NON-FICTION
The Sudanese-Arab Writer Tayeb Salih: A Study of His Journals, Short Stories, and Novels edited by Constance E. Berkley
Keep Your Eye on the Wall: Palestinian Landscapes, eds. Olivia Snaije and Mitchell Albert
We Are Imazighen, The Development of Algerian Berber Identity in the Twentieth-Century Literature and Culture by Fazia Aïtel
What Makes a Man? Sex Talk in Beirut and Berlin by Rashid al-Daif and Joachim Helfer
Between Sips of Coffee, Oral Narratives from the United Arab Emirates by Abdullah Abdulrahman
When All the Lands Were Sea: A Photographic Journey into the Lives of the Marsh Arabs of Iraq by Tor Eigeland
Reel Bad Arabs by Jack G.Shaheen, updated edition
Vitality and Dynamism: Interstitial Dialogues of Language, Politics and Religion in Morocco's Literary Tradition by Bratt
Syria Speaks edited by Malu Halasa, Zaher Omareen & Nawara Mahfoud
Jerusalemites: A Living Memory by Hazem Zaki Nusseibeh
We are Iraqis, Aesthetics and Politics in a Time of War edited by Nadje Al-Ali and Deborah Al-Najjar
THE LIBRARY OF ARABIC LITERATURE
Two Arabic Travel Books comprises Accounts of China and India by Abu Zayd al-Sirafi, and Mission to the Volga by Ahmad Ibn Fadlan
Virtues of the Imam Ahmad ibn Hanbal, by Ibn al-Jawzi. Vol 2
Disagreements of the Jurists, A Manual of Islamic Legal Theory by al-Qadi al-Numan (d. 974 AD).
EVENT
The 2014 Saif Ghobash Banipal Prize for Arabic Literary Translation
CONTRIBUTORS
The translators in Banipal 52 are:
Raphael Cohen, William Maynard Hutchins, Julia Ihnatowicz, Samira Kawar, Ruth Ahmedzai Kemp, Rosie Maxton, Gretchen McCullough, Robin Moger, Suneela Mubayi, Mbarek Sryfi, Paul Starkey, Sophia Vasalou, Jonathan Wright
The writers, artists and book reviewers are:
Paul Blezard, Charis Bredin, Zoe Dexter, Pierre Joris, Volker Kaminski, Andrew C. Long, Robin Ostle, Clare Roberts, Susannah Tarbush, Kaoru Yamamoto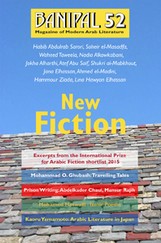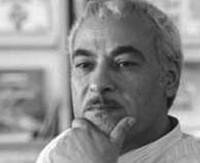 Latest News
16/02/2017
IPAF Short list Announced
[read more]
30/01/2017
Complete Digital Archive of Banipal is launched
[read more]
26/01/2017
Ali Bader selected as First Banipal Visiting Writer Fellow
[read more]
25/01/2017
Saif Ghobash Banipal Prizewinner Jonathan Wright and his author Saud Alsanousi celebrate in Manchester on 23 February
[read more]
16/01/2017
International Prize for Arabic Fiction 2017 – Longlist announced
[read more]
13/01/2017
Syrian writer Khaled Khalifa writes on being Syrian today – "the issue in Syria is not one of refugees but of a whole population that is being turned into either corpses or forced to flee while the world stands silently by"
[read more]
[read all news stories]