Jokha Alharthi (al-Harthi)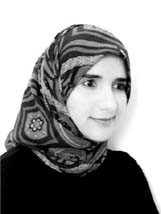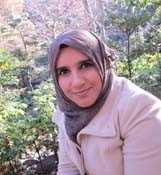 Jokha Alharthi was born in Oman. She obtained her PhD in Classical Arabic Literature at the University of Edinburgh in 2010, and she currently works as a Professor of Literature at Sultan Qaboos University.
She has published three collections of stories: Maqati Min Sirat Lubna Ith Aana al-Rahil in 2001 (which granted her the second place in the Shariqa award), Sabi Ala al-Sath (A boy on the roof) in 2007, and Fi Madih al-Hubb (Impressing Love) in 2008.
She has published three novels: Manamat (Dreams) in 2004, and Sayyidat al-Qamar (Ladies of the Moon) in 2010 which granted her the award for "The best Omani novel". In 2016 she won the Sultan Qaboos Award for Culture, Arts and Literature, for her novel Narinjah (Bitter Orange).
She has a children's book entitled Ushsh li'l-asafir (Nest for Birds) in 2010 for which she was awarded the prize for "Best Omani children's book"
She edited a collection of poems by Ahmed bin Abdullah, and has published two studies: "Studies in Oman and Gulf Literature" in 2003, and "Chasing The Suns: The Literary Methodology in The Book of 'Kharidat al-Qasr'" in 2010.
A chapter of her novel ayyidat al-Qamar (Ladies of the Moon) was published in Banipal 40 in 2011, soon after it had been published by Dar al-Adab in Arabic. On 21 May 2019 the full translation of the novel by Marilyn Booth, published by Sandstone Press, won the 2019 Man Booker International Prize.
Watch the video here of Jokha and Marilyn accepting the award.
https://www.facebook.com/maggie.obank/videos/2141766842589148/UzpfSTI0NDYzMzg1MjI5NTk3NzoyMzAzNTc3MzAzMDY4Mjc4/
https://www.banipal.co.uk/news/
---
Contributor's Issues
Banipal 52 - New Fiction (2015)
Banipal 35 - Writing in Dutch (2009)
Banipal 49 - A Cornucopia of Short Stories (2014)
Banipal 40 - Libyan Fiction (2011)