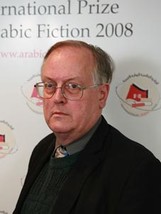 is Vice-President of the British Society for Middle Eastern Studies and Chairman of the Banipal Trust for Arab Literature. Until his retirement in 2012 he was Professor of Arabic and Head of the Arabic Department at Durham University, UK.
He read Arabic and Persian Language and literature at Oxford University. He has published numerous scholarly articles on aspects of the Arab novel and on particular Arab authors such as Edwar al-Kharrat and Sonallah Ibrahim. He is author of From the Ivory Tower: A Critical Study of Tawfiq Hakim (edited, with Julie Meisami, 1998), Modern Arabic Literature (2006), and was a co-editor of the Encyclopedia of Arabic Literature. He is currently working on a study of the Egyptian 'generation of the sixties, in particular the Egyptian author Sonallah Ibrahim, to be published by Edinburgh University Press.

He has translated a number of works by contemporary Arab authors including Dear Mr Kawabata by Rashid al-Daif (Quartet, 2000), Stones of Bobello by Edwar al-Kharrat (Saqi, 2005) for the European Cultural Foundation's publishing project Mémoires de la Méditerranée, Turki al-Hamad's Shumaisi (Saqi, 2005), Mansoura Ez-Eldin's Maryam's Maze, parts of Samuel Shimon's An Iraqi in Paris first published by Banipal magazine and Banipal Books, Mahdi Issa Saqr's East Winds, West Winds (2010). Also Jurji Zaydan, and most recently Adania Shibli's We Are All Equally Far From Love.

His last translation, The Book of the Sultan's Seal: Strange Incidents from History in the City of Mars by Youssef Rakha has won the 2015 Saif Ghobash Banipal Prize for Arabic Literary Translation. The translation of the Egyptian author's debut novel Kitab al-Tughra is published by Interlink Books and was excerpted in Banipal 51 (Autumn/Winter 2014). For all information about the 2015 Award, click here
He is a contributing editor of Banipal. In 2007-8 he was a judge of the inaugural year of the International Prize for Arabic Fiction.
Contributor's Issues
Banipal No 54 ECHOES (Autumn/Winter 2015)
Banipal No 43 Celebrating Denys Johnson-Davies (2012)
Banipal No 53 The Short Stories of Zakaria Tamer (2015)
Banipal No 56 Generation '56 (Summer 2016)
Banipal No 57 Syria in the Heart
Banipal No 52 New Fiction (2015)
Banipal No 51 Celebrating Saadi Youssef (2014)

Latest News
16/02/2017
IPAF Short list Announced
[read more]
30/01/2017
Complete Digital Archive of Banipal is launched
[read more]
26/01/2017
Ali Bader selected as First Banipal Visiting Writer Fellow
[read more]
25/01/2017
Saif Ghobash Banipal Prizewinner Jonathan Wright and his author Saud Alsanousi celebrate in Manchester on 23 February
[read more]
16/01/2017
International Prize for Arabic Fiction 2017 – Longlist announced
[read more]
13/01/2017
Syrian writer Khaled Khalifa writes on being Syrian today – "the issue in Syria is not one of refugees but of a whole population that is being turned into either corpses or forced to flee while the world stands silently by"
[read more]
[read all news stories]