News
Banipal's Complete Digital Archive is launched
Banipal's Complete Digital Archive
is launched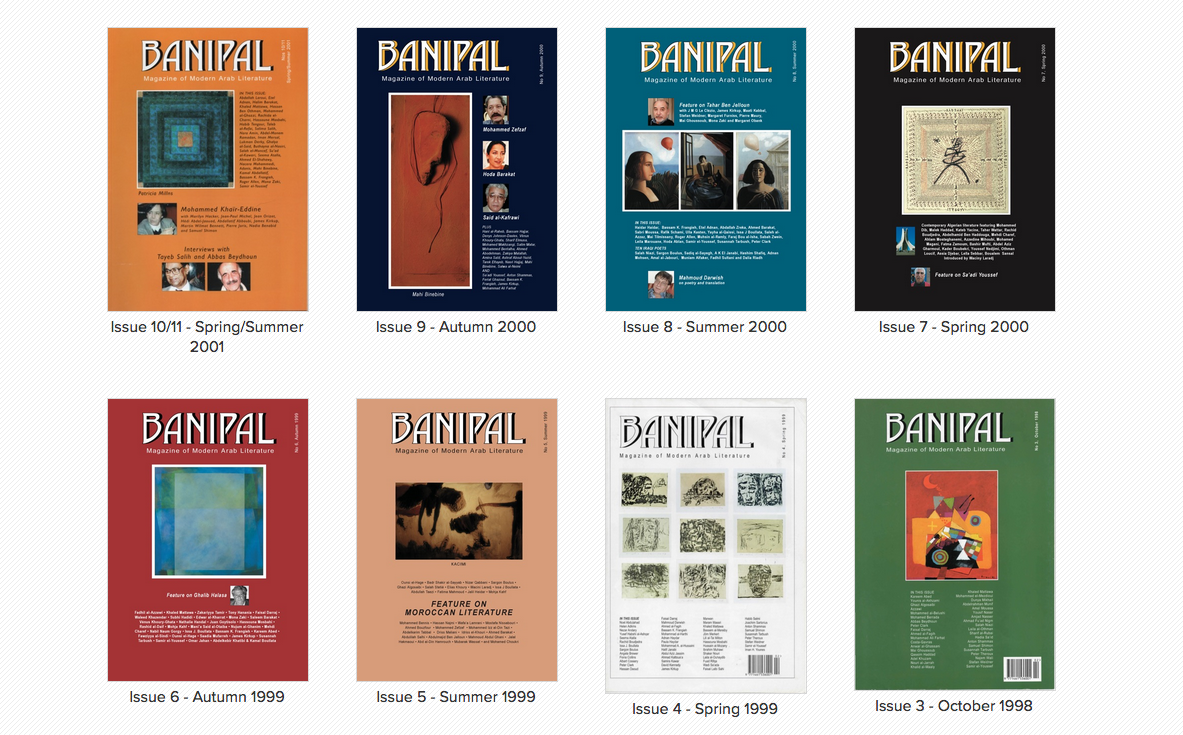 "Excellent and exciting," says Emeritus Professor Issa J. Boullata
"Nowhere in Western languages do I learn more about contemporary, really contemporary Arab literature than in Banipal" – Stefan Weidner
"Banipal has introduced me to hundreds of Arab writers whose work I would never otherwise have had the opportunity to read, as well as to their translators and to the artists whose works adorn its covers" – Susannah Tarbush
Almost exactly nineteen years after that day in February 1998 when Banipal No 1 was published, we are proud to announce the transformation of every issue, including the current Banipal 57 – Syria in the Heart, into a complete digital archive. All digital subscribers will have unlimited access, via our partner, the digital publishing specialist Exact Editions, to this unique archive for the duration of their subscriptions.
Digital subscribers will now be able to access not only the long out-of-print issues of the early years, but discover the enthralling world of prose and poetry by Arab authors that Banipal opens up in English translation, the rich tapestry of contemporary literature written by hundreds and hundreds of men and women, stretching from Syria, Iraq and Palestine, through the Gulf from Kuwait, the United Arab Emirates, Bahrain and Saudia Arabia to Oman and Yemen, and round the southern Mediterranean to the north African countries of Egypt, Libya, Tunisia, Algeria, Morocco, and southwards down to Sudan.
Margaret Obank, Banipal's Publisher and Editor-at-large, said about the digital launch:
"I am over the moon that we are partnering with Exact Editions to launch the digital archive. The print copies are beautiful in themselves and full of gems, but less and less accessible, so this complete digital archive, with its splendid quality of reproduction, is the way to ensure these literary riches are permanently available to the new generations of readers. It is a brilliant start to Banipal's 20th year of publication."
Daryl Rayner, Exact Editions' Managing Director, said:
"We are thrilled to work with Banipal to make such a rich resource available to individuals and institutions worldwide. The magazine looks fantastic online as well as on the app and will certainly be an invaluable resource to lovers of world literature!"
Banipal Digital Archive Walkthrough from Exact Editions on Vimeo.
See Banipal in the Exact Editions shop to discover more about a subscription to this invaluable archive and be the first to know about the contents of each newly released issue:
Institutional shop: institutions.exacteditions.com/banipal
Individual subscriber shop: shop.exacteditions.com/banipal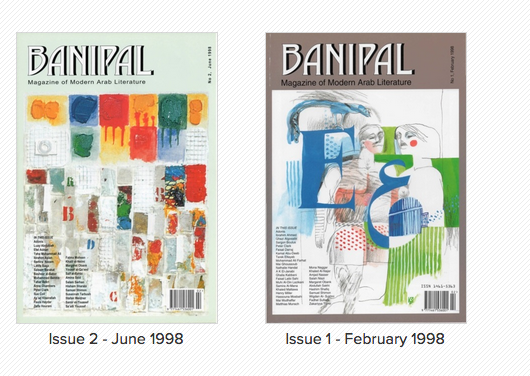 The archive is an wide-ranging and invaluable resource: for readers wanting to know more about a particular author, a particular country, a particular translator even, or conferences or events; for students and researchers who depend on university libraries to provide such a digital archive, instead of relying on the print copies. It is fully searchable by issue, by decade or by the entire archive. All issues are also superbly illustrated with photographs of authors and book covers, and occasional landscapes. Most translations include full references to the original source language texts from which Banipal's editor commissioned the translations.
What is particularly interesting is to be able to follow the development of a author, from being an emerging writer to being well-known, writers such as the Saudi Mohammed Hasan Alwan, the Palestinian writer Huzamah Habayeb, or the Egyptian author and journalist Youssef Rakha. Since its beginning Banipal has set out to be a wide open window – someone added "into the Arab soul and conscience" – for the non-Arab, western reader interested in world literature, in cross-cultural dialogue and exchange. The magazine has worked tirelessly to serve the ever vibrant contemporary Arab literary scene, becoming over the years a focal point for introducing new and established authors from different Arab countries to each other, as much as to the wider world.
The archive allows a reader to leap into translations of works by writers and poets from Morocco (Banipal 5), from Iraq (especially in Banipal 14, and a 3-part series in Banipals 17, 18 and 19, and later in 37). In No 13, the focus is on Jordanian literature, then on to Palestinian literature in the double issue of 15/16 and later in Banipal 45 (both out of print). In Banipal 7, at the beginning of the new millennium, the focus was literature from Algeria.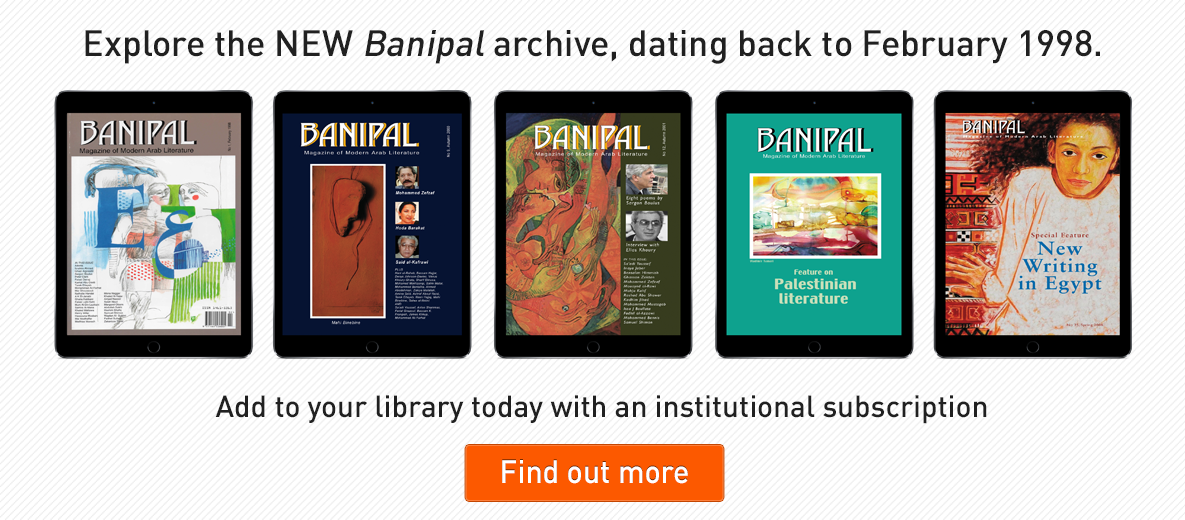 In this archive the reader can read the illuminating and thoughtful remarks of many major Arab authors in long interviews, including Adonis in Banipal 2, Tayeb Salih (10/11), Abdelrahman Munif (3), Mahmoud Darwish (4), Sargon Boulus (1), Etel Adnan (2), Albert Cossery (4), Gamal Al-Ghitani (13), Edwar al-Kharrat (6), Rashid al-Daif (6) and Salim Barakat (14), to mention a few. Also, many interviews with translators and publishers of Arab literature in English translation, as well as the popular series "Literary Influences" in which authors write about the books that formed them as writers.
Though the translation scene for books of translated Arab literature has changed beyond recognition since 1998, there are still many major authors who made influential contributions to modern Arab life in their writings and are hardly, or not yet, translated except in the pages of Banipal. Check out the double issue 10/11 and Banipal 51 for Mohammed Khaïr-Eddine (Morocco), Banipals 6 and 26 for Ghalib Halasa (Jordan), and Banipal 29 for Gha'eb Tu'ma Farman (Iraq), and others.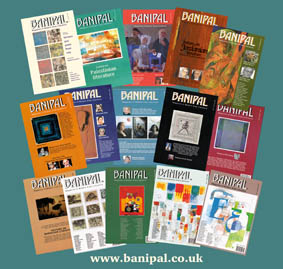 A last word on the enormously talented artists whose works have formed the covers of many of the magazine issues: from Syrian Youssef Abdelké who designed the first front cover with the first letters of 'Arabi (Arabic) ayn and the English E side by side, and again took the stage with Banipal 19's covers, through Ali Fenjan, Sattar Kawoosh, Jaber Alwan, Azzawi, Faisal Laibi, Kadhim Khalifa, Ahmed Alsoudani, Marwan, Kacimi, Rachid Koraichi, Afifa Laiby, Mahi Binebine, Vladimir Tamari, Samira Badran, Kareem Risan, Feryel, Sadradeen, Dima Hajjar, Mohamed Melehi, Mai Refky, Nabil Abu Hamad, Mohamed Melehi, Ahmad Mualla, Mehdi Qotbi, Zena Assi, Mansour Mansour and Toufic Abdul-Al – a grand roll-call of brilliant Arab artists.

Take out a subscription today, and go exploring. You will not be disappointed.
For individuals, click here
For institutions, click here
For Banipal's home page: www.banipal.co.uk
For Banipal's sister website: www.banipaltrust.org.uk
Follow Banipal on Facebook
Follow Banipal on Twitter
About the Institutional digital subscription

The institutional digital subscription is an annual subscription of 3 issues, plus free access to the complete archive, for University, College and Public Libraries who need to have multiple access for their readers. Exact Editions sets up the IP access for librarians. and all institutional subscriptions can be authenticated against the library's IP range.
Prices start from £300.00 and are based on FTE
Digital subscriptions include remote access
IP authenticated access – no requirement to login with username and password.
Remote/EzProxy access for registered users off site, as well as Shibboleth authentication.
Fully searchable archive. Search by keyword and using Boolean operators. Each individual page has a persistent URL.
Advanced search features also allows search by title, issue and year
Extensive linking of each issue, including URLs, e-mail addresses, post codes and page numbers.
Detailed statistical reporting provided in the administrator account.
High quality and prompt technical support from EE's dedicated team

For an institutional Subscription, direct or via a Subscription Agent, click here

About the Individual digital subscription

This is an annual subscription of 3 issues, plus free access to the complete archive from No 1, February 1998.
For an individual subscription, click here


Published Date - 30/01/2017
---