An evening with Fadhil al-Azzawi
Banipal will host an informal discussion evening with Iraqi novelist and poet Fadhil al-Azzawi on Thursday 6th December at the Library and Meeting Room of the Arab British Centre (for directions, click here). The discussion will begin at 6:30pm.
Fadhil al-Azzawi is a renowned Iraqi novelist and poet. He was born in Kirkuk, northern Iraq, in 1940 but left in 1977 and settled in Germany where he has lived since then. He has published numerous volumes of poetry, six novels, one collection of short stories, two works of criticism and many translations from English and German into Arabic. His poetry and novels have been translated into several languages.
Excerpts from his novels have been published extensively in Banipal. A full list is available on his biog. on our website. He is also a contributing editor for Banipal and wrote the editorial for our latest issue Banipal 45 – Writers from Palestine.
His translated works include:
Miracle Maker: The Selected Poems of Fadhil Al-Azzawi, trans. and intro. by Khaled Mattawa (Boa Editions: 2003).
In Every Well a Joseph Is Weeping, translated by Khaled Mattawa (Quarterly Review of Books: 1997).
Last of the Angels, translated by William M Hutchins (AUC: 2007).
Cell Block Five, translated by William M Hutchins (Arabia Books: 2008).
The Traveler and the Innkeeper, translated by William M Hutchins (AUC Press: 2011).
To borrow copies of his works in English, please visit the Banipal-Arab British Centre Library of Modern Arab Literature.
An excerpt from The Traveller and the Innkeeper is also available to read on the Banipal website.
Do come along for this relaxed and informal discussion!

This is a free and informal discussion, but do RSVP here to book your place as it is a fairly small venue.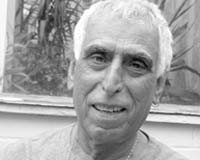 Latest News
04/03/2015
In conversation with Sinan Antoon on writing and translating Iraq
[read more]
13/02/2015
Shortlist for the 2015 International Prize for Arabic Fiction announced
[read more]
02/02/2015
Upcoming Banipal book club meetings
[read more]
19/01/2015
Announcement of 2014 Winner of Saif Ghobash Banipal Prize for Arabic Literary Translation
[read more]
12/01/2015
Sheikh Zayed Book Award announces 'Arabic Culture in other Languages' 2015 longlist
[read more]
12/01/2015
IPAF 2015 Longlist has been announced!
[read more]
[read all news stories]