Sudanese authors & Banipal 55 at Waterstones Piccadilly on 14 June
Make a date on Tuesday 14 June to spend
an evening with Sudanese authors

Ahmad Al Malik and Tarek Eltayeb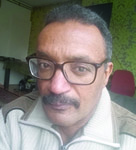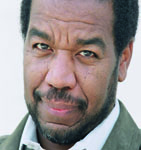 These acclaimed and inspiring authors are invited
to London to talk about their work
and Sudan's literary scene today
With readings from our latest issue,
Banipal 55 – Sudanese Literature Today

6.30pm
TUESDAY 14 JUNE
Waterstones Piccadilly Bookshop
203/206 Piccadilly, London W1J 9HD

Reserve your place now by emailing piccadilly@waterstones.com
Ahmad al Malik is a prolific novelist and storyteller who combines folklore and myths with a keen sense of humour and a desire to communicate. A teacher and journalist, born in 1967, he is from Argo island on the river Nile, and now lives in The Netherlands. Autumn Comes with Safaa (2003), unravels, through his critical and poetic observations, the recent decades of Sudan's civil war. It is his fourth novel, and now published also in Dutch and French translation. He lives in Amsterdam.
Tarek Eltayeb has published novels, collections of short stories, poetry, and plays. Born in Cairo to Sudanese parents he has lived in Vienna since 1984. He has two novels in English translation, Cities without Palms (2009), a highly topical tale of young Hamza's desperate attempt to escape famine and disease by starting an odyssey of travel and migration, and its sequel The Palm House (2012), where Hamza struggles in Vienna against marginalisation, with both translated by Kareem James Abu-Zeid.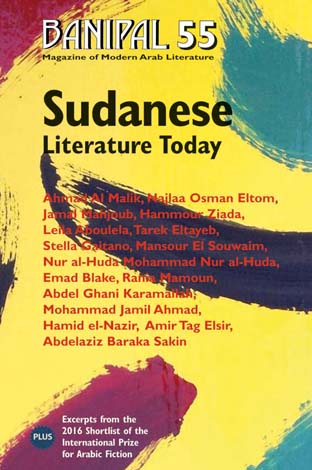 ALL WELCOME
to Banipal 55's
SPECIAL SUDANESE LITERARY SALON

With Reception

Copies of Banipal 55 will be on sale on the night, or can be bought online beforehand here

Hosted by Waterstones and Banipal

Supported by
The Arab Weekly and
The Dutch Literature Foundation
This event is free but please reserve your place in store,
by telephoning 020 7851 2400
or emailing piccadilly@waterstones.com
For more on the event on Waterstones website click here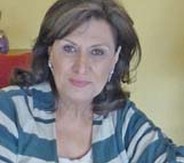 Latest News
07/03/2018
Sheikh Zayed Book Award announces the 2018 Shortlists
[read more]
26/02/2018
Shortlist Announced for IPAF 2018

[read more]
22/02/2018
On 3 March: Three award-winning translators to discuss "Translating Arabic Fiction Today"
[read more]
17/01/2018
Longlist for 2018 IPAF announced
[read more]
10/01/2018
Robin Moger is winner of 2017 Saif Ghobash Banipal Translation Prize
[read more]
01/12/2017
First Shortlist announced for the 2017 Saif Ghobash Banipal Prize for Arabic Literary Translation
[read more]
[read all news stories]