Griffin Poetry Prize shortlist for Ghassan Zaqtan and translator Fady Joudah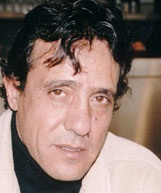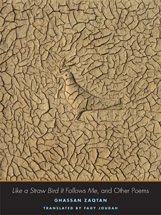 The poetry collection of Palestinian poet Ghassan Zaqtan (above), Like a Straw Bird It Follows Me, and Other Poems, translated by Fady Joudah from the Arabic is shortlisted for the International Griffin Poetry Award.
Like a Straw Bird It Follows Me, and Other Poems is published by Yale University Press in the Margolis poetry series (2012, hbk, 144pp.
ISBN: 978-0-300-17316-1, £18.99. E-book ISBN: 978-0-300-18363-4)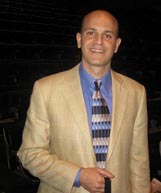 It is reviewed in Banipal 46 – 80 New Poems, published 10 April 2013. Fady Joudah, pictured left, won the 2008 Saif Ghobash Banipal Prize for Arabic Literary Translation for his translation of Mahmoud Darwish's poetry in The Butterfly's Burden, published in a bilingual edition.
Scott Griffin, founder of The Griffin Trust For Excellence In Poetry and David Young, trustee, announced the International and Canadian shortlist for this year's prize on 9 April 2013.

Judges Suzanne Buffam (Canada), Mark Doty (USA) and Wang Ping (China) each read 509 books of poetry, from 40 countries, including 15 translations. The seven finalists – four International and three Canadian – will be invited to read in Toronto at Koerner Hall at The Royal Conservatory in the TELUS Centre for Performance and Learning, 273 Bloor Street West, Toronto, on Wednesday, June 12.

The seven finalists will each be awarded $10,000 for their participation in the Shortlist Readings. The winners, to be announced at the Griffin Poetry Prize Awards evening on Thursday, June 13, will each be awarded $65,000.

For all details of the International and Canadian shortlists, click here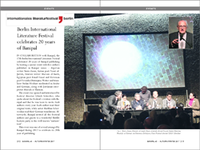 Latest News
24/04/2018
Ibrahim Nasrallah wins 2018 International Prize for Arabic Fiction
[read more]
07/03/2018
Sheikh Zayed Book Award announces the 2018 Shortlists
[read more]
26/02/2018
Shortlist Announced for IPAF 2018

[read more]
22/02/2018
On 3 March: Three award-winning translators to discuss "Translating Arabic Fiction Today"
[read more]
17/01/2018
Longlist for 2018 IPAF announced
[read more]
10/01/2018
Robin Moger is winner of 2017 Saif Ghobash Banipal Translation Prize
[read more]
[read all news stories]