First Banipal Fellow is starting the Fellowship

The Banipal Visiting Writer Fellowship
St Aidan's College of the University of Durham and Banipal magazine of modern Arab literature are delighted to announce that the Banipal Visiting Writer Fellowship 2017 has been awarded to Ali Bader, a well-known Iraqi novelist and essayist, whose work is making an important contribution to contemporary Arabic literature. He is the author of thirteen works of fiction, two of which were long-listed for the International Prize for Arabic Fiction, and several works of non-fiction. His best-known novels include Papa Sartre and The Tobacco Keeper (both published also in English translation), Running after the Wolves, Kings of Sand and The Sinful Woman, and a number have won awards. Ali Bader was born in Baghdad, where he studied western philosophy and French literature, and now lives in Brussels.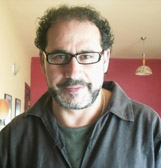 St Aidan's College of the University of Durham and Banipal magazine of modern Arab literature, with the support of the British Council, announced in October 2016 the establishment of an annual writing fellowship for a published author writing in Arabic, based each year at St Aidan's College. The Banipal Visiting Writer Fellowship is a three-month residency.
The Fellowship is based on the three cornerstones that have formed the core of Banipal magazine: that Arab literature is an essential part of world culture and human civilisation; that dialogue between different cultures needs to be continually deepened; and that the joy and enlightenment to be gained from reading beautiful poetry and imaginative writing is an integral part of human existence.
The Fellowship will encourage dialogue with the Arab world through literature. The cultural exchange and dialogue that it will enable, and create, will open windows for non-Arab audiences in the UK onto the realities of Arab cultures in all their diversity and vibrancy, enabling fruitful discourse to develop. It is hoped that this will lead to further exchange, to mutual respect, to new writings, to deeper understanding, and to contributing to Arab literature taking its rightful place in the canon of world literature.
Each year the Fellowship will provide a unique space for a published author writing in Arabic to reflect and to write, and to also have the opportunity to share their work with British audiences.
Ali Bader will arrive in Durham to start his writing residency on 23 January, and over the course of the three months he will have the opportunity of engaging in a monthly literary activity with writers and readers in Durham, the North East of England, and London, in addition to pursuing his work-in-progress.

We thank the many writers from all over the Arab world, whose applications to be the first Banipal Visiting Writing Fellow at St Aidan's College we received. We realise that the application process of this first Fellowship has been rather tight and this will change for 2018 and future years. The timing of the residency itself will remain from approximately mid-January to mid-April, but the call for applications will be made in June each year.


For all enquiries, please email: Banipalfellowship@gmail.com
Postal address:
The Principal, St Aidan's College, University of Durham, Windmill Hill, Durham DH1 3LJ, UK
Follow the Banipal Visiting Writer Fellowship on Facebook
Latest News
16/02/2017
IPAF Short list Announced
[read more]
30/01/2017
Complete Digital Archive of Banipal is launched
[read more]
26/01/2017
Ali Bader selected as First Banipal Visiting Writer Fellow
[read more]
25/01/2017
Saif Ghobash Banipal Prizewinner Jonathan Wright and his author Saud Alsanousi celebrate in Manchester on 23 February
[read more]
16/01/2017
International Prize for Arabic Fiction 2017 – Longlist announced
[read more]
13/01/2017
Syrian writer Khaled Khalifa writes on being Syrian today – "the issue in Syria is not one of refugees but of a whole population that is being turned into either corpses or forced to flee while the world stands silently by"
[read more]
[read all news stories]