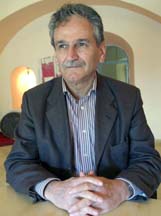 Mahmoud Shukair was born in 1941 in Jerusalem and grew up there. He studied at Damascus University and has an MA in Philosophy and Sociology (1965).

He has published numerous volumes, including six short story collections, 12 books for children and a biography. He has written six series for TV, three plays, and countless newspaper and magazine articles, including for online publications.

He worked for many years as a teacher and journalist, was editor-in-chief of a weekly magazine, Al-Talia'a [The Vanguard] 1994-96, and editor-in-chief of Dafatir Thaqafiya [Cultural File] magazine 1996-2000, when he was also director of literature for the Palestinian Ministry of Culture.

He was jailed twice by the Israeli authorities, lasting nearly two years, and in 1975 was deported to Lebanon. He lived in Beirut, Amman and Prague before returning to Jerusalem in 1993, where he still lives.
Mordechai's Moustache and his Wife's Cats (Banipal Books 2007), is his first volume in English translation – selected short stories and two essays on his life in writing.

For all information about Mahmoud Shukair, click here for his website.
Contributor's Issues
Banipal No 20 Summer 2004
Banipal No 15 /16 – Autumn 2002/Spring 2003
Banipal No 32 Summer 2008
Banipal No 7 Spring 2000
Banipal No 49 A Cornucopia of Short Stories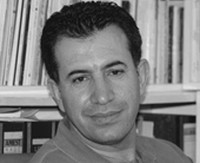 Latest News
13/08/2014
Who is Alessandro Spina?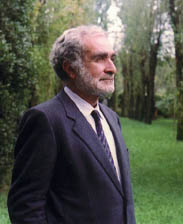 [read more]
09/08/2014
Remembering Mahmoud Darwish

[read more]
22/07/2014
Saadi Youssef's الأعمال الشعريةا (Collected Poetical Works), a 7-volume box set, is now on sale
[read more]
29/04/2014
Frankenstein in Baghdad by Ahmed Saadawi wins 2014 International Prize for Arabic Fiction
[read more]
28/04/2014
Syracuse University Press launches Mahmoud Darwish: 
The Poet's Art and His Nation by Khaled Mattawa.
[read more]
15/04/2014
Land of No Rain – English edition of Amjad Nasser's first novel out now
[read more]
[read all news stories]