Mahmoud Shukair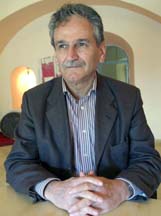 Mahmoud Shukair has been a prodigious creator of short stories since 1962. He was born in 1941 in Jerusalem and grew up there. He studied at Damascus University and has an MA in Philosophy and Sociology (1965).

He has published 67 volumes of works, including 14 short story collections, three novels, more than 40 books for children, a volume of folk tales, a biography of a city, and a travelogue. In addition to these, he has written six series for TV, four plays, and countless newspaper and magazine articles, including for online publications.

He worked for many years as a teacher and journalist, was editor-in-chief of a weekly magazine, Al-Talia'a [The Vanguard] 1994-96, and editor-in-chief of Dafatir Thaqafiya [Cultural File] magazine 1996-2000, when he was also director of literature for the Palestinian Ministry of Culture.

He was jailed twice by the Israeli authorities, lasting nearly two years, and in 1975 was deported to Lebanon. He lived in Beirut, Amman and Prague before returning to Jerusalem in 1993, where he still lives.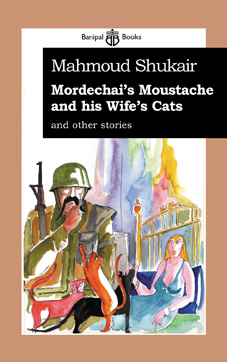 Mordechai's Moustache and his Wife's Cats (Banipal Books 2007), is his first volume in English translation – selected short stories and two essays on his life in writing. The title story was published in Banipal 20 (Summer 2004) and is available to read online here.

Some of his short stories have been translated into French, Spanish, Korean and Chinese. His works, short stories and essays, have also been published periodically in Banipal magazine.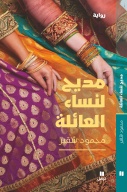 His novel Madih li-Nissa' al-'A'ilah (Praise for the Women of the Family) (Hachette Antoine, 2016), was shortlisted for the 2016 International Prize for Arabic Fiction (IPAF). Its English translation by Paul Starkey was published by Interlink, USA in 2018. It is the second part of a trilogy of novels by Mahmoud Shukair about Jerusalem family life and stories.

For further information about Mahmoud Shukair, click here for his website.

A major feature by Banipal magazine on Mahmoud Shukair was originally planned for earlier than Banipal 70 (Spring 2021) but it was decided to postpone it until this issue as a gift to this great Jerusalemite on his 80th birthday – which took place in March 2021.
Collections of short stories
Khubz al-Akhareen (Other People's Bread), Jerusalem, 1975
Al-Walad al-Falastini (The Palestinian Boy), Jerusalem, 1977
Tuqus al-Mara'a al-Shaqiya (Rituals of a Wretched Woman), 1986
Samt al-Nawafith (The Windows' Silence), Damascus, 1991
Dhil Aakhar lil-Madina (Another Shadow for the City), Jerusalem, 1998
Murour Khatif (A Rapid Passing), Amman, 2002
Surat Shakira (Shakira's Picture), Beirut, 2003. Italian translation published in 2014.
Ibnat Khalati Condoleezza (My Cousin Condoleeza), Beirut, 2004. French translation published by Actes Sud, 2008, and Italian translation published 2013.
Baha Saghira li-Ahzan al-Massa' (A Small Courtyard for Evening Sorrows), Beirut 2004
Ihtimalat Tafifa (Slight Possibilities), Beirut, 2006
Maraya al-Ghiyab (Mirrors of Absence), Beirut, 2007
Al-Quds Wahdaha hunak, Beirut, 2010. English translation, Jerusalem Stands Alone, by Nicole Fares published by Syracuse University Press, USA, 2018
Madinat al-Khassarat wal-Raghba (City of Loss and Desire),Beirut, 2011
Suqouf al-Raghba (Roofs of Desire), Haifa 2017
Three novels, published with Naufal Books, Beirut.
Faras al-'A'ilah (The Family Mare), 2013
Madih li-Nissa' al-'A'ilah (Praise for the Women of the Family), 2015, shortlisted for the International Prize for Arabic Fiction 2016. English translation by Paul Starkey published Interlink, USA, 2018
Dhilal al-'A'ilah (Shadows of the Family), 2019
Mahmoud Shukair's latest work
Tilka al-Amkina, Sira Thatiya (Those Places, An Autobiography), published by Naufal Books, Beirut, 2020
---
Contributor's Issues
Banipal 15 - /16 – Autumn 2002/Spring 2003
Banipal 70 - Mahmoud Shukair, Writing Jerusalem
Banipal 53 - The Short Stories of Zakaria Tamer (2015)
Banipal 55 - Sudanese Literature Today (Spring 2016)
Banipal 49 - A Cornucopia of Short Stories (2014)