Issa J Boullata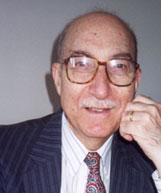 is a writer, literary scholar and critic, an educator and translator, who was born in Jerusalem. He started his academic career with a PhD in Arabic literature from London University in 1969. He is formerly Professor of Arabic Literature at McGill University, Montreal, Canada. During his career he has authored several books, including Trends and Issues in Contemporary Arab Thought (1990) and A Window on Modernism: Studies in the Works of Jabra Ibrahim Jabra and Rocks and a Wisp of Soil (2005) in Arabic, also a novel in Arabic A'id ila al-Quds (1998).

He introduced and translated a ground-breaking poetry anthology Modern Arab Poets, 1950-1975 (1976) and published many literary translations of contemporary Arab authors ininclude Jabra Ibrahim Jabra's memoirs Princesses' Street (2005) and The First Well (1995), Mohamed Berrada's The Game of Forgetting (1986), Emily Nasrallah's Flight Against Time (1997), and Ghada Samman's The Square Moon (1998).

He is a member of several professional organisations, including Radius of Arab-American Writers Inc (RAWI), and is a contributing editor of Banipal.

In October 2007, Banipal Books published his collection of short stories, A Retired Gentleman and other stories.
---
Contributor's Issues
Banipal 27 - Autumn/Winter 2006
Banipal 34 - The World of Arab Fiction (2009)
Banipal 36 - Literature in Yemen Today (2009)
Banipal 33 - Autumn/Winter 2008
Banipal 46 - 80 New Poems (2013)
Banipal 42 - New Writing from the Emirates (2011)
Banipal 41 - Celebrating Adonis (2011)