Editorial

Makkawi Said - excerpt from the forthcoming novel Cairo Swan Song, translated by Adam Talib

Ibrahim Nasrallah - Selected Poems, translated by Issa J Boullata

Amina Saïd - Selected Poems translated from the French by Marilyn Hacker
THREE MOROCCAN POETS
Hassan Najmi - Selected Poems, translated by Sinan Antoon
Ouidad Benmoussa - Poems translated by Ali Issa
Siham Bouhlal - Poems translated from the French by Lulu Norman


Jokha al-Harthi - two short stories, Beloved and The Wedding translated by Ibtihaj Al-Harthi

Thani Al-Suwaidi Excerpt from the novella The Diesel, translated by William M Hutchins

Ali Bader- Excerpt from the forthcoming novel Papa Sartre translated by Aida Bamia
TRAVELLING TALE
Fouad Yazaiji - Under a London Sky, an excerpt from a travel memoir, translated by Ali Azeriah


WRITING IN DUTCH
Guest edited and introduced by Victor Schiferli

Introduction - Writing in a slipper and a clog

Abdelkader Benali - Excerpt from the novel, De stem van mijn moeder [My Mother's Voice], translated by Laura Watkinson

Rachida Lamrabet - excerpt from the novel Vrouwland [Woman Country], translated by Sherry Marx

Naima el Bezaz - Excerpt from the novel Het gelukssyndroom [The Happiness Syndrome], translated by Susan Ridder.

Rada Sukkar (Iraq) De schatkamer van Babylonië. [The Treasure Room of Babylonia], translated by Laura Watkinson

Rashid Novaire - Excerpt from the novel Afkomst [Roots] translated by Laura Watkinson

Rodaan Al-Galidi - Excerpt from the forthcoming novel Thirsty River, translated by Luzette Strauss

Hafid Bouazza - Excerpt from the novella Spotvogel [Mockingbird], translated by Abdellah Bouazza

Ramsey Nasr - Selected Poems, translated by David Colmer

Fouad Laroui - Selected poems from Verbannen woorden [Banned Words], translated by Astrid van Baalen

Mustafa Stitou - Selected poems translated by David Colmer and Willem Groenewegen.
INTERVIEW
Tahar Ben Jelloun in conversation with Georgia de Chamberet
BOOK REVIEWS
Susannah Tarbush Cairo Modern by Naguib Mahfouz

Olivia Snaije Berytos by Rabee Jaber

Zuzana Kratka In their Father's Country by Anne-Marie Drosso

Tamara Yousry A Map of Home by Randa Jarrar

Susannah Tarbush The Iraqi Cookbook by Lamees Ibrahim
BOOK LAUNCH
BookHaus, London Denys Johnson Davies - Memories in Translation
BOOKS IN BRIEF
Fiction, Poetry, Memoir and Biography
TRIBUTE
James Kirkup (1922-2009)
The translators in Banipal 35 are:
Sinan Antoon, Ali Azeriah, Aida Bamia, Issa J Boullata, Amal Chatterjee, David Colmer, William Groenewegen, Marilyn Hacker, Ibtihaj al-Harthi, William Maynard Hutchins, Ali Issa, Sherry Marx, Susan Ridder, Luzette Strauss, Laura Watkinson, Lulu Norman, Adam Talib
The writers, book reviewers and interviewers are:
Georgia de Chamberet, Zuzana Kratka, Victor Schiferli, Olivia Snaije, Susannah Tarbush, Tamara Yousry


This issue was supported by the Dutch Foundation for Literature and the Flemish LIterature Fund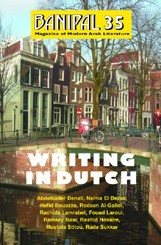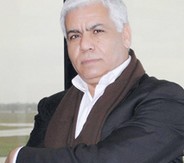 Latest News
24/04/2018
Ibrahim Nasrallah wins 2018 International Prize for Arabic Fiction
[read more]
07/03/2018
Sheikh Zayed Book Award announces the 2018 Shortlists
[read more]
26/02/2018
Shortlist Announced for IPAF 2018

[read more]
22/02/2018
On 3 March: Three award-winning translators to discuss "Translating Arabic Fiction Today"
[read more]
17/01/2018
Longlist for 2018 IPAF announced
[read more]
10/01/2018
Robin Moger is winner of 2017 Saif Ghobash Banipal Translation Prize
[read more]
[read all news stories]