was born in Baghdad in 1964. He has a degree from Baghdad University in Western Philosophy and French Literature. He has published three novels, with two more under print. His first, Papa Sartre, (pub. Beirut 2001, and reviewed in Banipal No 17, Summer 2003) was awarded the State Prize for Literature in Baghdad and the Prize of Abulkassim al-Shabbi for the Novel in Tunis. His third, Shata al-Ailah [Winter of the Family] won the Prize of Literary Creativity in the UAE. His novel The Tobacco Keeper was longlisted for the International Prize for Arabic Fiction in 2009. In 2001 he left Iraq, and now lives in Belgium.

Papa Sartre was excerpted in Banipal 35 prior to its full publication by AUC Press.
Contributor's Issues
Banipal No 20 Summer 2004
Banipal No 41 Celebrating Adonis
Banipal No 35 Writing in Dutch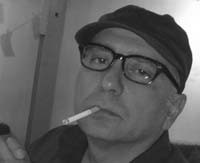 Latest News
04/03/2015
In conversation with Sinan Antoon on writing and translating Iraq
[read more]
13/02/2015
Shortlist for the 2015 International Prize for Arabic Fiction announced
[read more]
02/02/2015
Upcoming Banipal book club meetings
[read more]
19/01/2015
Announcement of 2014 Winner of Saif Ghobash Banipal Prize for Arabic Literary Translation
[read more]
12/01/2015
Sheikh Zayed Book Award announces 'Arabic Culture in other Languages' 2015 longlist
[read more]
12/01/2015
IPAF 2015 Longlist has been announced!
[read more]
[read all news stories]