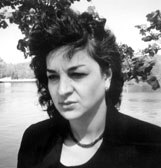 Amina Saïd is the author of fourteen collections of poems, most recently Les Saisons d'Aden, published in 2011 by les Editions al-Manar, the second of a trilogy beginning with Tombeau pour sept frères, published in 2008 with illustrations by Hassan Massoudy.

Her six titles published with les Editions de la Différence include L'Absence l'inachevé (2009), Au présent du monde (2006) and La douleur des seuils (2002). She is also the author of two collections of retold Tunisian folk tales, Le Secret (Criterion, 1994) and Demi-coq et compagnie (L'Harmattan,1997). In 1989 she was awarded the Jean Malrieu Prize and, in 1994, the Charles Vildrac Prize. She has translated a novel and short stories of major Philippino writer Francisco Sionil Jose from English to French. She writes in French.

In July 2011 the Black Widow Press in Boston published The Present Tense of the World, a bilingual collection of her poems written since 2000, translated by Marilyn Hacker. Her third book, Sables funambules, was translated into Spanish by Myriam Montoya in 2006, and other work has been translated into Arabic, German, Turkish and Italian in journals or at the literary festivals in which she often participates, making a first appearance at the Ledbury Poetry Festival in the UK this year with fellow Tunisian Tahar Bekri, and her translator and fellow poet Marilyn Hacker (Click here for more Amina Said at Ledbury in 2011)
Born in Tunisia in 1953, Saïd has lived in Paris since 1979.
Contributor's Issues
Banipal No 9 Autumn 2000
Banipal No 2 June 1998
Banipal No 35 Writing in Dutch (2009)
Banipal No 39 Modern Tunisian Literature (2010)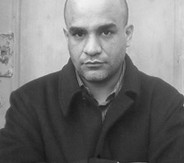 Latest News
25/05/2018
Remembering Denys Johnson-Davies
[read more]
16/05/2018
New Banipal issue
A Journey in Iraqi Fiction
[read more]
09/05/2018
Najwa Binshatwin, the 2018 Banipal Visiting Writer Fellow
[read more]
08/05/2018
Ahmed Saadawi salutes Banipal magazine

[read more]
28/04/2018
The Sheikh Zayed Book Award Winners for 2017-2018
[read more]
24/04/2018
Ibrahim Nasrallah wins 2018 International Prize for Arabic Fiction
[read more]
[read all news stories]